Sofia Vergara Could Potentially See A Modern Family Reboot Happening Decades Down The Road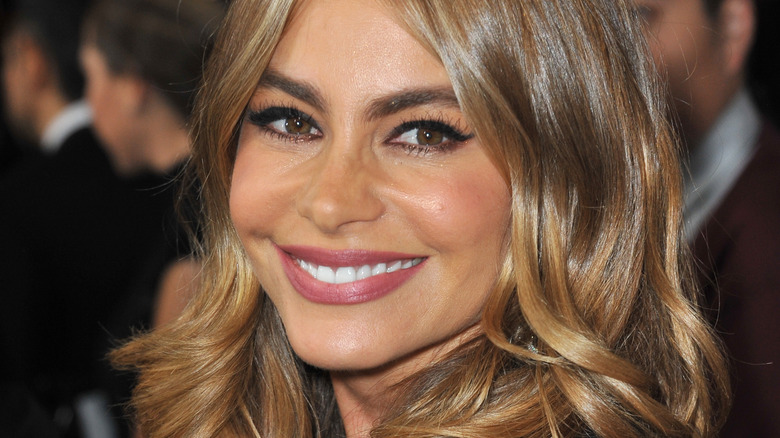 Featureflash Photo Agency/Shutterstock
"Modern Family" aired on ABC for just over a decade, consisting of 250 episodes in total across the 11 seasons before its conclusion. Once the series finally wrapped up, some of the cast of "Modern Family" took on new ventures, including Gloria Delgado-Pritchett actor Sofia Vergara. One of Vergara's most high-profile gigs in the wake of "Modern Family," for example, is her role as a judge on "America's Got Talent," which she began in 2020 and maintains to this day.
Presumably like her fellow members of its main cast, Vergara netted a considerable salary from "Modern Family." On a single season near the show's conclusion alone, Vergara's importance to the series was so considerable, she was coming home with upwards of 10 million dollars. Of course, even though "Modern Family" ended this decade, the way works are recycled ad nauseam in today's pop cultural landscape already has some discussing a "Modern Family" reboot, opening up the possibility of Vergara and co. returning to their iconic roles at some point in the future. That said, co-creator Steven Levitan doesn't think a "Modern Family" reboot is necessary, broaching the subject in light of his work on the 2022 Hulu drama "Reboot" about this very topic.
Meanwhile, Vergara appears to be open to the idea, revealing in an interview the manner in which she thinks a "Modern Family" reboot might one day become a distinct possibility.
Sofia Vergara thinks the concept of Modern Family might become relevant again in a few decades
In the lead-up to the "Modern Family" series finale, ABC news interviewed various members of its main cast about the show's past, its present at the time, and its future. Nearing the end of this segment, Sofia Vergara touched on the notion of a "Modern Family" reboot. "Maybe in 30 years they can do again a 'Modern Family,' like now you know how it's in fashion?" Vergara said, before joking that her aged co-star Ed O'Neill may no longer be around at the time of its conception.
For what it's worth, in another interview with Buzzfeed News, Vergara shared that she both looks back fondly on her time working on "Modern Family," and is satisfied with its conclusion. First, Vergara revealed that she trusted the writers completely to wrap up Gloria's storyline in satisfying manner. Then, she went on to share that what she would miss most after the show's end were her co-stars, singling out both O'Neill and its child actors.
Of course, Vergara's interest in a "Modern Family" reboot appears to be purely speculative, and not a formal commitment. Nevertheless, if a reboot does appear to be in the cards in a few decades, it seems entirely possible that Vergara would be game to portray Gloria once again.