Emilia Clarke's Mind Was Blown By The Experience Of Making Marvel's Secret Invasion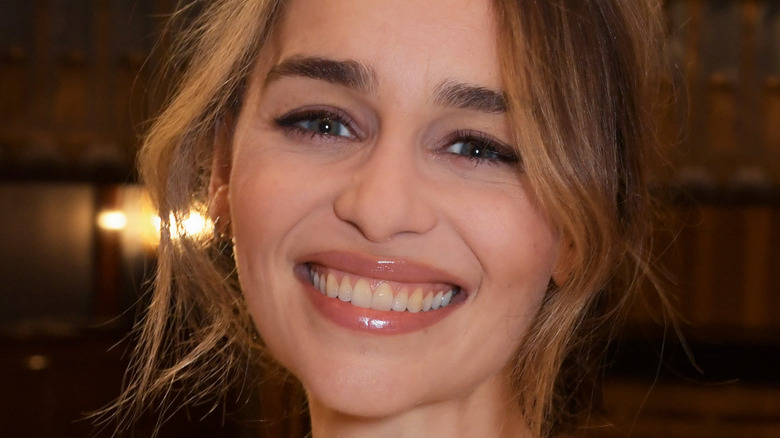 David M. Benett/Getty Images
Marvel Studios is gearing up for a massive 2023, starting the year strong with Angela Bassett scoring the MCU's first Oscar nomination. Outside of awards season, the MCU officially enters Phase 5 with the release of numerous movies and TV shows on the horizon.
One of the most anticipated projects coming out of Kevin Feige's top-secret lair is "Secret Invasion." The Disney+ show looks to adapt the popular comic book series of the same name, with the shape-shifting Skrulls invading Earth and taking the place of numerous Marvel characters. The story completely destabilized the Marvel Universe in the comics, revealing that the Skrulls had replaced many long-time favorite characters, including Spider-Woman, Elektra, and Hank Pym.
While the Disney+ show won't be on that scale, it still promises to give fans an exciting spy thriller centering on Samuel L. Jackson's Nick Fury, who has worked with friendly Skrulls since "Captain Marvel" in the 90s. While many familiar faces return for "Secret Invasion," Marvel also brings in many new characters. Kingsley Ben-Adir, Olivia Coleman, and Emilia Clarke are all set to play significant roles.
Clarke, in particular, is an exciting addition to the MCU. She's no newcomer to massive franchises, having already starred in "Game of Thrones" and "Star Wars." However, according to the actress, nothing compares to the scope of things over at Marvel.
Emilia Clarke sings high praise for everyone at Marvel
During a recent appearance at Sundance, Emilia Clarke sat down with Collider and opened up about what it's like working for the money-making machine that is Marvel Studios.
"It's mind-boggling. I've got to tell you, the way that those shows and films are created is mind-boggling," the actress said. "It's like everyone at Marvel knows how to unlock the Rubik's cube, and you couldn't even possibly — I can't do a Rubik's Cube to save my damn life. I hope a lot of people can't also. It's like they have some secret thing, and it just works. It just works! I've tried to understand it, and I've tried to be like, 'Okay, logically how is this, how do you guys, what's the...?' They're drinking some water over there. I don't know what it is. It's fabulous... They nail it." Clarke continued praising everyone at Marvel Studios, saying she had an incredible time filming "Secret Invasion" and that working with the studio was "brilliant."
In typical Marvel fashion, Kevin Feige and company are keeping most details about "Secret Invasion" under wraps. Fans don't even have a concrete release date to look forward to, but the show will hit Disney+ sometime in "early 2023." Clarke's character is another secretive part of the series, as Marvel Studios has yet to confirm who she's playing in the MCU. No one expects an actress of Clarke's caliber to play a one-off role, and thanks to a slip-up, the general belief is that she's bringing Abigail Brand, the half-mutant half-alien leader of S.W.O.R.D., to the MCU. Whoever she's playing, it's clear that Clarke would be more-than-happy to work with Marvel again in the future.