Macaulay Culkin Calls Out The Razzie Awards For His 1995 Nomination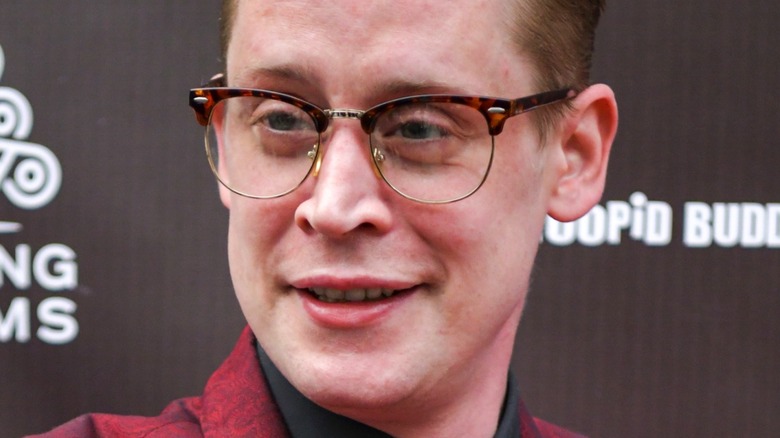 Rodin Eckenroth/Getty Images
Legendary child actor Macaulay Culkin took to his Twitter page on Wednesday night, January 25, to call out the Golden Raspberry Awards, aka the Razzies, following its decision to finally introduce an age limit for nominees. According to the "Home Alone" actor, the move was long overdue.  "I guess it was much easier to make fun [of] kids back in 1995," blasted Culkin in a reply to a @RazzieAwards tweet announcing the removal of 12-year-old "Firestarter" actor Ryan Kiera Armstrong from this year's worst actress category. 
Razzies head John Wilson finally did away with the show's longstanding tradition of recognizing screen stars of all ages after there was a public outcry over Armstrong's nomination this year. Wilson admitted to making a huge mistake with both her and other actors in the past, though he didn't mention anyone by name. "We have never intended to bury anyone's career," Wilson said in a statement (via Variety). "We all make mistakes, very much us included. Since our motto is 'Own Your Bad,' we realize that we ourselves must also live up to it." 
For Culkin, seeing such an intense about-face from Wilson and the Golden Raspberry Foundation — after so many years and decades of handing out humiliating nods to teenagers and small children — obviously left a bad taste in his mouth, which he had to get out on Twitter. 
'Just gently letting them know that their digs at a 14 year version of me wasn't appreciated'
Warner Bros.
When he was just a young teen finding himself in Hollywood, Macaulay Culkin was put through the embarrassment of receiving a worst actor nomination — not just for one movie, but for three different movies — at the 1995 Razzie Awards. First was the Ted Danson-led comedy "Getting Even with Dad," followed by Culkin's animated kids flick "The Pagemaster," and then his popular "Richie Rich" adaptation for Warner Bros. It wasn't long after he made the three films and got nominated for worst actor that Culkin decided to disappear from Hollywood and officially retire from acting. And while he eventually unretired, it's safe to say that being nominated for a Razzie at such an early age may have played a small role in his decision to quit for several years.
"Just gently letting them know that their digs at a 14 year version of me wasn't appreciated," Culkin said in the @RazzieAwards reply section. 
Sadly, the "Home Alone" and "My Girl" star isn't the first child actor to be given a humiliating nod by the widely-loathed award show since its 1981 inception. Other big names include Brooke Shields, Mara Hobel from "Mommie Dearest," and Jake Lloyd from "The Phantom Menace."