South Park's Matt Stone And Trey Parker Reflect On Lessons They've Learned During Their Controversial Careers
Chris Hopkins/Getty Images
"South Park" is unquestionably one of the biggest television success stories ever. What started as a cheap-looking show on Comedy Central has since gone on to become one of the longest-running animated sitcoms in television history, with only other steadfast comedy series like "The Simpsons" and "Family Guy" showing the same kind of longevity over the same period of time.
Of course, over the years, the embattled "South Park" has found itself mired in one controversy after another as the series creators, Trey Parker and Matt Stone, take careful aim at social norms, sacred cows, and even the most beloved celebrities and revered politicians along the way.
Naturally, after over 25 years on the air, Parker and Stone have learned many hard lessons along the way as they have offended one group after another, and the duo behind "South Park" have not been shy about sharing those lessons in interviews.
The duo had to navigate some tough waters over the years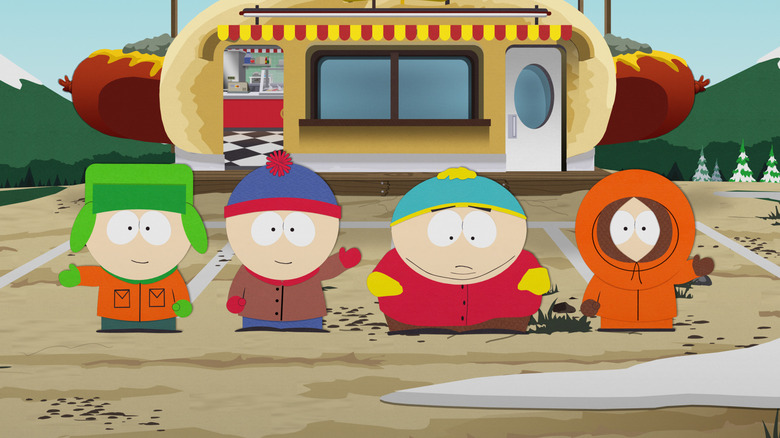 Paramount Network
Trey Parker and Matt Stone sat down to talk with People about the 25th anniversary of "South Park." The two were more than happy to talk about some of the things they've learned the hard way over the course of overseeing the long-running series on Comedy Central.
"Just to be fearless, but not in a brave way. I recently looked at an interview we did in '98, and we just don't listen to anyone," Parker explained. "It's a good thing Matt, and I have each other because I don't care what anyone thinks. But if Matt says, 'I don't think this is good because of whatever,' I obviously listen to him," Parker concluded.
Well, after 25 years of working on "South Park" together, a series where they also provide many of the main character's voices as well, it's good that the two have formed the kind of bond where they feel they can trust one another implicitly, particularly as they navigate some very sensitive waters in their storytelling.
For his part, Stone talked about the times that they've thought about throwing in the towel. "We have had three or four different moments where we thought, 'This is the swan song. This is it,' Stone recalled. "The South Park movie was the first of the big angst. We felt that the show had been dismissed, and we weren't pulling our weight," Stone went on. Ultimately, the duo seems happy that the series is still going on after all these years.