The Complex Process Millie Bobby Brown Went Through To Get Her Stranger Things Season 4 Look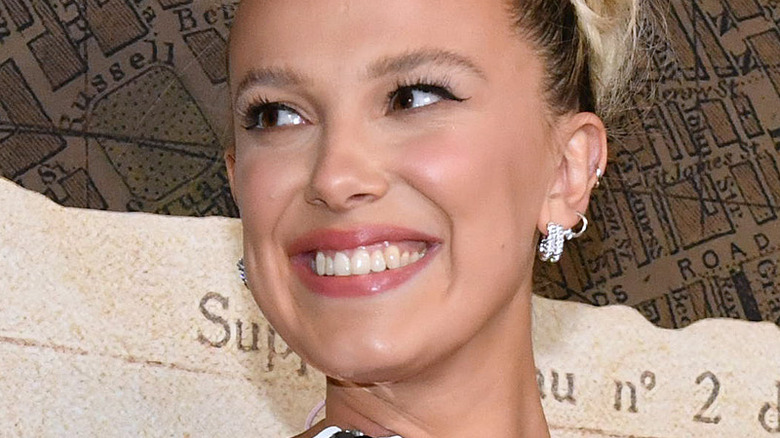 Craig Barritt/Getty Images
"Stranger Things" has become a cultural juggernaut for Netflix. The science-fiction series is among the streamer's most successful shows ever, and coming off the dark twists of its popular fourth season, which actually broke Netflix, buzz behind the Duffer Brothers' series couldn't be any bigger (via Parrot Analytics). Of course, much of the popularity behind the show comes as a result of its charismatic and likable cast.
Of all of the cast members of "Stranger Things," probably the biggest breakout performance has come from Millie Bobby Brown. A relative unknown at the start of the series, Brown has exploded into the stratosphere thanks to her role as the powerful but aloof Eleven. While Season 4 brought the character back to her roots in more ways than one, it was Eleven having her head shaved one more time that was among the most shocking changes. Amazingly, Brown didn't actually shave her head in real-life, instead going through a complicated process with the hair and makeup team.
The team went to great lengths to make Eleven's short hair convincing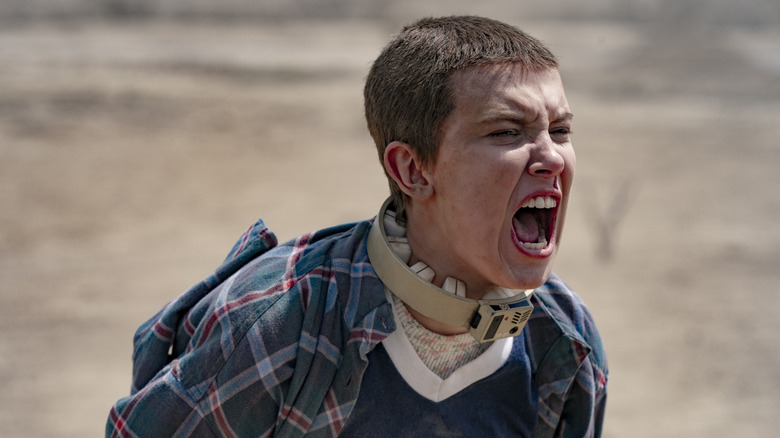 Netflix
Sarah Hindsgaul, who leads the hair team on "Stranger Things," sat down with PopSugar to answer any burning questions about the return of Millie Bobby Brown's Season 1 buzz-cut. She revealed some surprising tricks the crew used to make it look like Eleven's head was shaved when it wasn't at all.
"[Brown] was in a buzz-cut wig, which was very, very, very difficult to do," Hindsgaul said. "Normally, you would do that with a bald cap and then [put] a wig over it, but we're very limited on time." Given how convincing the buzz-cut is in "Stranger Things" Season 4, Hindsgaul's team did an incredible job, especially with the caveat of being short on time.
"Without having time to do a bald cap, we had to figure something else out," Hindsgaul said. "Alongside my wig-maker, we ended up using different layers of silks inside. It kind of fades out because, otherwise, the wig is so short that you could see the stitching where the wig is sewn together." When put that way, it sounds like it was a very complex process to get Brown looking like her Season 1 self, but the proof is in the pudding as the look came across seamlessly in "Stranger Things."
"Stranger Things" Season 5 is expected to premiere on Netflix in 2024.