The Rookie: Feds Fans Are All In On The Brendon And Antoinette Romance
"The Rookie: Feds" follows in the grand tradition of TV procedurals. While its flagship series, "The Rookie," is about the oldest rookie for the Los Angeles Police Department, "Feds" naturally follows the oldest rookie for the FBI. The jurisdictions may be different, but the basic premise of solving crimes and providing justice to victims remains the same.
Naturally, these enforcers of the law have lives outside of their jobs, and they could do with a bit of romance every now and then. Some of these situationships end up becoming reality on the series, while others remain figments of fans' imaginations. In the latest episode, "The Remora," viewers saw one such blossoming romance come to fruition when Brendon (Kevin Zegers) and Antoinette (Devika Bhise) go on a first date. However, their plans get interrupted when they get pulled into an undercover sting. It certainly made for a memorable time, and fans love that the two of them are finally trying to make it work.
Fans have a new ship to fall for on The Rookie: Feds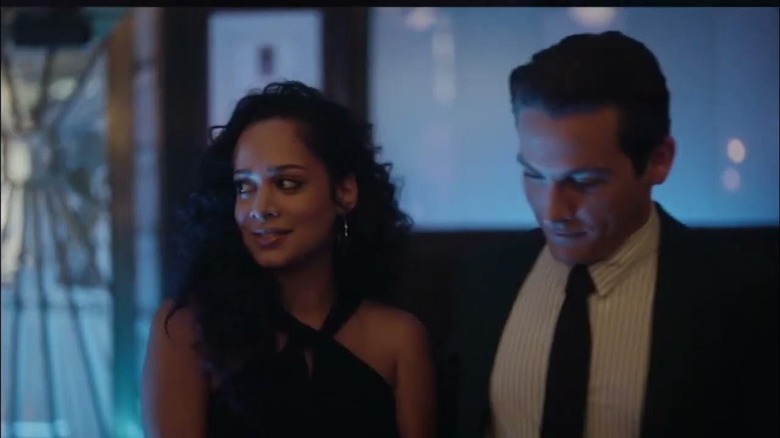 ABC
It wasn't that long ago that fans were shipping Brendon and Laura (Britt Robertson) together. The two are relatively new to the force, and both have something to prove, making for an ideal match-up. However, it would seem Brendon has his eyes set elsewhere as he goes on a date with Antoinette, and by the looks of it, viewers aren't mad. 
It's abundantly clear that the two of them make a cute couple; as @jstark804 points out, "Brendon and Antoinette are looking goodddd for their date!!" @TheShopTalkPod_ commented on how good Antoinette looked but also wrote, "Brendon wants to redo the first date with Antoinette, aw! [face with hearts emoji] Cutest couple award!" @srajotte probably summed up a lot of people's feelings by writing, "Well, I am fully on this Brendon and Antoinette ship."
The date may not have gone smoothly, but it seems like the two will give it another go another time. It will be interesting to see how their romance develops and how they're able to juggle a relationship with both of their intense jobs. One thing's clear; the show did its job in getting viewers invested in this new ship.