Cate Blanchett's Latest Oscar Nomination Puts Her In Elite Territory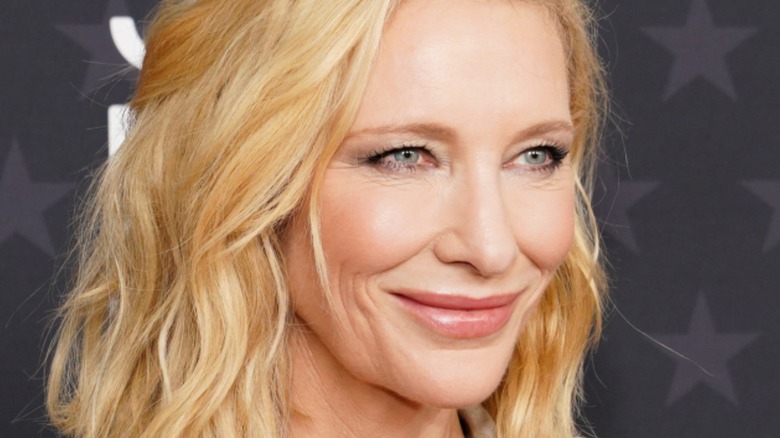 Presley Ann/Getty Images
It's no secret that Cate Blanchett is one of the biggest favorites for best actress at the Oscars this year, with her role as fictional composer Lydia Tár in Todd Field's "Tár" sweeping almost every critic off their feet. But did you know that in addition to being one of the most heralded performers of 2022 — and all-time, for that matter — that Blanchett is now in elite territory when it comes to being an Academy Award nominee? 
It's taken some time for Blanchett to process her intense "Tár" role, but surely, a tiny gold statue would help the legendary screen star deal with the stress of it all, or at least make her vigorous performance even more worthwhile. She told The Project in January 2023, "It was such a physical role...The echoes of it are still with me, and I think I'm like a lot of audience members."
Going up against the other best actress nominees will be no small feat for Blanchett, but even if she doesn't manage to win an Oscar on March 12, 2023, she will still be able to say she's in a Hollywood hall of fame class all its own. 
Blanchett is now one of seven people to have earned exactly eight Oscar nominations
As pointed out by the awards show race site Gold Derby, Cate Blanchett's best actress nomination for "Tár" now places her in the elite category of actors with exactly eight Oscar nominations. The other massive names on this exclusive list are Geraldine Page, Marlon Brando, Judi Dench,  Peter O'Toole, Glenn Close, and Jack Lemmon. There are, however, nine actors that have received more than eight nominations, including the reigning champ: 21-time nominee Meryl Streep.
The last time Blanchett won an Oscar was in 2014 for her leading performance in "Blue Jasmine" (via IMDb). Her only other Oscar win came in 2005 for "The Aviator" for best supporting actress. Blanchett's losing nominations have been for her roles in "Carol," "I'm Not There," "Notes on a Scandal," "Elizabeth" and "Elizabeth: The Golden Age." However, Blanchett seems to have soured on the whole awards show thing, though, judging from the speech she made at the Critics Choice Awards, where she won best actress. 
"It's extremely arbitrary considering how many extraordinary performances that have been by women not only in this room but, you know... the extraordinary creative conversation," Blanchett said during her acceptance speech (via Deadline). "Why don't we just say there is a whole raft of female performances that are in concert and in dialogue with one another?" she asked. "And stop the televised horse race of it all."