Zoe Saldaña Owns The $2 Billion Box Office (& Who Is On Her Heels)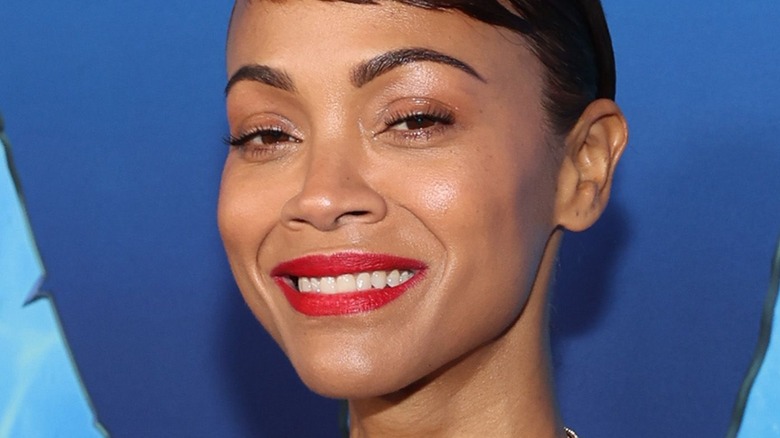 Jesse Grant/Getty Images
"Avatar: The Way of Water" made somewhat predictable waves last week as it became the sixth film ever to gross $2 billion internationally. The milestone is huge, not just because it reinstates James Cameron's as king of the box office, but because it marks Zoe Saldaña's fourth film to cross the benchmark.
The actor has appeared in over half of the six films that have reached $2 billion. In the "Avatar" franchise, Saldaña stars as Neytiri, a warrior who teaches Jake Sully (Sam Worthington) about Na'vi culture and ultimately starts a family with him. The first film in the franchise is currently the highest-grossing feature film of all time, having made over $2.9 billion worldwide (via Box Office Mojo). It was briefly overtaken by the 2019 Marvel Studios epic "Avengers: Endgame," in which Saldaña plays the Guardian of the Galaxy Gamora. She played this same role in "Avengers: Infinity War," which also crossed $2 billion at the box office (via Box Office Mojo).
Though the actor has stated that she eventually wants to get out of the blockbuster business, she has a few more massive films left to complete before then. As a result, it's astonishing to see how far other Hollywood stars are from exceeding — or even reaching — Saldaña's unique achievement.
The Avengers cast could be contenders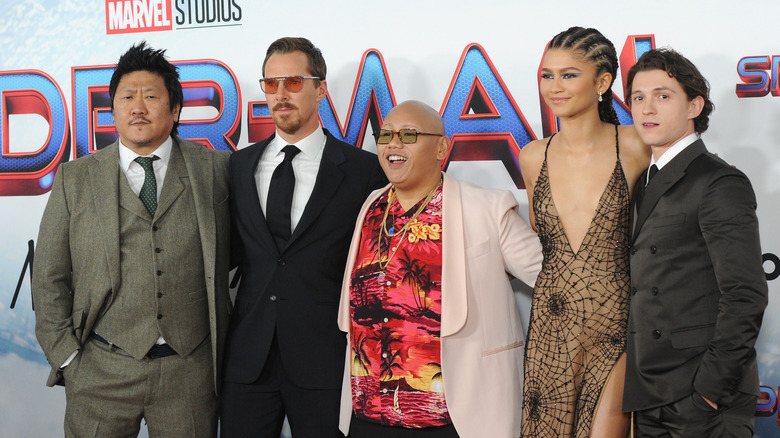 Albert L. Ortega/Getty Images
As of the time of this writing, no other actor is even close to catching up to Zoe Saldaña in the $2 billion club. Several A-listers are currently tied for second place with two entries each, including the majority of the "Avatar" cast — even Kate Winslet, whose absence in the original film is made up by her role in "Titanic." That being said, there are a few contenders who could — under certain circumstances — close the gap.
Tom Holland, Jacob Batalon, Benedict Cumberbatch, and Benedict Wong are arguably the closest to Saldaña's position right now, with each actor having appeared in "Avengers: Infinity War," "Avengers: Endgame," and "Spider-Man: No Way Home," the last of which just barely missed the $2 billion benchmark. Of the three, Cumberbatch and Wong have the clearest path to hitting four entries, assuming their participation in the next two "Avengers" films and those films' success at the box office. The same could be said for "Thor" star Chris Hemsworth and Mark Ruffalo.
Holland, however, may fall in line with former co-stars like Robert Downey Jr. and Chris Evans who've stepped away from the MCU for the time being. The "Spider-Man" star has been cagey about his future in the role and with the franchise (per Entertainment Weekly). Even if he does return for two more "Avengers" films and — for argument's sake — an entirely new "Spider-Man" trilogy, and even if those five films were to break $2 billion, it's still unlikely he'd overtake Saldaña's lead.
Saldana's future projects are dauntingly massive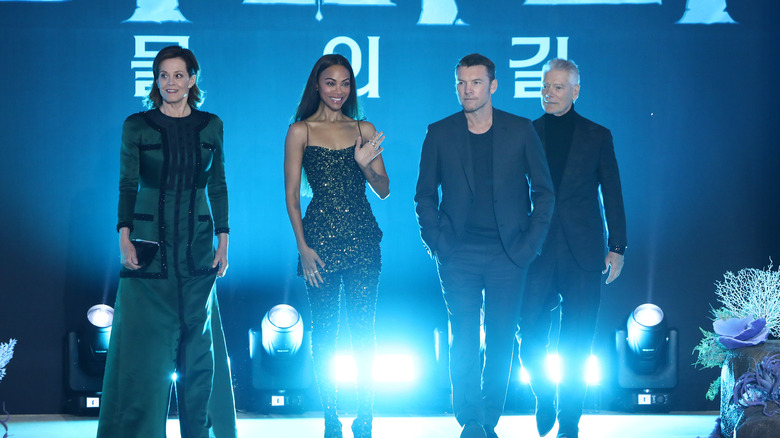 Chung Sung-jun/Getty Images
Assuming the absolute most of Tom Holland's future as Spider-Man, he could net seven spots on the $2 billion list. This is ignoring major factors like streaming and the pandemic's effect on the box office, the unreliable nature of international markets, and the fact that none of Holland's solo "Spider-Man" efforts crossed $2 billion. And yet, affording even less optimism to Zoe Saldaña's future films, her confirmed slate alone could net her seven entries by 2026.
Saldaña is set to appear in "Avatar 3" in 2024, and she seems guaranteed to feature in "Avatar 4" (2026) and "Avatar 5" (2028) as well (per People). Given the success of the first two films, the amount of time to create hype between installments, and the lack of content saturation that arguably plagues Marvel Studios' performance at the box office, it really isn't hard to imagine all three upcoming "Avatar" sequels breaking $2 billion. It's also worth noting that Saldaña is seemingly set to take her bow as Gamora in "Guardians of the Galaxy Vol. 3." While neither "Guardians" film has made even $1 billion globally, it wouldn't be entirely surprising if fans showed up in full force for the final film (via Box Office Mojo). That's four more relatively strong contenders for the $2 billion mark in just the next several years.
While unforeseen circumstances could certainly throw other actors into the $2 billion club unexpectedly, it looks like Saldaña's lead may only grow. At this point, there simply may not be any way to catch her.