Emma Roberts Could Hardly Function Around Stevie Nicks While On The Set Of American Horror Story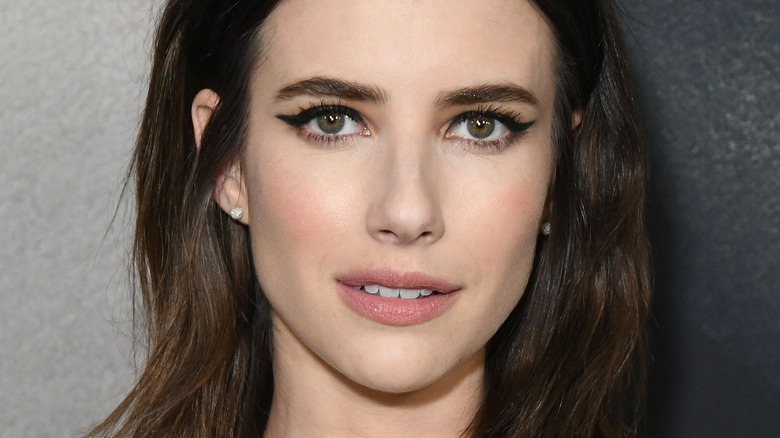 Quinn Jeffrey/Shutterstock
Like everyone else in the famous repertory cast, Emma Roberts has become one of the many familiar faces of "American Horror Story." It all started with the series' third season, "Coven," in which she played the spoiled and self-centered starlet-turned-witch Madison Montgomery. Since then, she's appeared in four subsequent seasons, including reprising the role of Madison for "American Horror Story: Apocalypse." By her own account, Ryan Murphy's most storied creation changed her career and her life. Of course, by the time "Coven" came around, Roberts had already established herself as a successful actor through everything from Nickelodeon kid shows like "Unfabulous" and more adult fare like "Scream 4." 
And as the niece of Hollywood royalty Julia Roberts, one would think that she wasn't particularly prone to being starstruck.
Then again, everyone has their pop culture idol; whether they are musical artists, actors, or bestselling authors, there are those people who always seem larger than life to their fans. And when it comes to music it's difficult to think of anyone who inhabits the status of "legend" more than Stevie Nicks.
This is someone who, through a career that spans more than five decades, has written some of the most memorable songs in pop history, from "Dreams" to "Landslide" to "The Edge of Seventeen," and has sold more than 150 million albums: 30 million solo (per WROR.com), 120 million with Fleetwood Mac (via Bloomberg). She has also, as any fan will know, taken a few turns at playing herself in the universe of "American Horror Story."
Emma Roberts is 'obsessed' with Stevie Nicks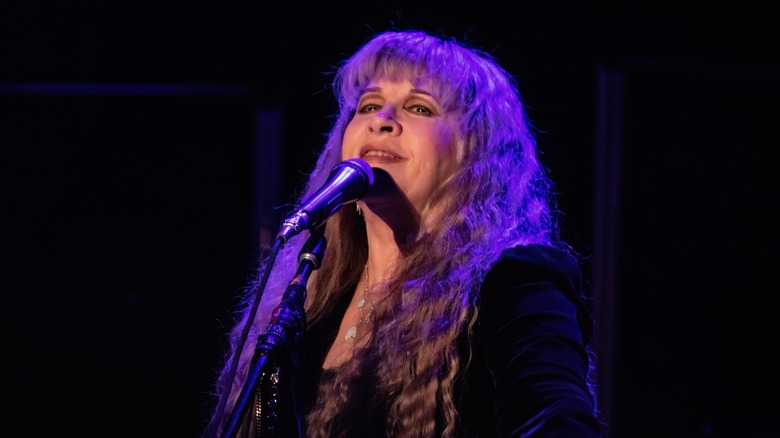 L Paul Mann/Shutterstock
Speaking with Collider, Emma Roberts was asked about her previous claims about being Stevie Nicks' biggest fan. "I'm obsessed with her, and I sometimes can't function around her," replied Roberts. "I have a half moon tattoo, for a couple reasons, but one of them is Steve Nicks. She's definitely someone that I love to work with. She's so fun to chat with. She's Stevie Nicks! She's so talented, it's insane."
This was in 2018, not long after the premiere of "Apocalypse." It was a season that saw the return not just of Roberts' Madison Montgomery, but several other characters from "Coven," "Murder House," "Hotel," and other seasons. And among the witches of "Coven," there was Stevie Nicks, who had originally appeared as herself in the third season as something of a riff on her mysterious rock star persona and overall witchy aura. Nicks is known, for example, to wear her own crescent moon necklace as a form of protection, even gifting copies of it to friends. She is known to call recipients members of a coven of her own, the Sisters of the Moon (via Los Angeles Times).
In the universe of "AHS," Madison seems fairly indifferent to the rock star witch Nicks. It's swamp conjurer Misty Day (Lily Rabe) who is the self-confessed superfan. Meanwhile, Roberts told Collider that, because of her hectic shooting schedule she has never had a chance to catch Nicks live. "I've never seen her in concert, so I'm definitely gonna try to go this year," she said. "I've been wanting to go so badly, and I'm always working. This year, I've already put it on the calendar." No word on whether she made it.