Disney+ Fixed A Confusing MCU Continuity Error In Ms. Marvel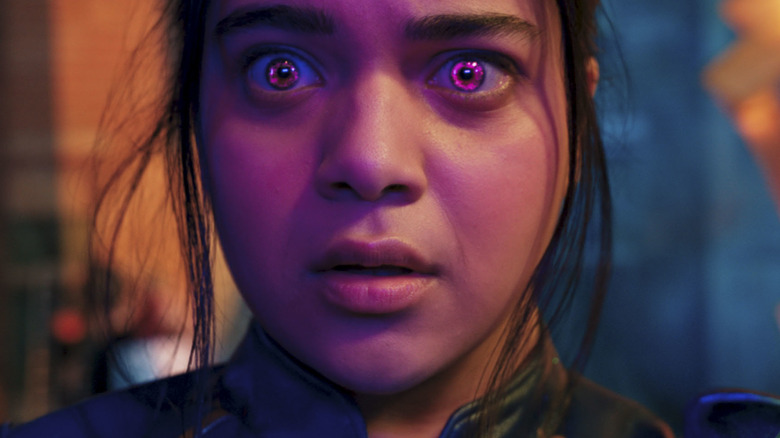 Marvel Studios
Now well into its second decade of existence, the Marvel Cinematic Universe has released nearly 40 film and television projects. And with Phase 5 set to kick off with "Ant-Man and the Wasp:  Quantumania," the MCU is only going to get bigger as Marvel forges ahead. With "The Multiverse Saga" set to continue playing out over Phase 5, it's also going to get harder for Kevin Feige and company to keep track of the where's, when's, how's, why's, and who's of the MCU. And as a few eagle-eyed fans noticed during the small screen run of "Ms. Marvel," they've already endured what could be perceived as a pretty major continuity miss.
The streaming series, of course, follows young Kamala Kahn (Iman Vellani) as she transforms from an awkward, superhero-loving teen into the hero of the title. In the context of the greater MCU timeline, Kahn's ascent to the superhero ranks reportedly unfolds not long after the multiverse-breaking antics of "Spider-Man: No Way Home" and "Doctor Strange in the Multiverse of Madness" (per Newsweek). That had fans rightfully questioning the color of the Statue of Liberty in the Season 1 finale of "Ms. Marvel," and it seems Marvel bosses have not only taken note of the gaffe but corrected it on Disney+.
The statue of liberty was recently changed to reflect the copper color as seen in No Way Home
When the Season 1 finale of "Ms. Marvel" made its streaming debut, it did so fronting two shots where the Statue of Liberty is seen in its traditional green color. And if you're wondering why that was a problem, it's because Lady Liberty — who featured prominently in the "Spider-Man: No Way Home" narrative — was seen in that film being restored to her initial copper-colored glory.
As it was, the color change instantly threw the continuity of the MCU slightly out of whack, specifically in regards to where "Ms. Marvel" fits into the timeline. The oversight was legitimately surprising as well because, at least to date, Marvel has proven exceedingly adept at keeping their house in order regarding timelines and supposed plot holes. Still, the "Ms. Marvel" gaffe stood unchanged for some time after the episode debuted.
It's not clear precisely when Marvel corrected the glaring Statue of Liberty issue on Disney+, but as Ms. Marvel UK noted in a tweet, the studio has fixed the problem in both "Ms. Marvel" scenes depicting the famous structure. The change seemingly cements the place of "Ms. Marvel" in the post-snap MCU timeline. It also marks one of the studio's first official acts recognizing, and retconning a legit continuity mistake in the MCU. Here's hoping such mistakes remain few and far between as the MCU continues to expand.