The Woman King Being Totally Snubbed By The Oscars Has Fans In Shock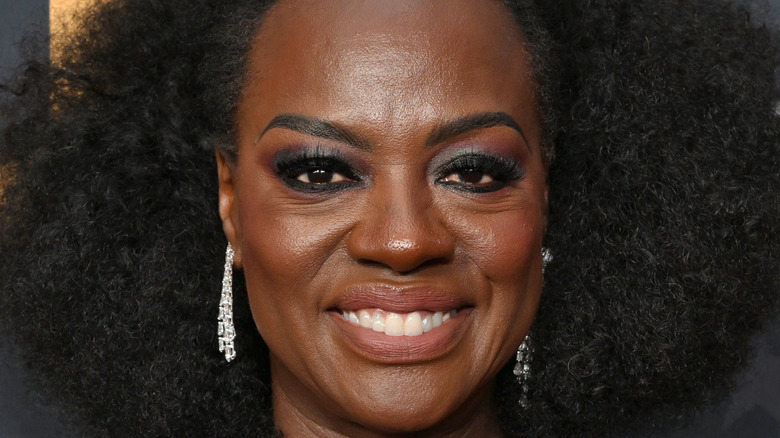 Michael Kovac/Getty Images
The list of nominations for the upcoming 95th Academy Awards has finally been released, and movie fans are weighing in on what was tragically left out of the running. While there are the expected nominations such as a best visual effects nomination for "Avatar: The Way of Water" and Cate Blanchett getting selected for her performance in "Tár," there were some notable surprises as well. From "Everything Everywhere All At Once" leading with 11 nominations to Angela Bassett being the first actor in Marvel history to receive an acting nom for "Black Panther: Wakanda Forever" (via CNN), it's always a treat for moviegoers to see some of their favorites find their rightful place amongst the prestigious crop. 
But as with every year, there were also some titles left out of the conversation that more than deserved a mention. Whether you are upset that "RRR" didn't receive a nod for international film, flabbergasted that the Academy didn't give "The Batman" any love for its music or cinematography, or can't wrap your head around how Janelle Monáe didn't get even a mention for her performance in "Glass Onion: A Knives Out Mystery," it feels that this year's list of snubs could fill up an entirely separate Oscar ceremony. And amongst the most talked about snubbed entries is a film so good, fans are willing to go to war with the Academy for omitting it. 
Fans are ready to fight for The Woman King
Amongst this year's Oscar snubs is the epic historical drama "The Woman King." The film tells the true story of a powerful band of 19th century female warriors who are tasked with protecting the African kingdom of Dahomey. Despite some historical inaccuracies, "The Woman King" enjoyed a successful run, earning over $90 million worldwide (via Box Office Mojo) and garnering praise aimed at Viola Davis' rock-hard lead performance (per Rotten Tomatoes). But the film has had a tough time fighting its way into award season, with the Academy voters had seemingly ignored the film entirely — and fans can't comprehend why. 
On Twitter, @Nicoleedits made a statement, "Shocked by the shutout of 'The Woman King' . . . Gina [Prince-Bythewood] did a heck of a job directing!" Given that this year's list of nominated directors is entirely male-dominated, Prince-Bythewood's absence from the conversation is all the more frustrating. 
What fans were disappointed by the most was Viola Davis' electric performance being ignored. On Twitter, @hmprogressive wrote, "Genuinely shocked that . . . Viola Davis didn't get a best actress nomination. This was her best acting performance in her career." Others, such as @A_Francalanza comment on Davis' overall omission from major award ceremonies, saying, "It's utterly shocking how @violadavis and #TheWomanKing have been completely ignored by the Oscars and Golden Globes." While the omission of "The Woman King" is sad to see, it's clear that in the hearts of its fans, the film is an undeniable winner.