How Viola Davis' One-Woman Show Shaped Her As An Actress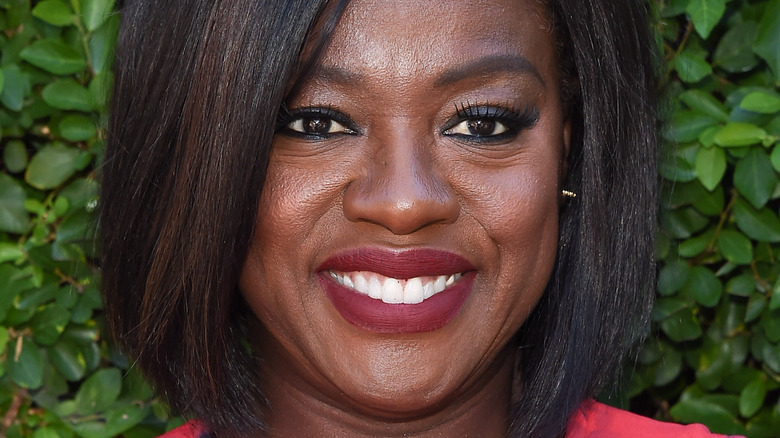 DFree/Shutterstock
Viola Davis has proven again and again that she is an acting force to be reckoned with. Her body of work spans far and wide, but whenever Davis takes on a new project, we know she will put no less than her entire heart and soul into it. From films such as "Fences" and "The Suicide Squad" to TV shows such as "How to Get Away with Murder" and "The First Lady" to theater productions such as "King Hedley II" and "Seven Guitars," Davis' commanding presence is hard to ignore. Her amazing talents have earned her numerous accolades, including an Academy Award, an Emmy, a Golden Globe, a BAFTA, and two Tonys (via IMDb), the only African American to achieve this series of awards (via Vanity Fair). On top of this, thanks to her three additional Academy Award nominations, Davis has become the most nominated African American actress in history at the Oscars (via Entertainment Weekly).
Most recently, Davis was pushed to both her physical and performing limits in the grand-scaled historical epic, "The Woman King" directed by Gina Prince-Bythewood. Her incredible range and undeniable bravado on stage and screen seem almost effortless, but as with every great performer, even Davis had to start somewhere. As it turns out, she found motivation early on in her career from a special one-woman production.
Davis' one-woman show was a major confidence booster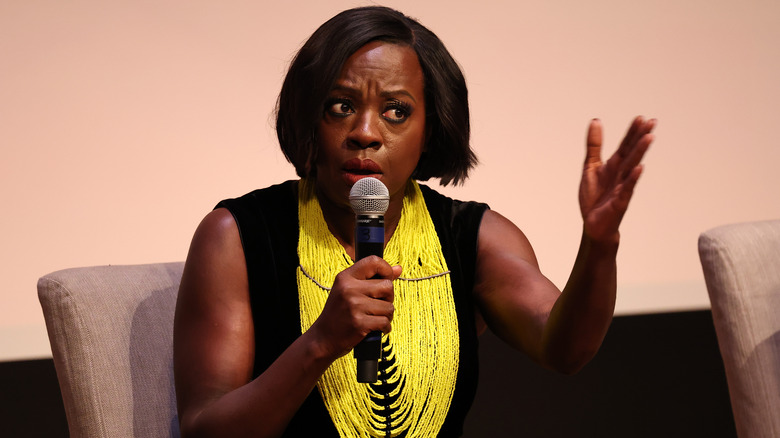 Paul Morigi/Getty Images
Before hitting it big, Viola Davis curated her talents while attending Rhode Island College and later the Juilliard School (via The Guardian). There, she was involved in numerous productions, but one stands above the rest. In an interview on "Hot Ones," where guests answer questions while eating spicy wings, Davis was asked what student production shaped her the most as an actress. From there, the Oscar winner mentions her one-woman show where she performed 17 characters. "The one-woman show, definitely," Davis said. "It really shaped me because there's nothing like being on stage by yourself, there's no one to sort of save you. There's no one to bounce off of, except the audience. And I just thought I was bada** back then, you know. Nothing had broken me down yet, I thought I was really slick to just be this one actor just performing all these characters. Always got a standing ovation, I thought that was it." 
It's impossible to say that she's lost any of that touch even now. Although she doesn't dive into any more details regarding what the one-woman show was about, such a spectacle seems like it would have been a sight to behold. Davis is set to reprise her role as Amanda Waller in DC's "Black Adam" as well as playing Dr. Volumnia Gaul in the upcoming prequel "The Hunger Games: The Ballad of Songbirds and Snakes."