What The Cast Of Twin Peaks Is Doing Now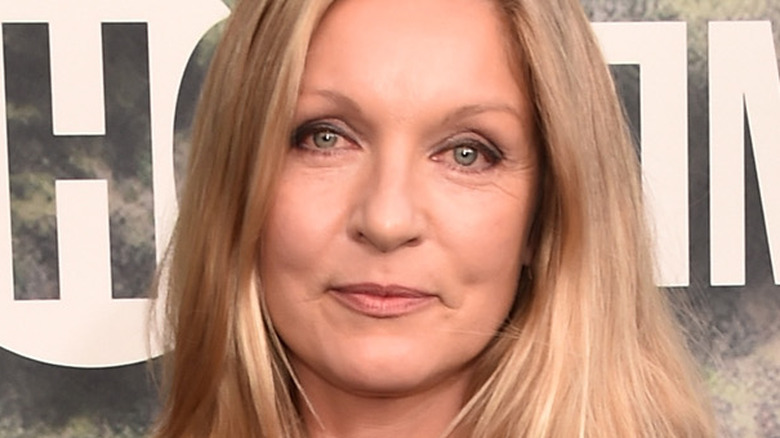 Alberto E. Rodriguez/Getty Images
"Who killed Laura Palmer?" was a question that dominated a brief period in television history. These days, the public is spoiled for choice when it comes to high-quality, prestige television shows. It's easy to forget that long before "Breaking Bad" or "The Sopranos," "Twin Peaks" was at the bleeding edge of innovation on television. With acclaimed filmmaker David Lynch co-creating the series and sitting in the director's chair, "Twin Peaks" was more cinematic than any TV show that came before it.
This murder-mystery series began as an intimate look at grief in its small titular town but almost immediately expanded its scope. The surrealist dream logic, undercurrent of horror, and uniquely twisted mythology of the series all set "Twin Peaks" far apart from anything else that hit the air before or since. The lore of the series continued growing over the years with the prequel movie "Twin Peaks: Fire Walk With Me," a pair of books written by series co-creator Mark Frost in the form of "The Secret History of Twin Peaks" and "Twin Peaks: The Final Dossier," and the incredible 2017 revival dubbed "Twin Peaks: The Return," which featured Lynch back in the director's chair for all 18 episodes.
Let's check back in on some of the most notable names on the ensemble cast 34 years after the original pilot was first broadcast.
Kyle MacLachlan as Dale Cooper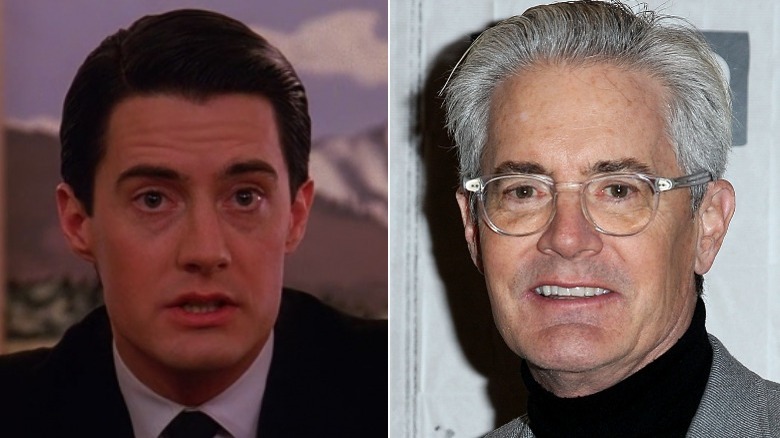 SD Mack/Shutterstock / CBS
In an expansive cast with more memorable characters than you can shake a stick at, FBI special agent Dale Cooper  holds the series together. This eccentric role was played to perfection by Kyle MacLachlan. David Lynch had already worked with him on both "Dune" and "Blue Velvet," which were MacLachlan's first two movies. "Twin Peaks" began early in MacLachlan's career and gave him a major profile boost moving forward.
In the years since the original series ended, MacLachlan has had some ups and downs. He played a lead role in the infamous critical and box-office flop "Showgirls" shortly after the conclusion of "Twin Peaks." This dud hurt his cachet to a degree. MacLachlan has been in plenty of movies, but his most recognizable subsequent roles have also been in the television realm, first with "Sex and the City" and later with "Desperate Housewives." His other notable roles include Calvin Zabo on "Agents of S.H.I.E.L.D.," the mayor on "Portlandia," and the voice of Riley's Dad in "Inside Out."
MacLachlan has remained a key part of the "Twin Peaks" world. He first returned as Dale Cooper in the "Fire Walk With Me" movie, though he was no longer the main character and only appeared in a small portion of the film. Many years later, MacLachlan returned to center stage in "Twin Peaks: The Return," where he played multiple characters, or rather multiple versions of the same character, including the evil Mr. C and the childlike Dougie Jones.
Sheryl Lee as Laura Palmer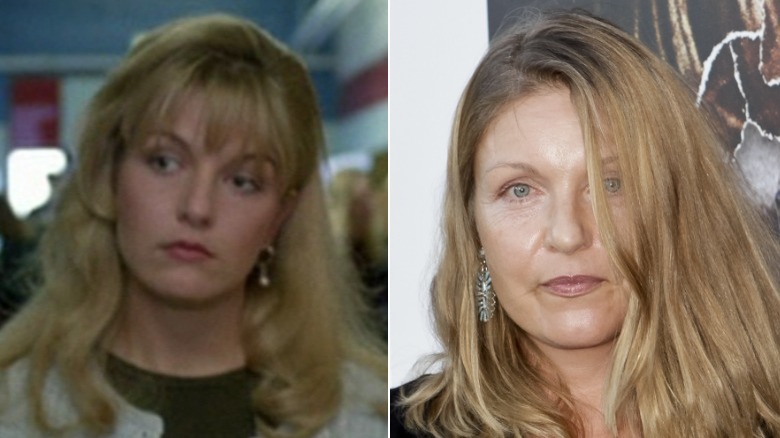 Tibrina Hobson/Getty Images / New Line Cinema
Given that her character is already dead by the start of the pilot, it might come as a surprise to new viewers to learn just how big a part of "Twin Peaks" Laura Palmer remains throughout. Her soul courses through the veins of the entire series. Sheryl Lee plays various incarnations of Laura Palmer across the series, whether as a corpse, in a flashback, in a dream, or as an otherworldly spirit in the Black Lodge. Lee also plays the character Maddy Ferguson, Laura Palmer's cousin who comes to town for the funeral and sticks around.
Laura Palmer has remained the dominant and most noteworthy character of Sheryl Lee's career. She was the main focus of the prequel movie "Fire Walk With Me," which tracks the character's final days, and later returned for the 2017 revival. Outside of the extended "Twin Peaks" franchise, Sheryl Lee hasn't had many great roles. She had supporting roles in movies like "John Carpenter's Vampires" and "Café Society." She also played recurring characters on the shows "Dirty Sexy Money" and "One Tree Hill," and had a lead role on the short-lived "L.A. Doctors," which was canceled after one season.
Lee's most recent roles have been in small independent movies and short films. Her last major project was a two-episode appearance on the 2019 series "Limetown," which ran for one season as a Facebook Watch Original.
Michael Ontkean as Sheriff Harry S. Truman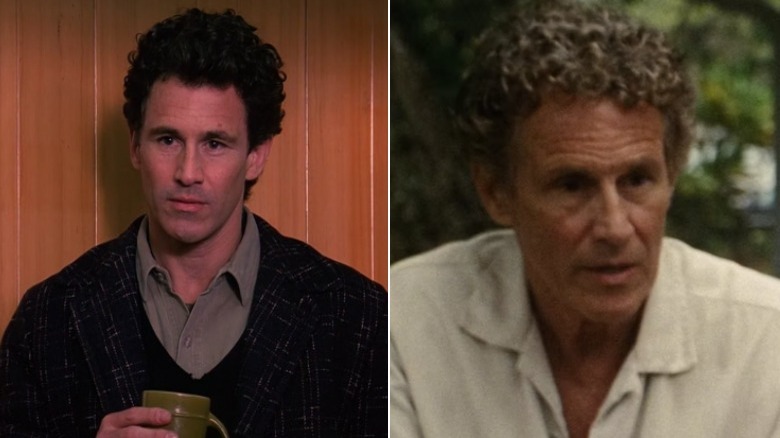 CBS / Fox Searchlight
Michael Ontkean played Harry S. Truman, the sheriff of the small town of Twin Peaks and FBI agent Dale Cooper's right-hand man in the murder investigation of Laura Palmer. Ontkean was one of the bigger names on the cast when "Twin Peaks" started, mostly owing to his role on the TV show "The Rookies" and his starring role in George Roy Hill's "Slapshot" opposite Paul Newman.
Ontkean didn't appear in too many major projects after "Twin Peaks." Most of his roles were in cheesy made-for-TV movies like "Vendetta II: The New Mafia" and "Ghost Cat." His subsequent television roles following "Twin Peaks" were all small guest star roles in a couple of episodes of various series. The largest of these shows was "The Outer Limits," in which Ontkean appeared in two episodes as a different side character three seasons apart.
His final movie was also his biggest in decades. He ended his career with the Oscar-winning drama "The Descendants," though he doesn't actually have any lines in the final edit and mostly just appears in the background of scenes with George Clooney and the other actors. After this final production in 2011, Ontkean went into retirement. Though his presence would have been welcomed in the 2017 "Twin Peaks: The Return," Ontkean declined to participate. The Harry S. Truman character remained a part of the series, however, with the new sheriff (Robert Forster) taking over while Harry deals with an illness.
Sherilyn Fenn as Audrey Horne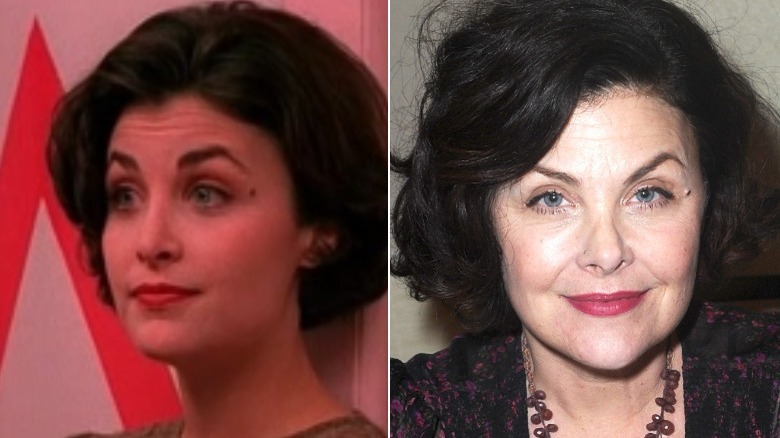 Albert L. Ortega/Getty Images / CBS
The mischievous Audrey Horne was a fan favorite on "Twin Peaks" as she embarked on her own investigation and crushed on Agent Cooper. This memorable character was played by Sherilyn Fenn after first working with David Lynch on his film "Wild at Heart" in an unnamed bit part. Fenn kept busy after "Twin Peaks" went off the air, but the level of quality fluctuated considerably.
One of Fenn's first big roles after the end of "Twin Peaks" was in the film "Boxing Helena," which was written and directed by David Lynch's daughter Jennifer Lynch. The film was mired in multiple heated controversies before it even came out, and Fenn was a last-minute replacement after both Kim Basinger and Madonna jumped ship on the role. The film was a notorious bomb and hampered the careers of everyone involved. While recovering from that disaster, Fenn appeared in numerous small projects while also guest-starring on individual episodes of big shows like "Friends," "Law & Order SVU," "NCIS," "CSI," "CSI: Miami," "House," "Criminal Minds," "In Plain Sight," and a special episode of "Psych" dedicated to "Twin Peaks."
Fenn's largest roles have been significant recurring characters on the shows "Gilmore Girls," "Ray Donovan," "Goliath," "S.W.A.T.," and "Shameless," where she played Queenie throughout Season 6. Fenn did not return as Audrey for the prequel film "Fire Walk With Me" but did come back for "Twin Peaks: The Return" in 2017.
Ray Wise as Leland Palmer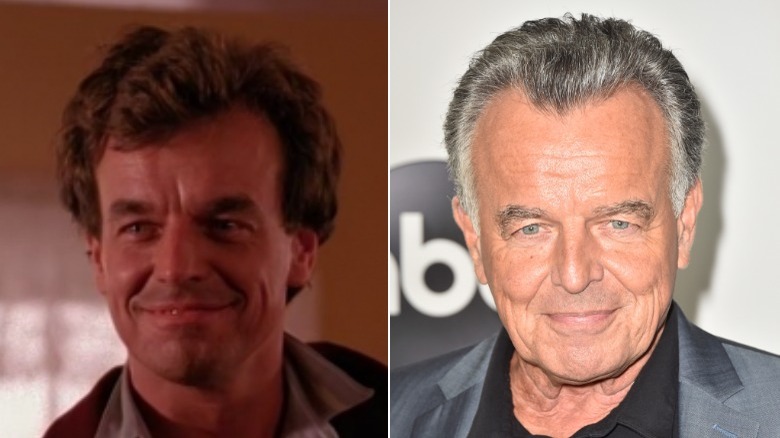 Frazer Harrison/Getty Images / CBS
Laura's father Leland Palmer was a major part of the show from the very beginning. The role was played by Ray Wise, who was also a big part of "Fire Walk With Me" and returned for a smaller role in the revival. Wise was already a respected character actor before landing his role on "Twin Peaks," with his most recognizable role being one of the bad guys in "RoboCop."
Ray Wise rarely finds himself in a starring role, but has given countless memorable supporting performances over the years. He has racked up an astonishing filmography of nearly 250 movies and TV shows, though Leland Palmer has remained his most closely linked character. The most notable films he has been a part of include "Good Night, and Good Luck," "X-Men First Class," "Powder," "Jeepers Creepers 2," and the animated "Batman: The Killing Joke" as the voice of Commissioner Gordon.
Other TV shows that have made use of his talents in significant recurring roles include "Mad Men," "How I Met Your Mother," "Chuck," "Fargo," "Agent Carter," "Psych" and its accompanying movie tie-ins, "Reaper" (in which he played the Devil), "24," and the soap opera "The Young and the Restless." His most recent role was as Marvin in more than 90 episodes of the sitcom "Fresh Off the Boat."
Grace Zabriskie as Sarah Palmer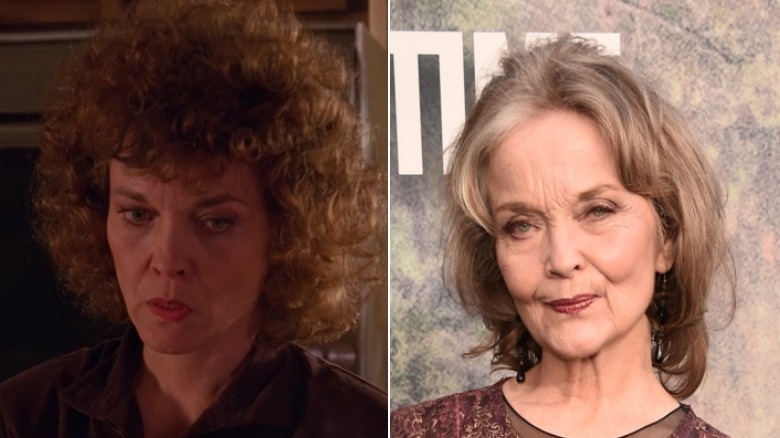 Alberto E. Rodriguez/Getty Images / CBS
The matriarch of the central "Twin Peaks" family was Sarah Palmer, played by Grace Zabriskie. Her performance ranged from haunting to hysterical and was never short of compelling. She began acting in television projects in the late 1970s and had already led quite the career by the time she joined the cast of "Twin Peaks."
Zabriskie reprised the character for both the "Fire Walk With Me" film and the 2017 Showtime revival. She also worked with director David Lynch on multiple other projects, including significant roles in his films "Wild at Heart" and "Inland Empire." Many of her other roles have been significantly smaller characters since, but she has been in a number of huge films and television shows. Her biggest projects include "Seinfeld," "Armageddon," "Gone in 60 Seconds," "The Grudge," "The Killing," "The Alienist," "Ray Donovan," and Werner Herzog's "My Son, My Son, What Have Ye Done?"
If there is any other individual role that people are most likely to recognize her from outside of "Twin Peaks," it would be as Lois Henrickson in all five seasons of HBO's "Big Love." Recently, Zabriskie has begun taking on more voice acting roles, including in the animated film "Cryptozoo" and in the video game "The Quarry."
Mädchen Amick as Shelly Johnson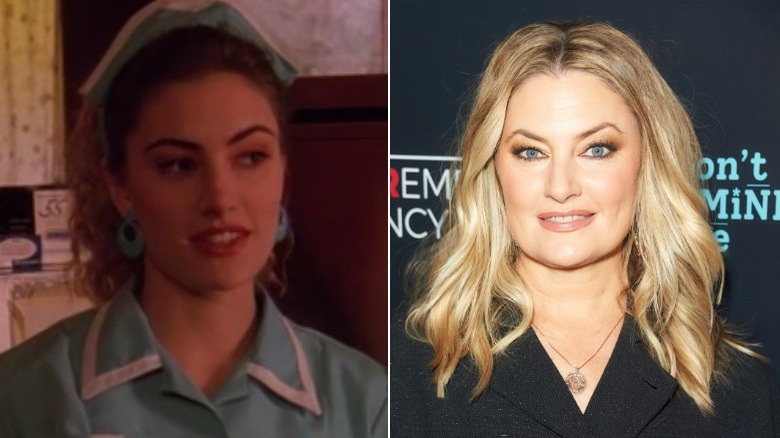 Unique Nicole/Getty Images / CBS
Mädchen Amick played an important role on the show as Shelly Johnson, a waitress at the iconic Double R Diner, the wife of the abusive Leo Johnson, and a love interest to Bobby Briggs. Amick had only been acting for a single year before landing her role in "Twin Peaks," which she reprised in the prequel film and revival series.
After "Twin Peaks" was canceled following its second season, Amick's next television project was a starring role in "Central Park West." Just like the series that made her a star, "Central Park West" also ran for two seasons on CBS before getting the ax. Her next major TV show was another starring role, this time acting opposite Malcolm McDowell on "Fantasy Island," a darker reboot of the classic series of the same name, which was canceled after a single season.
This string of cancelations led to fewer and fewer starring roles for Amick. Later on, she began playing memorable supporting characters on extremely successful shows like "E.R.," "Californication," and "Damages," along with numerous guest appearances on other series. These days, the show people know her from is the long-running CW series "Riverdale." Amick is a key member of the cast as Alice Smith (formerly Alice Cooper) and has appeared in all seven seasons of the show. She has also played additional characters on the show in the extended flashbacks, such as Elaina Alexis.
Miguel Ferrer as Albert Rosenfield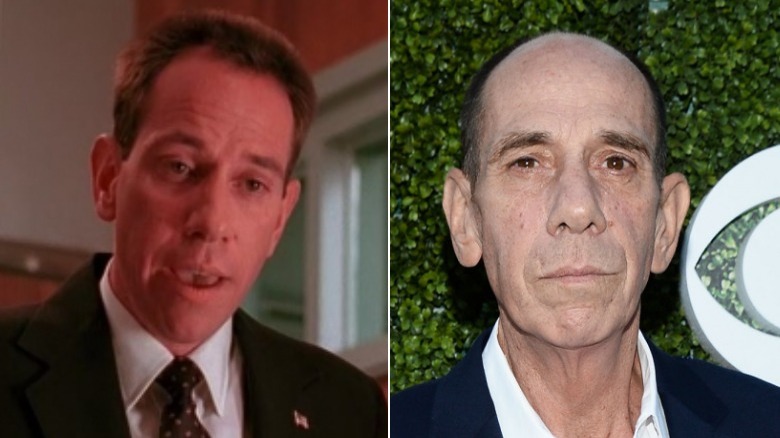 Matt Winkelmeyer/Getty Images / CBS
When he joined the cast in the third episode of "Twin Peaks," Miguel Ferrer left a huge impression as Albert Rosenfield, an FBI colleague of Cooper's. Though he was a minor character at first, he was made a more prominent fixture of the series in Season 2, returned for the "Fire Walk With Me" movie, and was upgraded to become one of the lead characters of the 2017 series "Twin Peaks: The Return."
Just like his "Twin Peaks" co-star Ray Wise, before joining the series, Ferrer was best known for his role in "RoboCop." Ferrer, who is George Clooney's cousin, had one of the best post-"Twin Peaks" careers out of anyone on the main cast. Major films like "Hot Shots! Part Deux," "Traffic," "The Manchurian Candidate," and "Iron Man 3" all made use of his talents. In addition to "Twin Peaks," Ferrer is known for the TV shows "Crossing Jordan" and "NCIS: Los Angeles," both of which he starred in over 100 episodes.
His distinctive gravelly voice made him a desirable voice actor for animated projects as well. Ferrer lent his voice to Disney's "Mulan" and the "Hercules" TV series, "Superman: The Animated Series," "Rio 2," and "Adventure Time," as well as video games like "Halo 2." Ferrer sadly passed away in 2017, a few months before the release of "Twin Peaks: The Return," which was his final major project.
Lara Flynn Boyle as Donna Hayward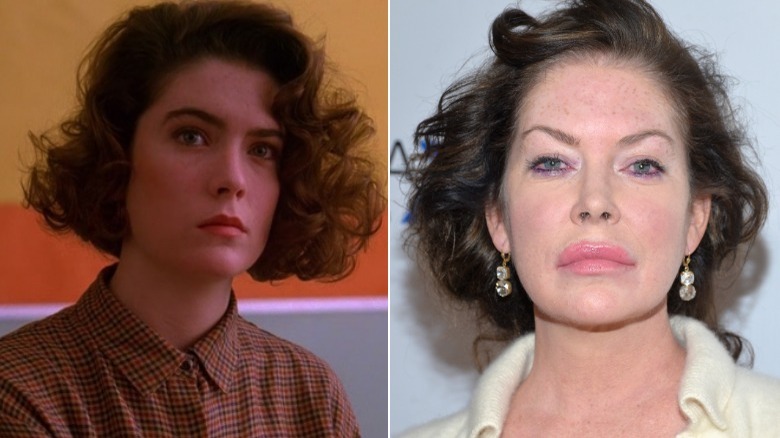 Michael Tullberg/Getty Images / CBS
Lara Flynn Boyle played the important role of Donna Hayward, Laura Palmer's best friend and the daughter of Dr. Hayward, played by series co-creator Mark Frost. Boyle's connection to the show is far more controversial than most. When it came time to make the "Fire Walk With Me" film, the Donna Hayward character remained an important figure in the story, but Boyle did not return. The role was recast with Moira Kelly, and Donna was one of the only original characters to be entirely absent from the later Showtime revival. The reasons behind her absence have been the subject of much speculation over the years, but the official given answer was simple scheduling conflicts.
Boyle's first major role after "Twin Peaks" was as Stacy in "Wayne's World." She followed that up with films of widely varying quality like "Happiness," "Baby's Day Out," and "Men in Black II." The character most closely associated with Boyle is undoubtedly her lead role on the long-running legal drama "The Practice."
Over time, Boyle's roles began getting smaller and less frequent. The last huge movie she was a part of was "Charlie Wilson's War" in 2007, but she only played an unnamed assistant role and was uncredited. She continues acting to this day but typically in low-budget B-movies, and it is now common for her to see a couple of years pass between roles. Her most recent movies include schlock like "Hansel & Gretel Get Baked" and "Cougar Hunting."
Catherine E. Coulson as The Log Lady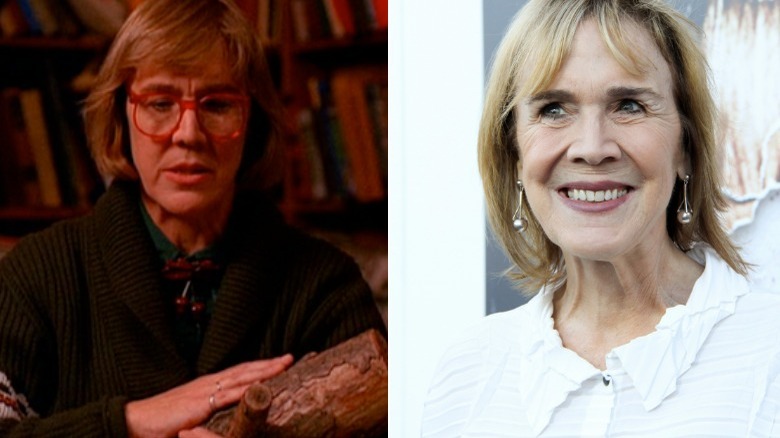 Kathy Hutchins/Shutterstock / CBS
Though her role was relatively small, Catherine E. Coulson played one of the show's most memorable side characters as the eccentric Log Lady, AKA Margaret Lanterman, whose log passes along cryptic messages. Coulson didn't always plan on pursuing a career in film. Winding up in the role was a bit of serendipity owing to her relationship with director David Lynch. Coulson and Lynch met in the early '70s. She got her start in the industry working all manner of crew jobs on movie shoots, including Lynch's first film, "Eraserhead."
Coulson's first acting gig was in Lynch's short "The Amputee." She only acted in a handful of other productions since, but she acted far more frequently on stage as a long-term member of the Oregon Shakespeare Festival. Her most noteworthy subsequent TV roles include one-off appearances on the shows "Portlandia" and "Psych," the latter of which dedicated an entire episode to "Twin Peaks" and had her playing the role of Wood Woman. She returned to the Log Lady role for both the prequel and the 2017 revival. Coulson sadly passed away two years before the start of the Showtime season, but Lynch had recorded her scenes far in advance.  
Joan Chen as Josie Packard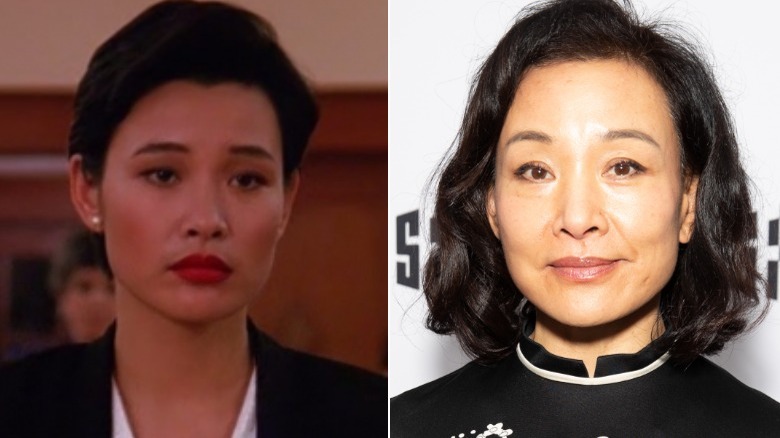 Miikka Skaffari/Getty Images / CBS
Joan Chen played the mysterious and tragic Josie Packard, the new owner of the prominent lumber mill and a love interest for Sheriff Truman. Chen got her start in the Chinese film industry in the 1970s before making her way to the U.S. and appearing in TV shows like "Knight Rider" and "Miami Vice" throughout the '80s. Her character was not a part of the revival season in 2017. She did reprise her role for the prequel film, but her scenes were deleted. "Twin Peaks: The Missing Pieces," released in 2014, restores her missing scenes. Chen has had many notable roles over the years since the show ended, often jumping back and forth between English and Chinese productions. Her biggest roles in recent years have been in the film "Tigertail" and her role as Empress Chabi on Netflix's "Marco Polo" series.
Alongside acting, Chen also became a filmmaker. In 1998, she produced, directed, and wrote the adapted screenplay to her debut feature film, "Xiu Xiu: The Sent-Down Girl." The film was released to widespread critical acclaim and set her up on a promising trajectory. Unfortunately, her second film, "Autumn in New York," was a notorious disaster and pumped the brakes on her filmmaking career immediately. It took 20 years for her to make her next feature-length project, a sports documentary titled "The Iron Hammer."
Heather Graham as Annie Blackburn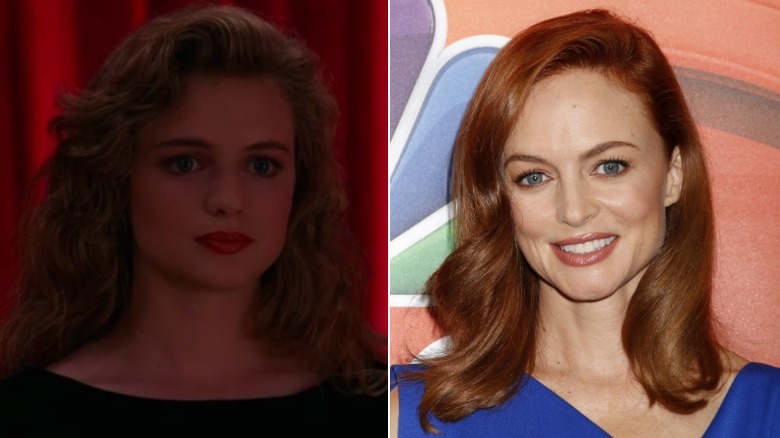 Kathy Hutchins/Shutterstock / CBS
Today, Heather Graham is one of the biggest names connected to "Twin Peaks," but that wasn't the case when the series first aired. It was still early on in her career that Graham landed the role of Annie Blackburn, the new waitress at the Double-R Diner in Season 2 for whom Cooper fell head-over-heels. Her character was also the subject of the show's haunting final lines as Cooper repeated "How's Annie?!" after the malevolent Bob entity made its way inside of him.
Graham was already on the rise with her roles in "Twin Peaks" and "Drugstore Cowboy," but she continued to rise higher and higher in stardom throughout the '90s with roles in the likes of "Six Degrees of Separation," "Swingers," "Austin Powers: The Spy Who Shagged Me," and "Boogie Nights." She has focused on feature films over the years, but has also enjoyed recurring side characters on the shows "Scrubs," "Californication," "Angie Tribeca," "Law & Order True Crime," and the "Get Shorty" TV adaptation.
Despite the cliffhanger ending of the series, Graham did not reprise the role for "Twin Peaks: The Return." Graham told TV Guide that she was not approached to return for the revival and guessed that meant her character was "taken away to the room." In the accompanying book "Twin Peaks: The Final Dossier," Mark Frost reveals that Annie was left in a permanent catatonic state after her experience in the Black Lodge and had to be institutionalized.