Tony Hawk Admits That's Really Him Skating On A Children's Show In The Early 1980s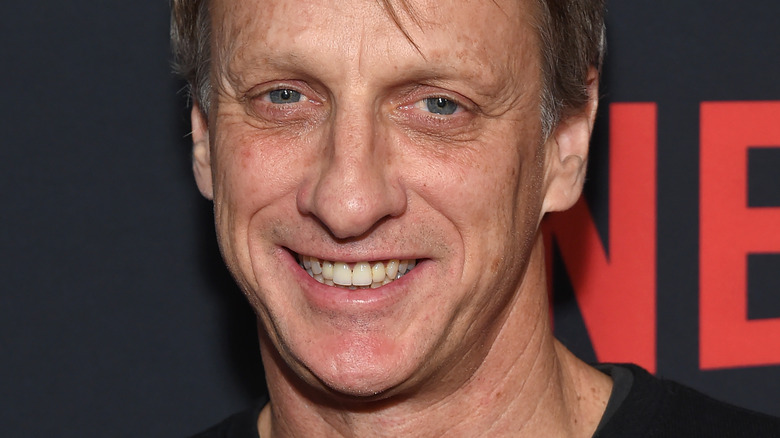 DFree/Shutterstock
When it comes to extreme sports, few names are as recognizable as that of professional skateboarder Tony Hawk. Aside from being one of the most accomplished and respected athletes of the sport and a standout performer at the X Games, Hawk also rose to prominence after signing a deal to have his name and likeness used in the smash hit video game, "Tony Hawk's Pro Skater."
The game series turned out to be a huge success and went on to launch over a dozen sequels as well as a remake. What "Tony Hawk's Pro Skater" did for its star, however, was raise his already considerable profile even further. Suddenly millions of kids and teens who didn't follow extreme sports, as well as their parents, knew exactly who the skateboarding superstar was.
However, fans of the skateboarder, his signature moves, and his many accomplishments might be surprised to learn that Hawk's first brush with fame was when he appeared on a children's television show in the early '80s.
Tony Hawk played Skateboard Johnny on Captain Kangaroo
Though Tony Hawk's name has been synonymous with descriptors like "hip" and "cool" for most of his life, his first televised appearance was anything but. In 1981, A young Hawk appeared as a character called Skateboard Johnny in the long-running CBS kids' show "Captain Kangaroo."
The weekday morning series ran for nearly 30 years with a staggering episode count of over 6,000 (via Entertainment Weekly). Toward the tail-end of that truly epic run, though, the series featured a then-unknown Hawk as a young boy in a skateboarding video. After being set up by Captain Kangaroo (Bob Keeshan), Mr. Moose, and Mr. Bunny (both Cosmo Allegretti), a skit shows the young skater thrashing to a jaunty melody sung to the tune of the traditional sea shanty "Drunken Sailor."
As far as introductions go, it's definitely a bit comical to look back on, like if Trent Reznor or Kurt Cobain got their start on "Shining Time Station." For his part, Hawk posted a clip from the show to his personal Twitter page, reminding fans of his appearance on "Captain Kangaroo" before remarking that the "Skateboard Johnny" song still haunts him to this day. 
Some fans seemingly feel the same way, with @langdonboom tweeting, "Is that really why you ride a skateboard?" and @the_maniacvii jokingly asking, "That song asked so many questions. Were you ever able to answer them all?" However, there were others who apparently liked the "Captain Kangaroo" take on "Drunken Sailor," such as former "American Idol" contestant Tim Urban, who tweeted that "It's a good song."