Ant-Man And The Wasp: Quantumania Screenwriter Cites MODOK As A Highlight Of The Movie
Phase 5 of the MCU begins in February with "Ant-Man and the Wasp: Quantumania," and as Kang (Jonathan Majors) kicks off his reign of terror in the cinematic universe it seems Marvel Studios is more comfortable than ever with mining the weirdest depths of the comic books. One character making an appearance in Ant-Man's (Paul Rudd) latest installment is the villain MODOK, a giant floating head in a chair with a passion for killing.
Created by Stan Lee and Jack Kirby, MODOK first appeared in Marvel comics in 1967 and has popped up sporadically since then. He also appears in a self-titled series on Hulu, voiced by Patton Oswalt. But though he was originally a science technician named George Tarleton, the version of the character in the upcoming "Ant-Man and the Wasp: Quantumania" will be more recognizable to MCU fans. He's played this time by Corey Stoll, who previously appeared as Darren Cross, aka Yellowjacket, in the original "Ant-Man." The actor's reappearance as MODOK suggests Cross survived his defeat in that movie by becoming the floating cyborg.
While many fans likely expect MODOK to play a limited role in "Quantumania," it seems he may instead be quite central to the movie. According to screenwriter Jeff Loveness, MODOK will be a highlight of "Ant-Man and the Wasp: Quantumania."
Writer Jeff Loveness: MODOK is 'a real loose cannon'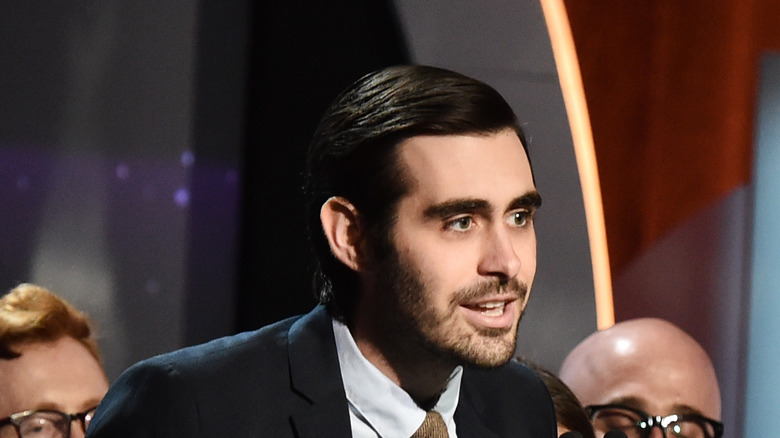 Alberto E. Rodriguez/Getty Images
In an upcoming SFX magazine interview quoted by GamesRadar, "Ant-Man and the Wasp: Quantumania" screenwriter Jeff Loveness said the character of MODOK will be a highlight of the film. Loveness, who is also attached to the upcoming "Avengers: The Kang Dynasty," claims to have drawn inspiration from the source comic books when writing the character, while still crafting an original take on the cyborg for the MCU. "Obviously we are very faithful to the comics with the design and the look," Loveness said, "but then there is the little bit of extra we put into him. Maybe I'll get fired off 'The Kang Dynasty' when people see it, but some of my favorite moments come from MODOK and the dynamics there."
With the MCU incarnation of MODOK being played by Darren Cross, there's a lot to explore, and Loveness says he took inspiration from Kevin Kline's character in "A Fish Called Wanda," as well as some old "The Simpsons" episodes while writing "Quantumania." "His ego will crumble the second he's challenged," Loveness says, "but then also like Kevin Kline in 'A Fish Called Wanda,' he's pretty good at killing people." 
In fact, Loveness says that getting MODOK right was crucial to getting "Quantumania" right as a whole, saying, "He's a loose cannon character and I had a great amount of fun with him. That was almost day one in the room. We cracked MODOK as a character and the movie just became so fun."
"Ant-Man and the Wasp: Quantumania" arrives February 17, 2023, in theaters across the multiverse.