How Jonathan Majors Got Ripped To Play A Bodybuilder For Magazine Dreams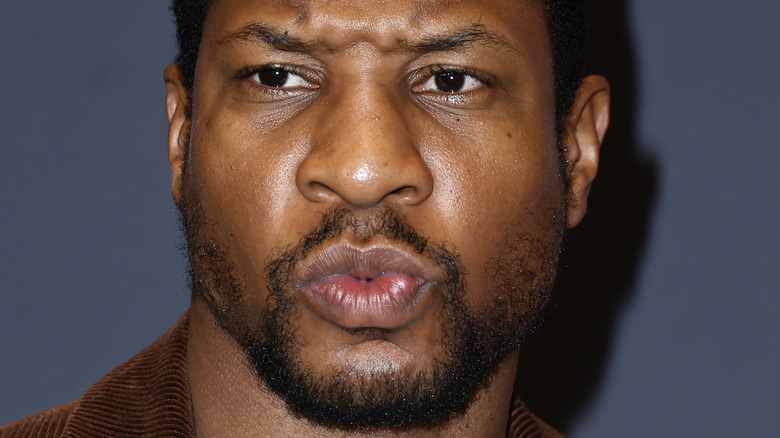 Frazer Harrison/Getty Images
2023 is shaping up to be the year of Jonathan Majors. The actor's resume, which already includes such gems as "The Last Black Man in San Francisco," "Da 5 Bloods" and "The Harder They Fall," will be bumped up by two major releases this year with Marvel's "Ant-Man and the Wasp: Quantumania" and the ninth installment of the "Rocky" franchise "Creed III." But in that mix of major movie appearances, Majors also lent his talents to a smaller release that has moviegoers seeing a golden statuette in the actor's future. 
This year's Sundance Film Festival saw the premiere of "Magazine Dreams." The Elijah Bynum-directed film tells the heart-wrenching story of amateur bodybuilder Killian Maddox (Majors), whose obsessive journey toward perfecting his physique leads the kind young man down a dark and dangerous path. Much of the film's praise has centered around Majors' haunting performance, with Next Best Picture's Matt Neglia tweeting, "'Magazine Dreams' is a dark & intense character study with career-best work from Jonathan Majors. Eliciting sympathy one moment, then fear the next, his obsessively committed performance will leave you in shock & awe." If crafting such a performance wasn't difficult enough, Majors also saw challenges in building his body to such an intense extent. 
Majors had to eat over 6,000 calories a day
Jonathan Majors might be able to write the best-selling body-building book of all time. On top of the actor preparing to go toe-to-toe with the son of Apollo Creed in March, his role in "Magazine Dreams" required the actor to push his body to the limit to portray troubled bodybuilder Killian Maddox. And to say Majors' efforts to reach such an intense physique were extreme would be an understatement. 
The "Loki" actor sat down with Variety to talk about the immense protocol required to achieve his look in the film. "I'm 6 feet tall. I'm 202 pounds," Majors explains. "In order to sustain that and to grow that, you have to eat as much protein that you weigh. I ate 6,100 calories a day for about four months. That included the pre-work and the post-work of 'Creed III.'" Majors went on to explain that along with his diet of chicken and elk that he consumed six times a day, the actor also was required to train two times before shooting commenced each day, with an additional workout after filming was done. 
And while the actor plans to slow things down, his rest period will be far from watching Netflix and eating chips, telling Variety, "I really like being physical ... I got to do something to stay with it. I don't work out three times a day anymore. Just once a day."