The Musical Homage We Will Sadly Never Get To See On That '90s Show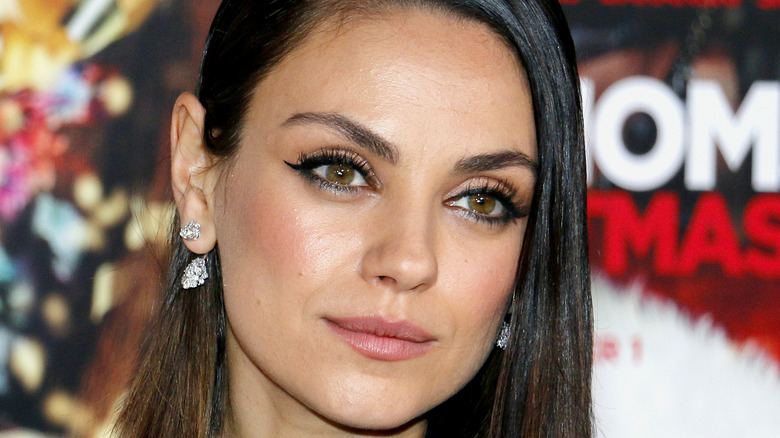 Tinseltown/Shutterstock
Fans from multiple decades should be thrilled that Netflix just dropped a spinoff to the hit series "That 70s Show," with a whole first season of "That 90s Show." The show takes place in 1995 and features many of the same characters fans grew to love in the original series. With Debra Jo Rupp and Kurtwood Smith mainly featured — as well as a new cast of teens — other returnees include Topher Grace, Mila Kunis, Ashton Kutcher, Laura Prepon, and Wilmer Valderrama. Co-creator Greg Mettler spoke with CBR about the show and how they were too many good ideas to fit in when creating it. So much so, some quality material had to get axed.
Starting in 2001, Mettler co-produced 130 episodes of "That 70s Show." Today, he's back on a familiar set, which was something he did not hesitate to do one bit."There are a few experiences that you have that just are really important to you and stay in your heart, and this was one of them," he told CBR, referring to the original series. "When I got the opportunity, it was a no-brainer." And when returning to a world you helped create, there will inevitably be an influx of new ideas to bring to the new series. One of these ideas involved a famous '90s song by the band Jane's Addiction, and even though it was perfectly executed, it ended up on the cutting room floor.
A classic '90s video was recreated shot for shot
When CBR asked Greg Mettler if there was anything that he wanted to do on "That 90s Show" that didn't make the cut, he mentioned a scene in which its exclusion still makes him still sad today. "There was a really amazing recreation of the video for Jane's Addiction's 'Been Caught Stealing,'" he revealed. The song and video Mettler is referring to was released in 1990 and took place in a supermarket. The video mirrored the lyrics of the tune, featuring different characters shoplifting random items. For many, the video and song perfectly symbolize the '90s, and surely that was partly why Mettler was upset to lose it.
The scene shot to include in the new spinoff series, in which Mettler hated to give up, would have paid homage to the classic alternative rock song, "Been Caught Stealing." "We shot this entire recreation — almost shot for shot — of the music video," he explained. "It didn't make the cut!" Hopefully, for fans, this already filmed video will become available at some point to watch, since it seems like the final result was pretty fantastic. "I know [director] Gail Mancuso is very sad about it because she just nailed it. The kids were in this awesome wardrobe, and it was very fun, but that was a big '90s set piece that didn't end up getting in there," said Mettler. "I still shed a tear about it every so often."