The Understandable Reason Kevin McKidd's Daughter Won't Watch Grey's Anatomy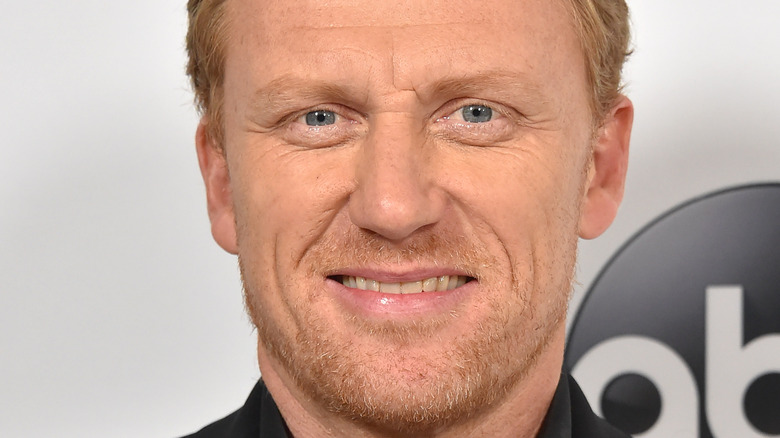 DFree/Shutterstock
ABC's long-running drama "Grey's Anatomy" has filled the airwaves with steamy hookups and torrid relationships amidst medical procedures and hospital life since 2005. Like most medical dramas, the series focuses on a group of attractive medical professionals as they attempt to navigate their careers and balance the insanity of their hospital lives with their personal lives. The show primarily follows Meredith Grey (Ellen Pompeo) as she commences her medical career as an intern at the former Seattle Grace Hospital before working her way up to becoming the Chief of Surgery.
Over nearly two decades on the air, the show has successfully managed to balance the emotional connections between the characters with the medical minutia and emergencies that come with working in healthcare. However, despite this, the series has garnered a reputation mostly for its highly attractive cast members and the hot and heavy situations that they are put in. After all, that is generally what attracts and retains an audience.
Considering the many intimate interactions between the characters, it must be rather interesting for the real-life people in the lives of the actors who play them. Since the show has been running for 18 years, it's likely that most of the cast members have started families during its tenure, with some likely reaching adulthood as the show progressed. So if their kids manage to hit the age demographic of the show, would they be interested in watching their parents on it? Well, Kevin McKidd's, who plays Owen Hunt, will not watch the show and it's for a very valid reason.
Kevin McKidd's daughter won't watch Grey's Anatomy because she doesn't see her dad make out with people
Owen Hunt (Kevin McKidd) was introduced in Season 5 as a U.S. Army trauma surgeon. After finishing his first tour in Iraq, he returns to Seattle to begin work as head of trauma surgery and manages to get the attention of Cristina Yang (Sandra Oh). The two begin a tumultuous relationship before Cristina leaves the country. Since then, Owen has dated two women before starting a family with Teddy Altman (Kim Raver).
Considering the show's reputation and Owen's romantic history, McKidd has had to perform in plenty of spicy love scenes. Since McKidd started the show with children (via Us Magazine), they've aged into the show's core audience, but do they watch it? E! Insider wanted to know, so they asked him when he sat down for an interview. According to McKidd, the show doesn't interest his son and his daughter is more so uncomfortable, explaining, "My kids don't watch it because I think my daughter finds it weird watching her dad make out with different people."
Despite the understandable discomfort, it seems that McKidd has a perfectly functional relationship with his family. When appearing on "The Jennifer Hudson Show" in October 2022, McKidd expressed his love for his college-age indifferent son and uncomfortable daughter alongside his two young ones. When gushing about his kids, McKidd expressed his appreciation for being able to raise another set of children. "The first time I was more worried about paying the gas bill, making ends meet. Definitely, I'm enjoying it a lot more," he intimated. "I think you realize when you're older that those young years when they're really wee, they go so fast ... so I really appreciate it this time."