Leslie Grossman Compares The Visceral Thrills Of American Horror Story To The Humor Of Bridesmaids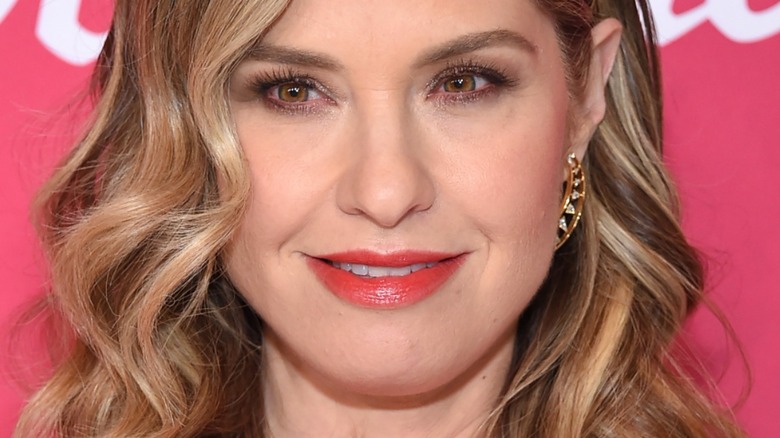 DFree/Shutterstock
"American Horror Story" has become notorious for a variety of unique reasons, and one of the biggest among them is its deep bench of signature stars who return season after season to play wildly different characters. There have been so many "American Horror Story" legacy actors rotating in and out of the ensemble over the years that you could sketch out a pretty accurate diagram of the show's "eras," production-wise, just based on which faces appeared in it more prominently at any one point. There was the early era of Jessica Lange, Frances Conroy, and Taissa Farmiga. Then there was the era of Angela Bassett, Kathy Bates, John Carroll Lynch, and Wes Bentley. And now, since "American Horror Story: Cult" in 2017, a strong argument could be made that "AHS" is living in the era of Leslie Grossman and Billie Lourd.
Grossman, in particular, has become particularly definitional of the brash, self-aware tone that "American Horror Story" has taken in recent years, with her eccentric blend of humor and grotesquerie having made for some of the show's campiest and most memorable moments ever. Whether playing the brittle Meadow Wilton on "Cult," ruthless socialite Coco St. Pierre Vanderbilt on "Apocalypse," fundamentalist camp director Margaret Booth on "1984," or snarky literary agent Ursula Caan — her personal favorite "AHS" character yet — on "Double Feature," Grossman always brings her own part-scary, part-hilarious flavor to a new season. 
In a recent interview, she shared her thoughts on the way horror and comedy have more in common than some people might think.
Leslie Grossman believes both horror and comedy thrive on tension and anticipation
Leslie Grossman, 51, sat down with Indie Wire in November 2022 for an interview about "American Horror Story: NYC," the 11th and most recent season of the popular horror show. One of the questions she was asked was about the reasons that made horror and comedy work so well together, not just in "American Horror Story" but in general. Grossman responded by noting both genres' tendency to elicit deep, visceral reactions.
"They both involve this tension, like, 'Oh my God, are they gonna get stabbed? Or is somebody gonna jump out?,'" Grossman said. She then made a comparison between that anxious, anticipative element of horror and the dynamics of one modern comedy classic: "I'm thinking about when I saw 'Bridesmaids' for the first time, and it was like, 'Oh my God, what's gonna happen? They all have food poisoning: how is that gonna go? Like, what are they gonna throw up all over each other?'"
Comparing the feeling of that iconic "Bridesmaids" scene to the tension of the shower scene from "Psycho," Grossman went on to add that both horror and comedy thrive on demanding active viewer engagement, in terms of both wondering what's going to happen and responding to the action when the other shoe ultimately drops. "When you watch a horror movie or you're watching comedy, they're not passive; they are things that you're involved in because they're eliciting a real reaction from you," the actress said.
Clearly, Grossman has a clear understanding of these similarities, and that probably accounts for her skill in both genres.