The American Horror Story Character Leslie Grossman Calls Her Favorite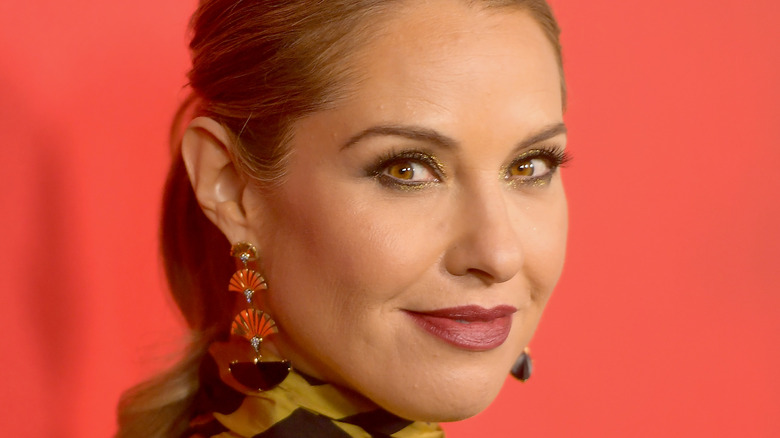 Matt Winkelmeyer/Getty Images
Actress Leslie Grossman's list of acting credits is equal parts lengthy and impressive. Grossman got her start appearing as "Girl Student" in the 1997 comedy "The Opposite of Sex" and as "Ready to Have Sex's Friend" in the teen sex comedy "Can't Hardly Wait." Grossman finally made a name for herself playing Mary Cherry on "Popular" (1999-2001). The underrated Ryan Murphy show landed at #21 on Entertainment Weekly's list of the "26 Best Cult TV Shows Ever." Although the series didn't catapult Grossman onto Hollywood's A-list, it marked her first time working with the uber-talented Murphy.
Before making her "American Horror Story" debut, she appeared in two other Murphy series: "Nip/Tuck" and "The New Normal." Grossman joined the ensemble cast of "AHS: Cult" playing Meadow Wilton, one of Kai Anderson's (played by Evan Peters) acolytes, and she's been a cast mainstay on the popular horror anthology series ever since. In "AHS: Apocalypse," she appeared as one of the newest members of Season 3's "Coven" witches, Coco St. Pierre Vanderbilt, and as a bible-thumping serial killer on "AHS: 1984." Grossman is back playing Harry Gardner's (Finn Wittrock) cutthroat agent Ursula for in Season 10, "AHS: Red Tide." Though she loves all her characters, Leslie Grossman recently revealed which of her "American Horror Story" roles is her favorite.
Leslie Grossman calls her favorite character a 'sociopath'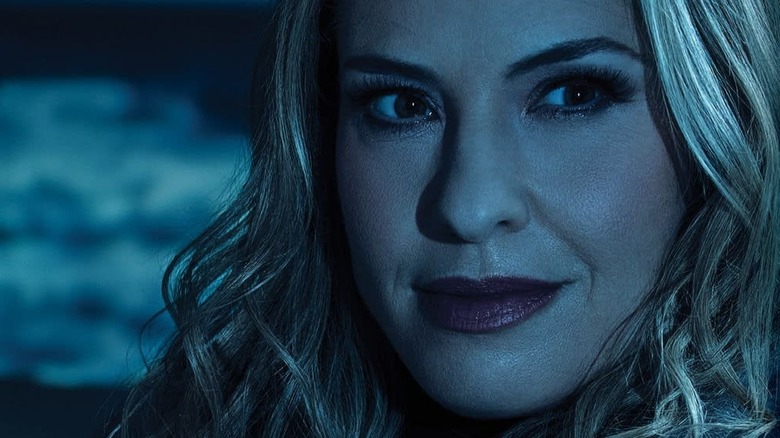 FX
Grossman told Newsweek Ursula is her favorite role in the American Horror Story Universe thus far. Ursula arrived in Provincetown in Episode 3, "Thirst," and she's determined to capitalize off the little black pills that turn people with a modicum of talent into creative geniuses and cold-blooded killers. Although Austin Sommers (Peters) and Belle Noir (Frances Conroy) tasked Macaulay Culkin's Mickey to kill Ursula to keep their dirty secrets, Ursula made him a better offer, which Mickey couldn't refuse. "There was just a lot in Ursula that I recognized in the characters that I have come across professionally. Just that absolute disregard for anything involving a soul, and the only goal is money, power, and success, and that there are certain people that are not burdened by a conscience," Grossman said.
Grossman loved playing a "sociopath" who has the "best lines." Fans have been undoubtedly shocked by many of the events that have transpired on "AHS: Red Tide" (or maybe not since it's created by Ryan Murphy), but Grossman's Ursula remains unphased by the bloodshed going on around her or the fact that she's a target of some pretty nasty bloodsuckers. If fans were waiting for Ursula to freak out over Alma (Ryan Kiera Armstrong) killing Provincetown's chief of police (Adina Porter), they were sorely disappointed, solidifying Ursula as the worst babysitter ever.
Leslie Grossman also describes her favorite character as 'grounded'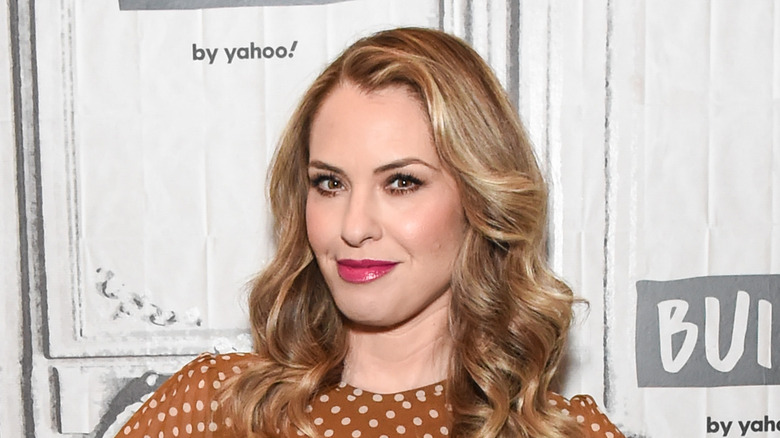 Daniel Zuchnik/Getty Images
Perhaps one of the most disturbing story arcs unfolding on "Red Tide" is the transformation of Harry's daughter from a would-be child prodigy into a truly bad seed. Talk about someone unfettered by a conscience. Alma's thirst for blood exceeds that of the adults, and her youth infuses her with hubris that makes her incredibly dangerous. While Harry is visibly shocked and horrified when he arrives home at a crime scene, Ursula takes the development in stride. "She's just a complete sociopath, and although she cares about what she cares about — which is money and success — the police chief being brutally murdered, lying on a table bleeding out in front of her is just a minor bump on the road to her ultimate goal, so that was a lot of fun to get to play," Grossman said.
The body count on every season of "American Horror Story" is pretty high, but Ursula seems poised to go the distance so far. Ursula brings an oddly pragmatic vibe to the show. She's operating from what she considers a realistic standpoint, and Grossman called Ursula "quite grounded." With "American Horror Story" renewed through Season 13, fans haven't seen the last of Grossman.