Austin Butler Had A Whole Lot Of Shakin' Going On During The First Elvis Concert Scene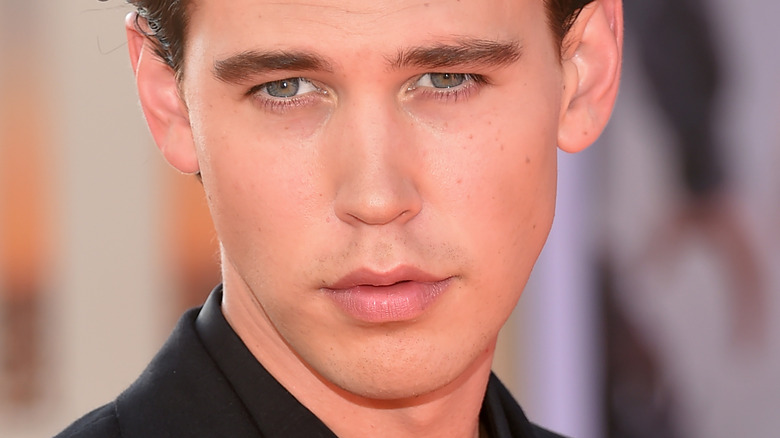 DFree/Shutterstock
It's no secret that Austin Butler, who played Elvis Presley in Baz Luhrmann's biopic, "Elvis," knocked his hip-shakin' performance out of the park. The actor took home the 2023 Golden Globe for best actor in a drama motion picture and received rave reviews from critics. The New York Times gushed that Butler "captures the smoldering physicality of Elvis the performer, as well as the playfulness and vulnerability that drove the crowds wild."
For Butler, stepping into such massive blue suede shoes wasn't exactly second nature. In an interview on "Jimmy Kimmel Live," he revealed the tedious –- and sometimes embarrassing -– steps taken to fully embrace "The King." Butler diligently worked with dialect and movement coaches, in addition to an instructor of karate, a favorite Presley pastime. He also collected numerous compilations of Presley's voice to familiarize himself with the artist's vocals, both singing and speaking, and even his laugh, which he said tended to rise to a higher decibel at the end. While filming in Australia, Butler was often spotted strolling the beach for hours at a time attempting to perfect his Presley-isms. "It looked like this man just absolutely out of his mind," Butler recalled to Kimmel. Though Butler's studies earned him a few judgmental looks from beachgoers, they paid off.
Still, despite his hard work to capture the essence of Presley, the actor's nerves were at an all-time high during day two of filming. That's when one of the singer's — and the movie's — most iconic scenes was shot.
Austin Butler's hands were shaking before filming the '68 Special scene
In an interview with Fandango, Austin Butler revealed that scenes in "Elvis" weren't necessarily filmed in chronological order. On only the second day of production, he donned Elvis Presley's black leather ensemble for the "'68 Comeback Special," which sees Presley return to the stage after spending several years making movies.
For Butler, the thought of shooting such an unforgettable occasion in Presley's history so soon in the process "terrified" him. It was the moment of truth after connecting with Presley while auditioning and then preparing for a year and a half. "I was in the dressing room beforehand. I felt my hands shaking. I felt this terror inside me," said Butler. "I'd been living with this for so long, but I had this moment of thinking, 'Can I do it? Am I a fraud? Am I gonna fall flat on my face?'"
However, once it dawned on him that Presley probably felt the same way upon returning to music, Butler calmed down and redirected his nervous energy into the performance. During that same interview with Fandango, Butler's co-star, Olivia DeJonge, who played Priscilla Presley, said, "It was like watching the real thing."