Baz Luhrmann Drew Major Inspiration From Shakespeare When Creating Elvis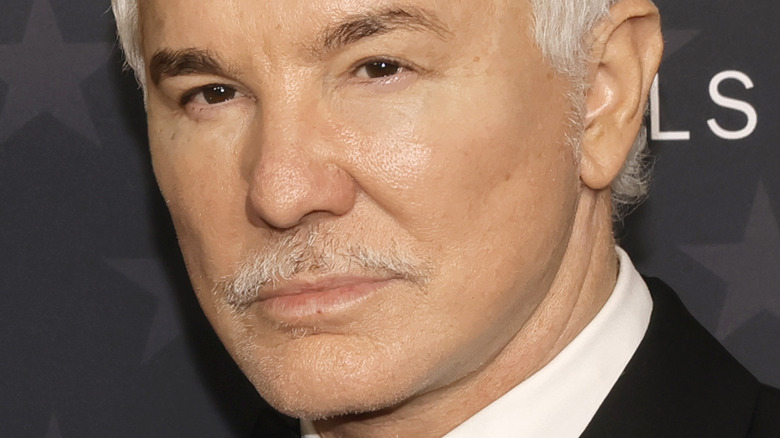 Kevin Winter/Getty Images
Telling the story of a cultural icon such as Elvis Presley is no small task, to say the least. So when it came time to bring his story to the big screen, director Baz Luhrmann approached the subject matter from a very interesting place. 
Released in June 2022, "Elvis" follows the ups and downs of the life of massively influential rock and roll star, Elvis Presley (Austin Butler), most notably focusing on the relationship between Presley and his manager Colonel Tom Parker (Tom Hanks). Upon its release, the film became a major hit, becoming the second-highest grossing biopic of all time after "Bohemian Rhapsody," with a box office gross of over $287 million worldwide (via Box Office Mojo). The praise the film has received from critics and audiences for its energized direction and Austin Butler's killer performance (via Rotten Tomatoes) has also managed to follow the film into award season, where it has already garnered its fair share of accolades, most notably a Golden Globe win for best actor in a drama motion picture for Butler. 
With such an ambitious undertaking, it would seem difficult for any filmmaker to find the right manner of telling this story. This was no exception for Luhrmann, who chose to view the grand story of "Elvis" from an even grander point of view. 
Luhrmann's efforts paid off
When tackling the story of the king of rock and roll, director Baz Luhrmann, himself an admirer of Elvis Presley, wanted to elevate the celebrity's story into something grander.
On an interview with Deadline, the director explains what he was hoping to get across with his retelling. "I grew up in a very tiny country town; [my family] ran a cinema," he says. "So we had [an] Elvis matinee; he was in my life early. [Making] it wasn't so much I said 'I had to do a biopic,' it was more in the same way like Shakespeare will take a historical figure into a larger idea." The director's clear admiration for Shakespeare's work, as can be seen in one of his earliest hits "Romeo + Juliet," made sense in retelling this rise and fall story. 
And it's clear that their efforts have paid off. Not only was the film a box office, critical and award season success, but the reactions of Presley's existing family exemplify the success of their approach. Elvis' daughter, the late Lisa Marie Presley, took to Instagram amongst the film's release, saying, "You can feel and witness Baz's pure love, care, and respect for my father throughout this beautiful film, and it is finally something that myself and my children and their children can be proud of forever."