Young Sheldon's Annie Potts Doesn't Let Her Past Injury Get In The Way Of Living Life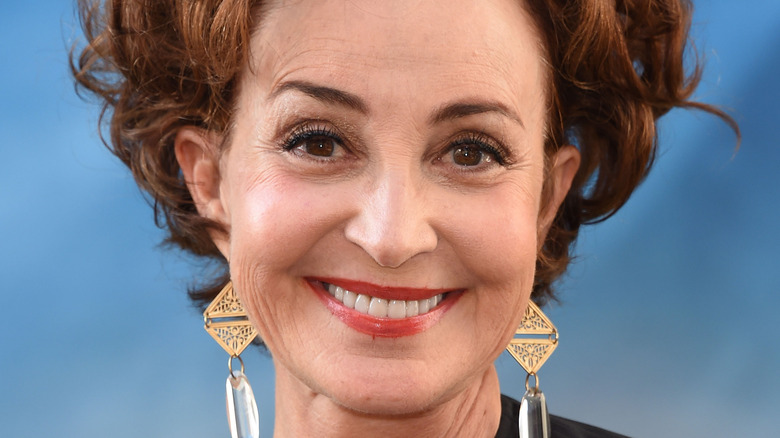 DFree/Shutterstock
Annie Potts has been showing up on screens of all sizes for an impressive amount of time. The Nashville native first began popping up in the late '70s, with small roles in TV series and the occasional film. However, it was her role as Janine Melnitz in 1984's "Ghostbusters" that sent her career in an upwards direction. That success led Potts to arguably her most well-known role as Mary Joe Shively in the sitcom "Designing Women," which began airing in 1986 on CBS.
Potts has been landing series regular roles even three decades on — she currently plays the title character's grandmother, Connie "Meemaw" Tucker, in "The Big Bang Theory" spinoff series "Young Sheldon," which is set to wrap up its sixth season in February 2023. A seventh season has already been ordered.
What many fans don't know about Potts though is that the 70-year-old has gone through much of her career dealing with injuries she sustained in an accident half a century ago. Chronic pain would end plenty of acting careers permanently, but as she explained in an interview last March, Potts is not one to back down from working. And as fans can see on TV, including with "Young Sheldon," she doesn't show any signs of slowing down.
A freak accident changed Potts' life at just 21
Ahead of the ongoing sixth season, Annie Potts and the rest of the cast of "Young Sheldon" sat down with Glamour. In the interview, she talked about how physically demanding it has been for her, due to the 50-year-old accident.
"I was hit by a drunk driver when I was 21 and broke every bone in my body below my waist but one," she revealed. That was a few years prior to Potts making her TV and film debut in the late '70s. Essentially, while she was trying to break into Hollywood, she was also hiding the fact that the lower half of her body felt far from normal. Shockingly, Potts has had "more than 20 orthopedic surgeries" — she had her ankle replaced last year. And despite dealing with the pain that goes with this many procedures, Potts kept her medical condition mostly under wraps.
"It was amazing that I survived, and I haven't ever talked about it much because I felt that people might think I was less able than I might need to be," she said on why she kept it a secret. Potts went on to say that even today, she still deals with chronic pain: "It has been a lot to handle. [...] I've had to learn how to walk again so many times now, I can't even count. But anything that doesn't kill you is usually the making of you, so it's certainly made me a more empathetic person, a more compassionate person."
Last April, after she got her ankle replaced, Potts showed off an X-ray scan on Facebook with the caption: "What do you think of my new bionic ankle?! So thankful for science and to be alive at a time that incredible work like this is possible." It's safe to say that both science and Annie Potts are pretty amazing.