George Takei Takes Nothing But Positives In His Life From Star Trek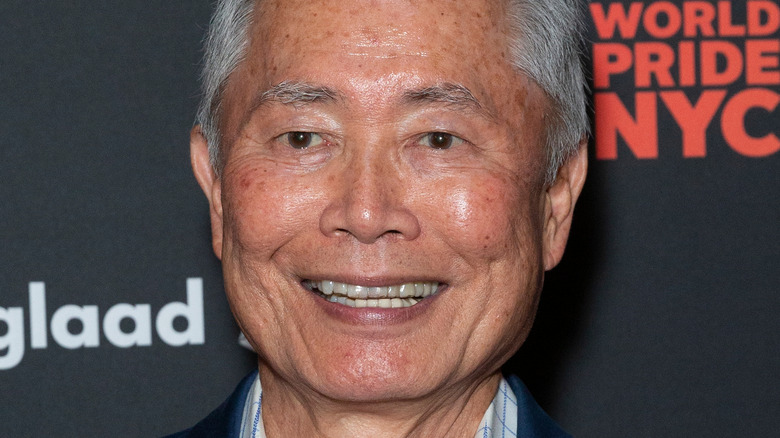 Lev Radin/Shutterstock
To be a part of an iconic and groundbreaking series like "Star Trek" certainly comes with its perks. It's difficult to deny that many of its stars — be they living or passed on — have become some of the most well-known and respected in show business. It's certainly the case with the likes of William Shatner, the late Leonard Nimoy, and the recently departed Nichelle Nichols.
So it is with George Takei. Today, the former Mr. Sulu is rightly viewed as science fiction royalty. But science fiction was not always regarded as seriously as it is today. Actors often feared being typecast or pigeonholed into what was still then considered a rather narrow and often silly field, a fear that was so palpable in the worlds adjacent to "Star Trek" that it had its own movie made about it in the form of 1999's "Galaxy Quest."
Takei, however, seems to have never really feared such a fate. Yes, about half of his roles in the 1980s and '90s were in a "Star Trek" project or other science fiction, but he just as often appeared in comedies or dramas and started to flex his sonorous voice-acting chops. He also saw his involvement with "Star Trek" as opening other doors well beyond the acting world.
The part of Sulu opened doors
In a 1995 interview titled "A Conversation with George Takei," George Takei recalled his experience interviewing for the part of Lieutenant Sulu with "Star Trek" creator Gene Roddenberry. He was taken aback by not only the show's grand utopian vision but also its racial inclusivity. "I knew that he was talking about a breakthrough role," said Takei. "Because never in regular weekly series television had an Asian character been depicted the way he described Sulu."
The opportunities "Star Trek" created were therefore social as well as individual. Takei claimed he was desperate to be cast in that role and was thrilled when he was. Interviewer Paul Rosa asked if he was at all frustrated to be so associated with "Star Trek" while perhaps at the expense of other roles, but Takei simply doesn't see it that way.
"I think my life has changed completely by my association with 'Star Trek,'" he replied. In fact, the recognition Takei garnered from his role as Sulu is one of the reasons he has been able to have such a visible presence in advocacy and politics, including a brief run for California State Assembly in 1980 (via Santa Cruz Sentinel).
Takei also mentioned — half-joking — the example of a loan officer asking him to autograph a photo of himself in character as Lieutenant Sulu before talking business. Looking around at the very place the interview was taking place, the Japanese American National Museum in Los Angeles, he concluded, "This museum ... I'm able to participate on the level that I am as a member of the board because 'Star Trek' has made so many things possible."