The Love Scene In Sliver That Took Fans To The Edge Of Cringe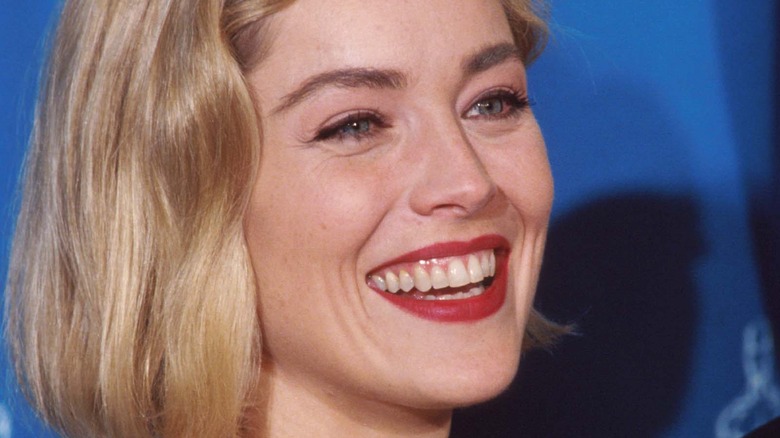 John T. Barr/Getty Images
"Sliver" limped its way into cineplexes in the summer of 1993, and filmmakers undoubtedly hoped to cash in on the success of another erotic thriller that opened the year prior: "Basic Instinct." "Sliver" seemed to have all the pieces necessary to put together an unforgettable motion picture puzzle. First, "Basic Instinct" writer Joe Eszterhas penned the "Sliver" screenplay that was based on the 1991 novel written by Ira Levin. Levin's career includes a number of well-received and respected novels: "A Kiss Before Dying," "Rosemary's Baby," and "The Stepford Wives."
Second, Phillip Noyce had just come off helming the Harrison Ford-led "Patriot Games," and the director didn't lack experience. Noyce had worked extensively on shorts, television, and film projects for 24 years leading up to "Sliver." Third, "Sliver" was loaded with Hollywood talent. Sharon Stone was brought aboard to further exploit the $353 million "Basic Instinct" made globally (per Box Office Mojo), and her chilling performance as the seductive, serial-killing Catherine Tramell all but assured audiences would follow the actor onto her next project.
But even with veteran actor Martin Landau joining Stone, William Baldwin, Tom Berenger, and Colleen Camp, the star-studded performers weren't able to salvage "Sliver." Critics and audiences lambasted the erotic thriller (per Rotten Tomatoes), and the film didn't do a third of the business "Basic Instinct" did worldwide (via Box Office Mojo). However, even with all of the film's problems, there's one unforgettably cringe-worthy sex scene that arguably doomed the entire film all by itself.
The first sex scene between Carly and Zeke is hard to watch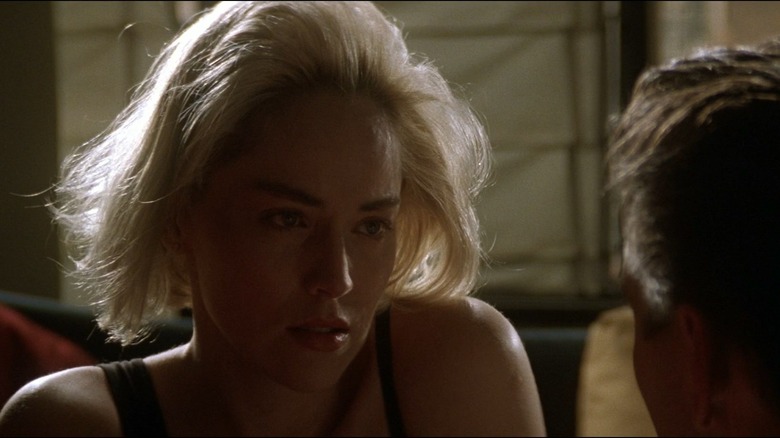 Paramount Pictures
"Sliver" seemed tailor-made for Sharon Stone following her steamy performance in the erotic thriller "Basic Instinct." And, even today, audiences concur when it comes to Stone's appeal in the 1990s. "Sharon Stone was just smoking hot during that period," Redditor u/sagar7854 commented. However, lackluster performances by the entire cast derailed "Sliver" in U.S. theaters (per Box Office Mojo) despite Stone's involvement. And its hard to forget that first, cringe-worthy love sequence between William Baldwin's character, Zeke, and Carly (Stone) that invariably made viewers want to look away.
"I want to see," Baldwin whispers, as he touches Carly, knowing neighbors could be watching. "I want to see you." Well, apparently no one else wanted to see, even as Zeke slowly stripped Carly down to her bra. "The sight of him [Zeke] having very-clearly-simulated sex and saying things that no Baldwin brother is qualified to say ever is just horrendous — dare I say cringe," u/Akram323 posted on Reddit.
Zeke and Carly's coitus begins, and Stone's character seems to be engaging in some bizarre version of an almost wanton sex act rather than lovemaking. Regardless, of the subpar acting and how uncomfortable the characters look, the lovers sway the night away. "This is one of those movies where I find myself thinking, 'Have any of these people actually had sex?' This is not what it's like," u/Anivair wrote (via Reddit). It's hard to sell an erotic thriller with abhorrent acting to audiences when the eroticness of it isn't convincing.