The Steamy '90s Thriller You Likely Forgot Starred Sharon Stone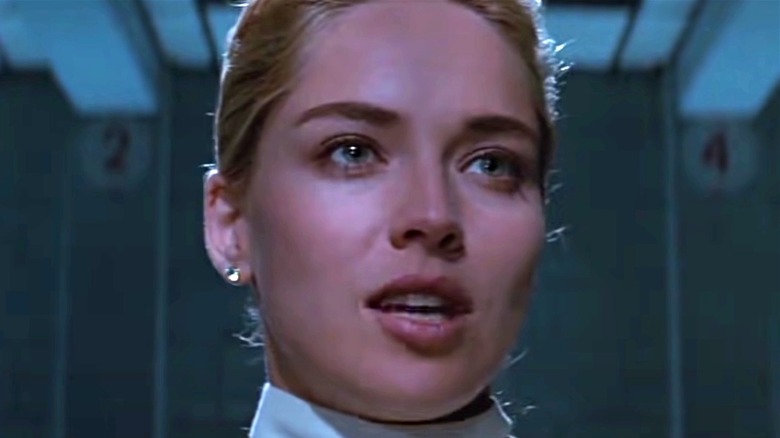 TriStar Pictures/YouTube
The sexy thriller "Basic Instinct" made Sharon Stone a sought-after movie star. Her professional acting career began in the '80s when she did some forgettable TV movies, a series of video shorts, commercials, and guest spots on the shows "Remington Steele," "Magnum, P.I.," and "T.J. Hooker." Although she landed roles in movies opposite Arnold Schwarzenegger ("Total Recall") and Steven Seagal ("Above the Law"); it wasn't until she played femme fatale Catherine Tramell in the 1992 erotic thriller directed by Paul Verhoeven ("Showgirls") that Stone became a bonafide leading lady.
The film about a cop who falls for a seductive murder suspect received mixed reviews ("Basic Instinct" holds a 56% approval rating among critics on Rotten Tomatoes), but it was a box office hit, grossing over $350 million worldwide (via Box Office Mojo). Stone's subsequent films "The Quick and the Dead," "The Specialist," and "Intersection" failed to impress either critics or audiences. However, she rebounded with her role as a mob wife in the 1995 Martin Scorsese film "Casino." which earned her an Oscar nomination for best actress.
However, lightning has failed to strike twice for Stone, who, while a versatile actress, hasn't proven to be a particularly bankable one since the mid-90s. Perhaps, it's due to Hollywood's inability to see her as anything more than a sexy siren with an affinity for ice picks. Immediately following her star-making turn in "Basic Instinct," Stone starred in another steamy, albeit forgettable, '90s thriller.
Sharon Stone starred in the 1993 psychological thriller Sliver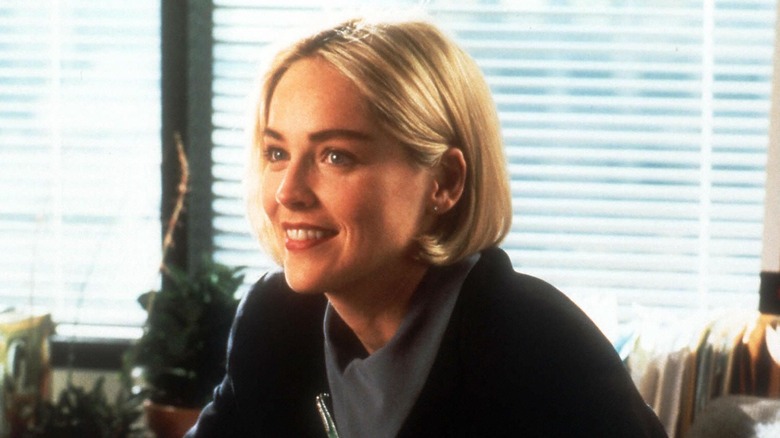 Paramount Pictures
In 1993, Sharon Stone starred in the sexy thriller "Sliver." Stone played Carly Norris, a beautiful, but sexually unfulfilled book editor who moves into an apartment in the exclusive sliver building where the previous tenant, Naomi Singer, died tragically after falling from the balcony. Carly becomes embroiled in the mystery surrounding Naomi's death. She begins an affair with a handsome, enigmatic neighbor named Zeke (Billy Baldwin), who turns out to be a tech-savvy peeping Tom.
Directed by Phillip Noyce ("Dead Calm") and written by Joe Eszterhas, who also penned the "Basic Instinct" script, "Sliver" was a critical disappointment, as the film holds a paltry 11% critic rating on Rotten Tomatoes. However, it managed to gross $116 worldwide (via Box Office Mojo), with a rumored budget of $50 million (via Entertainment Weekly). Ticket sales were likely boosted by Stone, with audience members hoping to see a character similar to Stone's Trammell who had a voracious sexual appetite. Sadly, "Sliver" was practically doomed to fail before it premiered due to a muddled script, last-minute reshoots, tension on the set, and poor test screenings.
Stone is experiencing a comeback of sorts, although not on the big screen. She appeared as Lenore Osgood in Ryan Murphy's "Ratched," the origin story of the titular character made famous by Ken Kesey's 1962 novel "One Flew Over the Cuckoo's Nest." In January, Variety announced Stone will play Cassie Bowden's (Kaley Cuoco) mother, Lisa Bowden, in Season 2 of "The Flight Attendant."