Bridget Moynahan Hated One Blue Bloods Dinner Scene Due To A Dreadful Mashup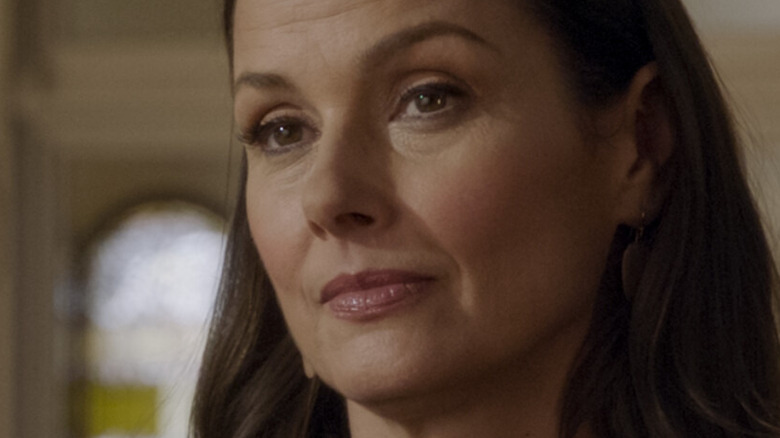 Courtesy of CBS Entertainment
Over the last decade and a half, "Blue Bloods" has established itself as one of the most popular police procedurals on TV. The show is rapidly approaching 15 years on air, which puts it in the realm of "CSI," "Criminal Minds," and "Law & Order" as the longest-running cop shows. Of course, what makes "Blue Bloods" different is its cast of characters and the different perspectives of the justice system in New York. The political side of the job is covered by patriarch Frank Reagan's (Tom Selleck) voice as the police commissioner; Danny Reagan (Donnie Wahlberg) covers the detective side of the job, Jamie Reagan (Will Estes) covers the beat-walking as a patrol officer, and Erin Reagan (Bridget Moynahan) holds down the fort in the District Attorney's office.
Other than the unique approach of showing the different perspectives of the law enforcement community, the series needs a medium to present and discuss those views, and their family dinners provide that. In almost every episode, the Reagan family sits around a family dinner table and debates the issues, all while getting fed some hopefully delicious food. If that sounds like a great time, Tom Selleck put that idea to bed when he told CBS (per CinemaBlend), "We embrace family dinner; the only problem is it takes 6 to 8 hours, and you have to just keep eating the same old food."
Bridget Moynahan echoed that sentiment when she spoke about one of her experiences filming the dinner scene. According to the actress, one early scene saw her forced to eat a pretty terrible mashup of cuisines.
She was forced to eat a moo-shu pork calzone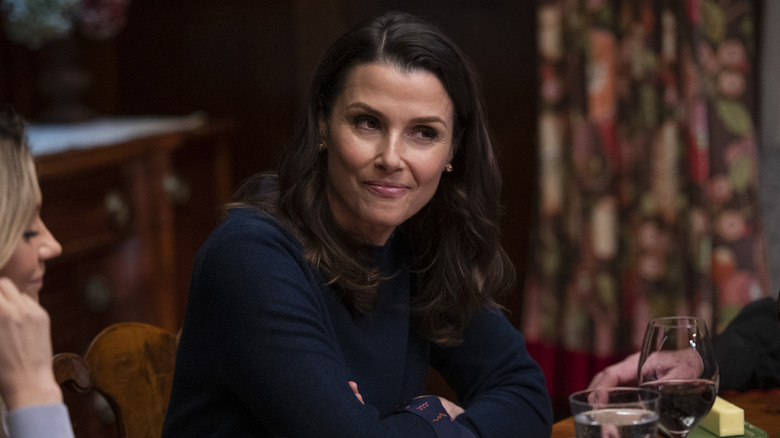 John Paul Filo/CBS
In a 2022 appearance on "Live with Kelly and Ryan," Bridget Moynahan revealed that when she read the script of the pilot episode she had no idea the show would go for 12 seasons. After Ryan confessed that he always wanted to have the family dinner, he asked her if there was anything she didn't want to eat. The actress didn't hesitate at all before revealing that she had to eat a pretty dreadful intersection of cuisines.
"There was one time that they had a moo-shu pork calzone, which I had never heard of. I had to talk about it on screen, so I had to eat it every single time," she said. "And it was early in the series, so it was taking about four hours to do the dinner scenes. So it was four hours of eating a moo-shu pork calzone." If you think that sounds pretty rough, the Erin Reagan actress would agree, saying, "That was not good, and I will never do that again. I don't know why somebody came up with that concept, a moo-shu pork calzone. You shouldn't combine the two."
Fusion cuisine is nothing new, and if you're going to experiment with different foods, New York City is definitely the place to do it. However, combining Chinese moo-shu pork with an Italian calzone is the kind of boldness that can draw attention. Of course, the curious invention was interesting enough to sound appealing to the catering department on "Blue Bloods" but not enough to appeal to Moynahan.