Agatha: Coven Of Chaos Appears To Have Begun Filming And Potentially Has A Brand New Title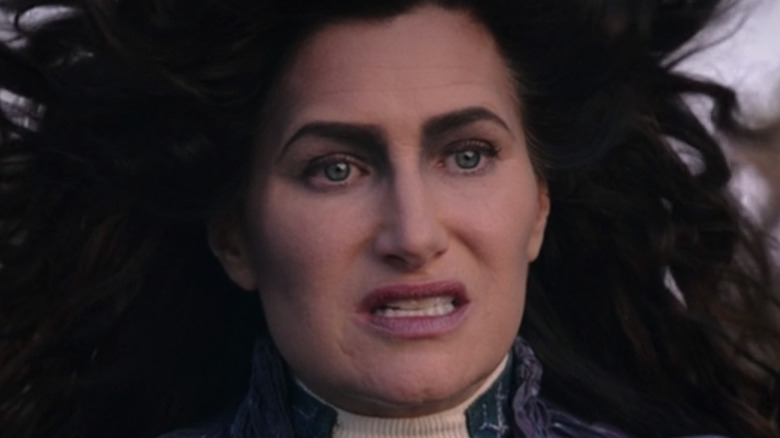 Disney+/Marvel Studios
"WandaVision" was the first Marvel series to debut on Disney+, setting the bar fairly high for what was to come after. It's now been two years since that show ended, and while a second season isn't in the cards, the story of Westview will continue with a spinoff series titled "Agatha: Coven of Chaos." As the title suggests, the new show will follow "WandaVision" antagonist Agatha Harkness (Kathryn Hahn). Last we saw of her, she was placed under a spell to continue living as the nosy neighbor in the small New Jersey town. 
Not much is known about the series at this point and what Agatha will be up to this time around, but we just got confirmation that the show has begun filming. Newcomer to the Marvel universe, Joe Locke, shared a since-deleted photo to his Instagram stories with the caption, "Ahhh what is happening" along with the "mind-blown" emoji (via Twitter). The photo doesn't give say much in terms of plot, but it does suggest the show could be going with a new title. 
Coven of Chaos meets Agatha of Westview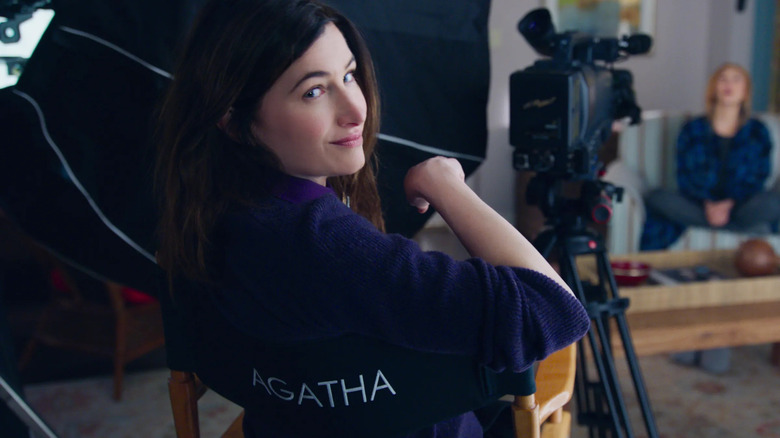 Disney+/Marvel
The photo Joe Locke posted before it was taken down is simply of a chair with the title "Agnes of Westview" written on the back. Agnes was the name Agatha went by for much of "WandaVision" as she attempted to get closer to Wanda (Elizabeth Olsen) before she revealed her true identity. It's possible it's just a shooting title, but the show has already gone through a name change. When the show was originally announced, it was called "Agatha: House of Harkness" before switching over to "Agatha: Coven of Chaos" (via Nerdist).
Changing the name to "Agnes of Westview" is certainly a choice if that's even a new name. It's possible it's just a fun way to describe the series, especially if it retains some of the sitcom sensibilities found on "WandaVision." The photo was also taken down very quickly, so it's possible Joe Locke may have revealed something Marvel wasn't ready to announce yet. This is all just speculation at this point, so take anything you hear with a grain of salt until Marvel comes out with something.
Regardless of what it ends up being titled, there's a lot to be excited about with the upcoming Marvel series. In addition to returning cast members like Emma Caulfield Ford and Debra Jo Rupp, the series will add some new faces, including Aubrey Plaza, Ali Ahn, and Maria Dizzia. With filming now underway, expect more details soon.