Millie Bobby Brown Draws Her Sword And A Conversation Amongst Fans In First Look At Netflix's Damsel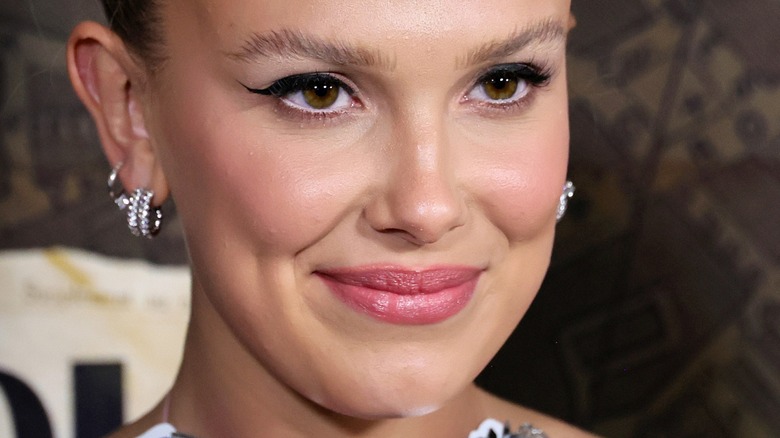 Theo Wargo/Getty Images
Seven years after Millie Bobby Brown wowed audiences with her nuanced and devastating portrayal of Eleven in "Stranger Things," we are still in the throes of her Netflix supremacy. The impressive talent joined the rest of the cast in 2016 when the nostalgic Dungeons & Dragons-inspired series hit the streaming platform. But Brown has not rested on her laurels in any sense. Per A.Frame, she has started a production company that has yielded the adaptations of her most important project, "Enola Holmes." Now Brown is at it again with a Rapunzel-centric film set to premiere later in 2023 (via IMDb). 
In a recent sizzle reel, Netflix dropped many upcoming projects, including the fantasy film "Damsel." With only a few sporadic frames, the trailer shows Elodie (Brown) as an updated princess who wields a sword and goes up against dragons. Fans have been quick to respond to the trailer, leaving no critical stone unturned.
Can't we just have Enola Holmes 3?
When news of the film dropped, the Millie Bobby Brown hive was awoken. "Stranger Things" is heading into its official final season, signaling an end of an era. But as a new phase for Brown arises, so does internet discourse. From the few images available, Twitter fans had differing opinions about the upcoming release of "Damsel."
"Super excited for the #Damsel movie," posted @MinaPlaysRb, "but also hoping with all my heart a 3rd movie with be confirmed for #EnolaHolmes." Set in a Victorian world, "Enola Holmes" makes great pains to introduce a feminist slant and a female role model for young girls. Even though "Damsel" will presumably have no crimes to solve, it does have the next best thing. @hencIairs couldn't wait to see the "Damsel" version of a dance of dragons. Not only will Elodie be wielding a sword, but she also has a conflict with the fire-breathing monster. The typical fare for any fantasy tale. But while there seems to be general excitement for the Netflix film, others were not impressed by the brief introduction.
"Didn't Hulu already do something like this [with] 2022's 'The Princess'?" noted @ScruffyMooseMan. "I love it when studios recycle scripts; good for the writers." Though the empowering Joey King-led film had similarities, such as a princess trying to escape her fate, it did not have dragons. At least there's one thing to look forward to when "Damsel" premieres later this year.