Predicting The Actors Who Will Dominate The Box Office In 2023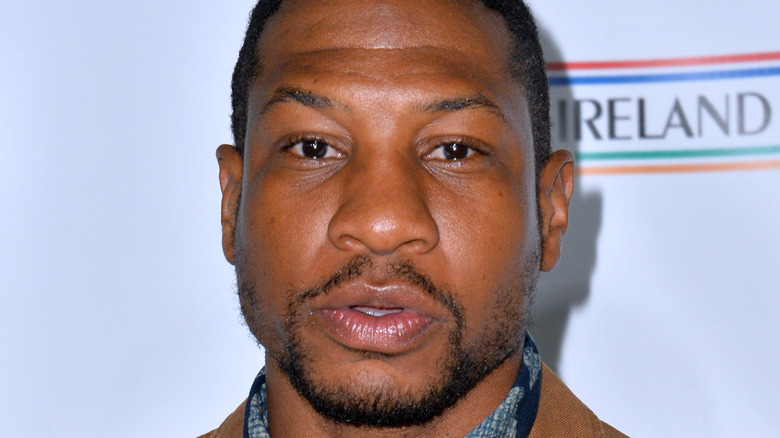 Featureflash Photo Agency/Shutterstock
With 2023 now well underway, all eyes are on what the year's cinematic offerings will deliver. Among the many uncertainties the movies of 2023 will have to shed light on is who our most bankable actors are right now. Which performers are most likely to draw audiences to movie theaters? Countless modern essays have been written about how the movie star is dead, but that doesn't mean actors are totally disposable in the modern cinematic landscape. We still crave beautiful faces to put certain stories on our radar and help specific movies stand out in an uber-crowded pop culture landscape. Many of those names are among the actors poised to be among the artists who will dominate the 2023 box office.
For many of these actors, their inevitable ascension to the top of the yearly box office is thanks to their involvement in long-running franchises like "Fast & Furious" or the Marvel Cinematic Universe. However, other up-and-coming performers look like they could turn currently unknown original movies into massive sleeper hits or use their moneymaker franchises as safe bets that make it easier for them to pursue daring non-sequels. There are a lot of factors at play with these prominent 2023 actors, but they all share the unique quality of looking extremely likely as inevitable rulers of the 2023 box office. 
Timothée Chalamet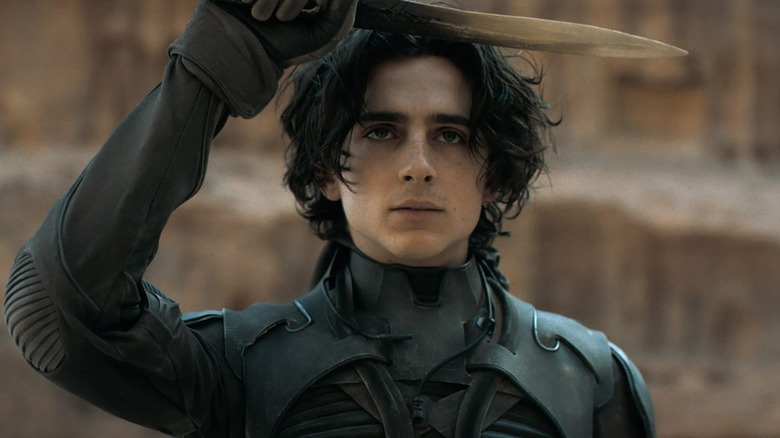 Warner Bros.
Believe it or not, Timothée Chalamet, despite his ubiquity in the pop culture landscape, has never appeared in a movie that's cleared $110 million domestically (save for having a tiny role in "Interstellar"). 2023 looks poised to offer Chalamet several opportunities to not only clear that North American box office benchmark, but also be one of 2023's box office titans. Chalamet's two big movies this year are a pair of Warner Bros. blockbusters, "Dune: Part Two" and "Wonka," which are each based on incredibly popular source material. "Dune: Part Two" will follow up on the events of "Dune," but it will differ from its predecessor in not being available simultaneously on HBO Max in North America on its opening day. The mind reels at the box office possibilities of a big "Dune" movie that doesn't have to deal with an HBO Max premiere, especially after the initial film became such an award-season darling.
"Wonka" is a little more unpredictable in its box office trajectory, since audiences could reject it for being a rehash of the Willy Wonka character, who has already been adapted to the silver screen so many times. However, it is opening at Christmastime, a patch of the year that's been very kind to live-action family movie musicals like "Wonka." If that film can come even close to the box office heights of something like "The Greatest Showman," then Chalamet, combined with the haul from "Dune: Part Two," will be one of 2023's box office standouts.
Jonathan Majors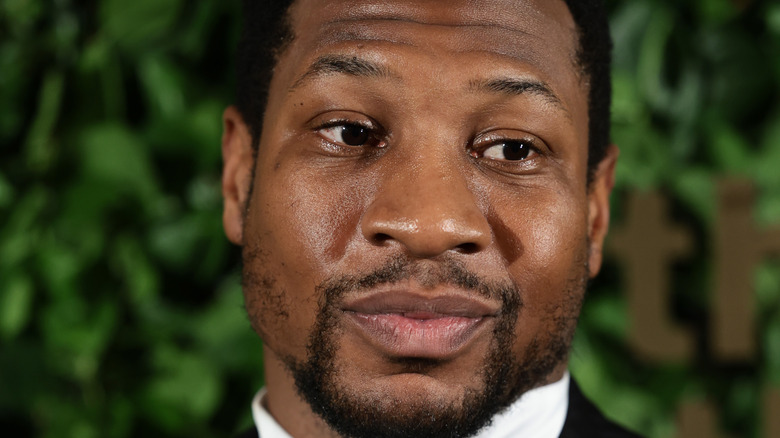 Dimitrios Kambouris/Getty Images
Anyone who saw Jonathan Majors absolutely crush his supporting role in the 2019 classic "The Last Black Man in San Francisco" knew this man was going to go places. He was an incredibly captivating performer that just grabs your attention from the moment he walks into the frame. Majors has kept quite busy since "San Francisco," thanks to his appearances in projects ranging from "Da 5 Bloods" to "The Harder They Fall" to "Devotion." In 2023, though, Majors is about to hit a whole new level of ubiquity with the general public thanks to a string of high-profile roles, all of which should combine to make him one of the most formidable figures in the 2023 box office landscape.
For starters, Majors will make his first silver screen appearance as Kang the Conqueror in the Marvel Cinematic Universe (after previously playing the character's variant He Who Remains in "Loki") in "Ant-Man and the Wasp: Quantumania." Shortly after that high-profile job, Majors will also play Damian Anderson, the antagonist of "Creed III." Just these two sequels alone should be enough to get Majors into the box office big leagues for 2023, but that's not all. Majors is also headlining the Sundance 2023 title "Magazine Dreams," which, if it secures theatrical distribution, could ride the wave of "Quantumania" and "Creed III' to big box office results. In projects both big and small this year, Majors is poised to become a box office force to be reckoned with.
Dave Bautista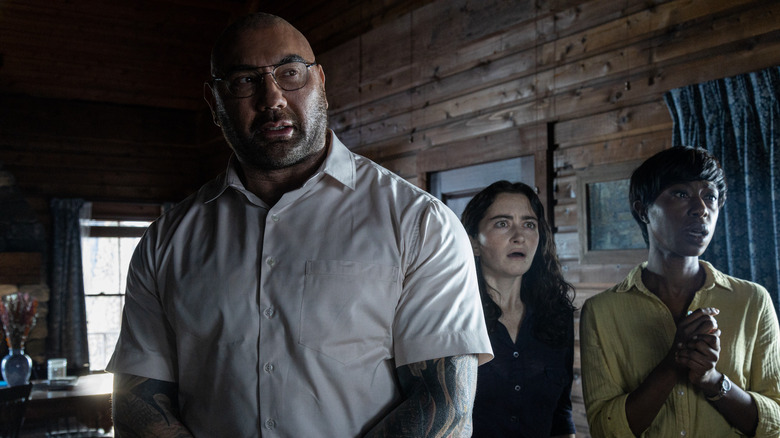 Universal Pictures
Back in 2014, Dave Bautista was an unproven quality as an actor when he tackled the role of Drax the Destroyer in "Guardians of the Galaxy." Though he had extensive experience in the WWE, he only had minimal experience appearing in major motion pictures. Could he cut it on the big screen? Cut to 2023 and Bautista has firmly established himself as an exciting and versatile performer, particularly in movies like "Blade Runner 2049" and "Glass Onion: A Knives Out Mystery." For 2023, Bautista is looking to reaffirm his box office prowess through a variety of projects, including his final turn as Drax in "Guardians of the Galaxy Vol. 3."
That Marvel movie will doubtlessly be a massive reason Bautista's 2023 is bound to be lucrative, but it's not the only major title on the horizon for this performer. This actor will also be reprising his role as Glossu Rabban Harkonnen in "Dune: Part Two" while he's also set to star in M. Night Shyamalan's newest feature "Knock at the Cabin." Considering each of Shyamalan's directorial efforts since "Lady in the Water" have grossed at least $89.8 million worldwide, "Knock at the Cabin" certainly has the potential to be another major moneymaker for Bautista. With such a varied 2023 slate, Bautista seems assured to reinforce how far he's come as an actor through a string of potential box office hits.
Tom Hanks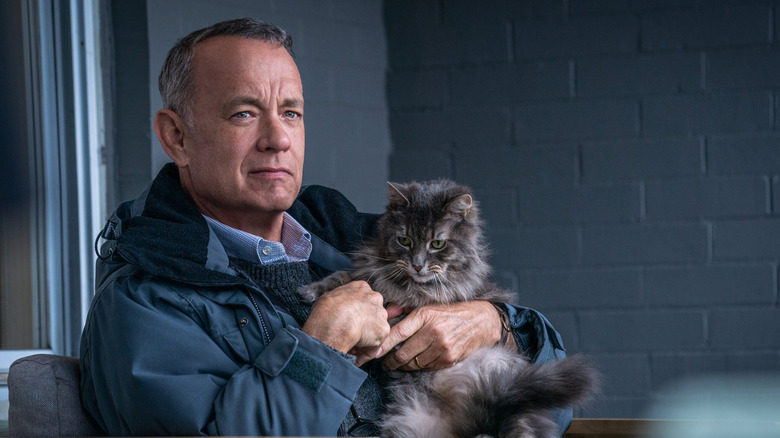 Sony/Columbia
America's dad has already kicked off his 2023 box office run in style thanks to the wide-release expansion of "A Man Called Otto" across the first two weekends of the year. Hitting $23.8 million domestically after just a few days of wide release (and a short stint in limited release), "A Man Called Otto" has not only been lucrative but a reminder that low-key movies aimed at grown-ups can make a lot of money theatrically. Hanks has multiple titles on tap for 2023 that could continue his good fortune at the box office. For one thing, he's one of the countless actors in the ensemble cast of the new Wes Anderson movie "Asteroid City." Set for a June release, "Asteroid City" could take a cue from the financial success of the prior Anderson movie "Moonrise Kingdom" and be perfect summertime counterprogramming against big blockbusters. 
There's also the new Robert Zemeckis movie "Here," which could land in 2023. This movie is the second reunion (after "Pinocchio" in 2022) between Hanks and the director of "Forrest Gump" since "The Polar Express" in 2004. Each theatrically-released collaboration between Hanks and Zemeckis has soared past $300 million worldwide, a promising precedent that suggests "Here" could take off like a rocket at the box office. Hanks has been headlining films since 1984 and, between the success of "A Man Called Otto" and some promising upcoming titles, Hanks looks ready to reaffirm why he's proven so enduring at the box office.
Robert de Niro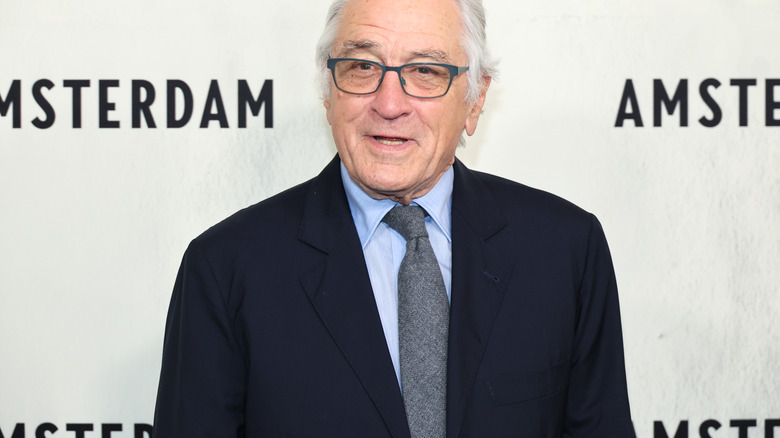 Dia Dipasupil/Getty Images
Robert De Niro is turning 80 years old in 2023, but he shows no signs of stopping as a fixture of the silver screen. In fact, De Niro has a wave of major motion pictures headed to the big screen this year, with many of them inhabiting wildly different genres. For starters, there's a new comedy called "About My Father," which will pair the "Raging Bull" leading man up with comedian Sebastian Maniscalco. There's also the crime thriller "Wise Guys" from director Barry Levinson, which will see De Niro taking on a pair of roles. Arguably his most exciting project, though, is his latest reunion with Martin Scorsese, "Killers of the Flower Moon," which will see De Niro rubbing shoulders with actors like Jesse Plemons and Leonardo DiCaprio.
Not every movie De Niro's appeared in over the years has turned into a box office phenomenon, but even a widely-derided project like "Dirty Grandpa" still took in $105 million worldwide as late as 2016. Given the right project, De Niro can still be a major draw. His box office prospects for 2023 look even better considering titles like "About My Father" and "Killers of the Flower Moon" will inhabit genres that have served the actor well in the past, like comedies and crime thrillers. De Niro could be set to get a great 80th birthday present by remaining a box office powerhouse decades after "Taxi Driver" first debuted.
Chris Pratt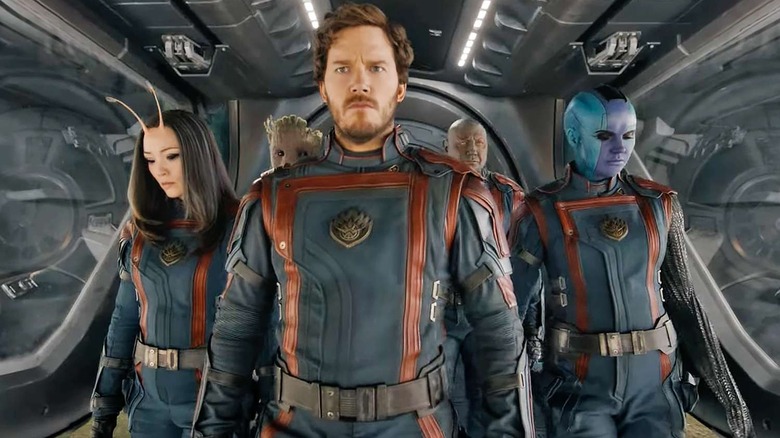 Marvel Studios
In 2013, Chris Pratt's biggest acting gig in a theatrical movie was playing a key supporting role in the Vince Vaughn comedy "Delivery Man." Just one year later, the double-whammy of "The Lego Movie" and "Guardians of the Galaxy" cemented him as a massive box office draw. 10 years after the days of "Delivery Man," though, Pratt has a pair of movies set to dominate the box office landscape. The first of these features is providing the voice of Mario in "The Super Mario Bros. Movie," which is the latest title to hail from Illumination. The studio behind "Despicable Me" has an incredible box office track record that's seen eight of its first 12 movies exceed $500 million worldwide. Working with the beloved "Mario" brand name, the newest Illumination movie should be another hit for both the label and leading man Chris Pratt.
Pratt is also set to reprise his role as Peter Quill aka Star-Lord in "Guardians of the Galaxy Vol. 3," which should have no trouble keeping the box office hot streak of the Marvel Cinematic Universe alive and well. Some actors poised to be box office titans in 2023 need a slew of titles to look financially formidable in the coming year. Pratt, meanwhile, only needs two major franchise titles to look assured that he'll keep his box office good times rolling.
Margot Robbie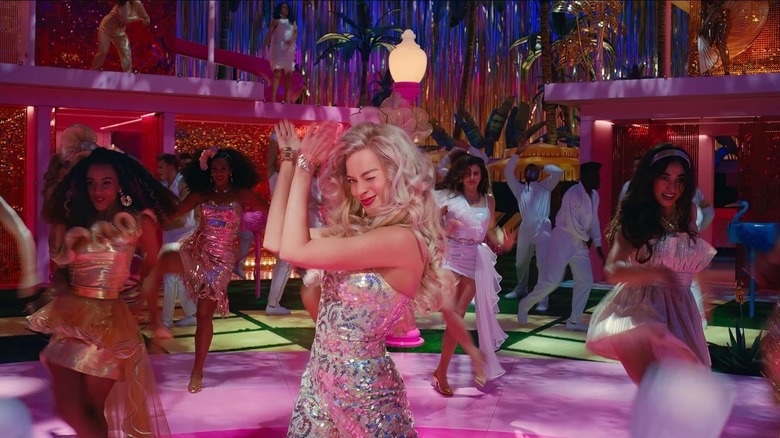 Warner Bros.
2022 wasn't the best of years for Margot Robbie. Neither of her major films from this past year, "Amsterdam" and "Babylon," cleared $20 million domestically despite massive budgets. Admittedly, these films and their respective box office shortcomings can't be laid solely at Robbie's feet since both features were expansive ensemble efforts packed with many actors beyond just her. However, Robbie is doubtlessly eager to look forward to her two major movies in 2023, which both look like solid bets to be box office hits. The first of these is her role in "Asteroid City," a new Wes Anderson movie. Given the domestic box office trajectory of Anderson's works, it's very likely "Asteroid City" will end up making more than both "Babylon" and "Amsterdam" in North America.
Then there's her big 2023 movie, "Barbie." Just the movie's set photos alone became viral sensations while its status as the first live-action film based on the Barbie dolls means that there's a ton of anticipation for this Greta Gerwig directorial effort. Being much more mainstream-friendly compared to "Babylon" with lots of family appeal, it's pretty much guaranteed that "Barbie" will at least be bigger than Robbie's last few movies and could be one of her highest-grossing films ever if it takes off as a pop culture phenomenon. With these two summer 2023 movies locked and loaded for financial success, Robbie should have no trouble getting her box office groove back.
Peter Dinklage
Amanda Edwards/Getty Images
Peter Dinklage's cinematic exploits in 2023 include supporting roles in new installments in incredibly lucrative franchises. First, Dinklage will voice Scourge in "Transformers: Rise of the Beasts" while in November he'll take on the role of Casca Highbottom in "The Hunger Games: The Ballad of Songbirds and Snakes." Those two projects alone would be enough to make Dinklage a big deal at the 2023 box office, but it also appears he's got a pair of further projects likely set for 2023 debuts. "The Toxic Avenger" will see Dinklage inhabit a new version of the titular lead hero who dishes out R-rated violence against evildoers. 
The other wild card in Dinklage's 2023 schedule is the currently undated "Brothers," a comedy that pairs Dinklage up with Josh Brolin while the duo will be surrounded by a stacked supporting cast that includes Glenn Close, Taylour Paige, and Brendan Fraser. Additionally, indie projects headlined by Dinklage like "American Dreamer" and "She Came to Me" could find domestic distribution and 2023 release dates, further bolstering his box office profile for the year. Dinklage's slate of upcoming releases spans everything from new adventures in long-established sagas to challenging new original fare. Such variety should ensure that Peter Dinklage will end up as one of the year's most lucrative actors.
Willem Dafoe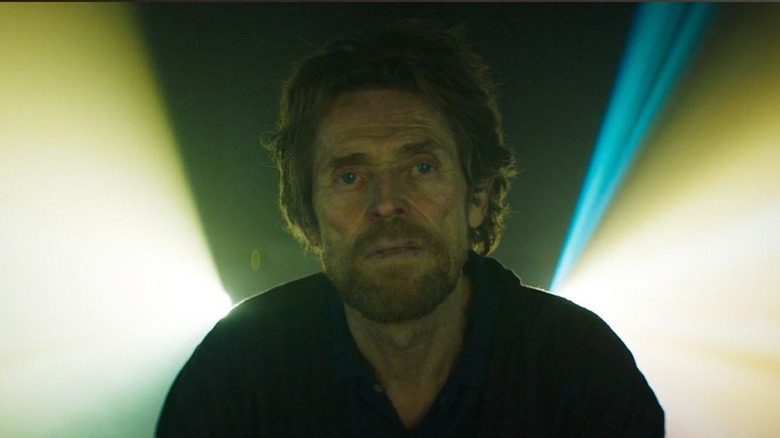 Focus Features
Many recurring actors in the 2023 cinema scene, such as Margot Robbie and Timothée Chalamet, are still such newbies to the world of A-list stardom that there's a sense of urgency to every new lead role they get. Their fame is so new that it could slip away at any moment, so they need to make every movie count. By contrast, an actor like Willem Dafoe has been around for so long in the world of movies that he can afford to be flexible and do a little bit of everything. Dafoe has nothing to prove to the film industry, so of course he'll take a bunch of oddball indies and mid-budget acting roles. Dafoe's 2023 projects will include new exploits with arthouse cinema legends like Wes Anderson and Yorgos Lanthimos, but also lead roles in projects from fresh faces in the indie film scene like Isaiah Saxon and Vasilis Katsoupis.
If even half of Dafoe's arthouse features in 2023 manage to exceed expectations at the box office, then he's bound to have a very lucrative year. Dafoe's packed schedule of indie titles is especially exciting to examine in a modern film landscape crammed with sequels and reboots. Dafoe's never been shy from appearing in those films (he was the villain in "Speed 2" after all) but his potentially very profitable exploits in 2023 reflect how he's also always tried to support original challenging fare on the big screen.
Jason Statham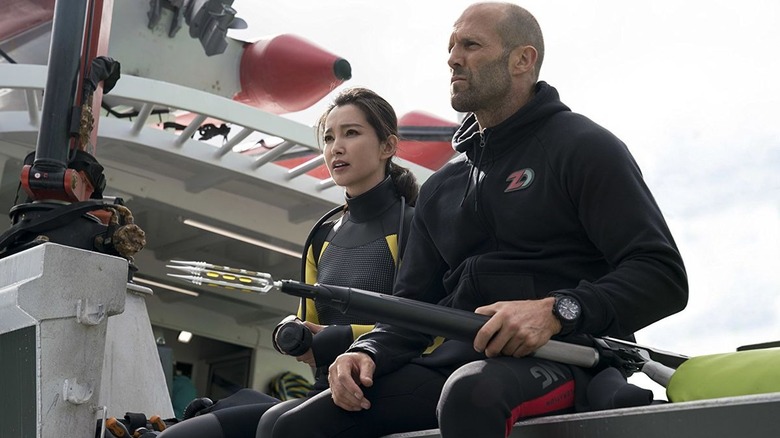 Warner Bros.
Jason Statham's adventures in 2023 will be primarily defined by a trio of sequels. For starters, it appears Statham will reprise his role as Shaw in "Fast X" after a reunion between himself and Han (Sung Kang) was teased at the very end of "F9: The Fast Saga." His sixth appearance in this franchise (counting his uncredited cameo at the end of "Fast & Furious 6"), Statham's work in "Fast X" alone would be enough to ensure that he's going to be swimming in money in 2023. However, Statham will also be headlining "The Meg 2: The Trench," a sequel to Statham's 2018 smash hit "The Meg." If "The Trench" is anywhere near as massive as "The Meg," which boasted a $527.2 million worldwide haul, Statham will get another big hit in the summer of 2023.
Then there's "The Expendables 4," a sequel in a franchise where Statham has largely been a supporting player. However, franchise architect Sylvester Stallone previously revealed to The Hollywood Reporter that Statham is now the leader of this franchise rather than Stallone. That's a big step up for this action star and gives him yet another franchise he can anchor. Between all these blockbuster sequels in 2023, it's safe to say Jason Statham will be both busy and quite successful throughout the year... so long as no prehistoric sharks gobble him up, at least.
Brie Larson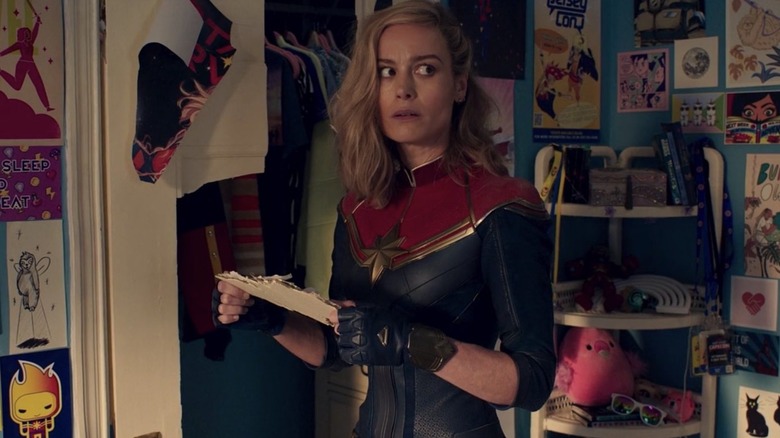 Marvel Studios
Brie Larson's 2023 will be primarily defined by her headlining her second standalone movie as Carol Danvers aka Captain Marvel in "The Marvels." "Captain Marvel" was an incredibly profitable endeavor back in 2019 thanks to its $1.12 billion worldwide gross and a similar haul wouldn't be surprising for "The Marvels," especially after Larson made a memorable appearance in the box office juggernaut "Avengers: Endgame." However, "The Marvels" isn't the only big blockbuster Larson is showing up in during 2023. The star of "Room" will also make her inaugural appearance in the "Fast & Furious" franchise by playing the mysterious new character Tess.
What role Tess will play in "Fast X" and her relationship to the primary pre-established "Fast & Furious" characters remains to be seen. However, the fact that the last five entries in this franchise have each cracked $700 million worldwide indicates that "Fast X' could be the next lucrative feather in Larson's cap. Currently, these are the only two motion pictures Larson has on the docker for 2023, with this emphasis on blockbuster sequels being a far cry from the days of Larson spending 2013 appearing in indies like "Short Term 12" and "The Spectacular Now." This shift in career priorities for Larson should ensure that she's one of the most successful actors in 2023.
Florence Pugh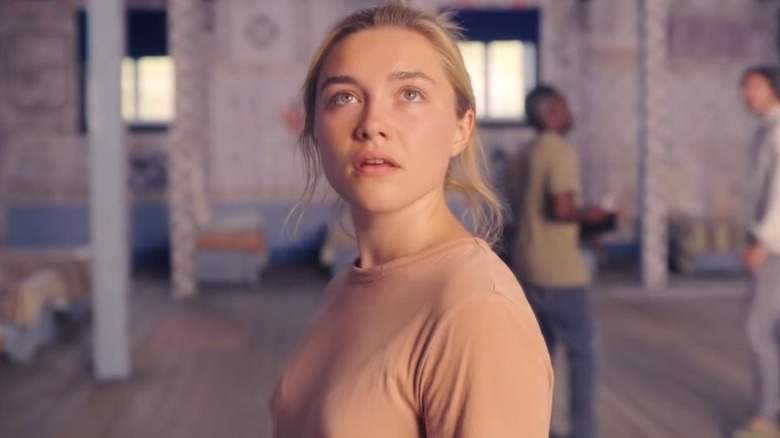 A24
Florence Pugh's first major film role came in 2017 with "Lady Macbeth." Her outstanding work in that movie alone was enough to rocket her to exciting new places in her career. Since "Lady Macbeth," Pugh has worked with directors ranging from Ari Aster to Greta Gerwig to Park Chan-wook. Her streak of collaborating with acclaimed auteurs will continue in 2023, including her working with Christopher Nolan on "Oppenheimer" and Denis Villeneuve on "Dune: Part Two." Not only will this expand Pugh's experiences with beloved filmmakers even further, but it should make her one of the most successful actors of the year. After all, Nolan's last five directorial efforts all grossed $360+ million worldwide, and each cracked $500+ million save for "Tenet." Don't be surprised to see "Oppenheimer" approach the massive box office heights of prior Nolan features.
As for "Dune: Part Two," it'll be looking to expand upon its predecessor's $392 million worldwide gross, a feat that could be achievable thanks to the presence of new cast members like Pugh broadening the franchise's potential appeal. Pugh will also have "A Good Person," a drama from director Zach Braff, out in theaters in 2023. Box office expectations for this one are way lower than "Oppenheimer" and "Dune: Part Two," but it could become a sleeper hit if it's greeted with solid word-of-mouth. In projects both big and small, Pugh seems poised to continue on her hot streak as an actor and box office draw in 2023.