Big Sky's Jensen Ackles Finally Divulges More Details As To Why Beau Left Houston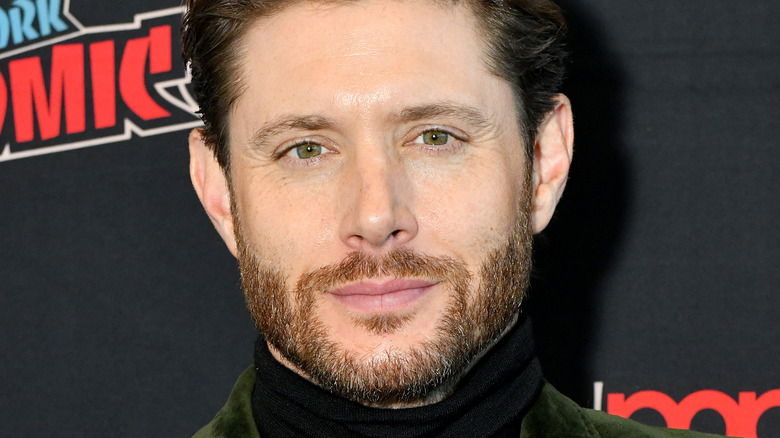 Craig Barritt/Getty Images
With three full seasons officially under its belt, ABC's Montana-set drama "Big Sky" remains one of the more original procedurals on the air. Yet somehow the series still feels like it's running well under the radar of the general public. Still, those who've made a point to check in with "Big Sky" over its first three seasons continue to be enamored with its tale of whip-smart private detective Cassie Dewell (Kylie Bunbeury) and her ex-cop pal Jenny Hoyt (Kathyn Winnick) solving crimes in the vast Montana wilderness.
Those fans were surely over the moon when "Supernatural" alum Jensen Ackles turned up in the series Season 2 finale as Lewis and Clark County's new interim Sheriff Beau Arlen. The beloved actor thankfully stuck around for Season 3 of "Big Sky" as well, and has only further ingratiated himself to viewers, despite his character's backstory remaining a bit of a mystery. The character, of course, turned up as the new Sheriff after vacating a similar post in Houston, Texas. But it was never made entirely clear why Beau walked away from his Texas gig to begin with.
Though Beau's backstory still hasn't come entirely into focus on "Big Sky," allusions have been made that he likely got himself into a bit of trouble in Houston. And during a recent interview with Entertainment Weekly, Ackles filled in a little more of Beau's Houston troubles himself.  
Seems a botched operation led Beau to flee Texas
Jensen Ackles spoke candidly about how much he's enjoyed his time on "Big Sky" with Entertainment Weekly. And despite the fact that his one-year contract on the show ended with the Season 3 finale, Ackles is hopeful to return should ABC renew "Big Sky" for a fourth season. Fans would no doubt love to see him back, if only because so much remains unknown about Beau Arlen's mysterious Texas exodus. 
While fans have yet to get that full story on "Big Sky," Ackles told EW that showrunner Elwood Reid actually did give him a primer for that particular part of Arlen's past. "I don't think I'm speaking out of turn if I say he [Reid] did give me some version of the backstory," Ackles said. "Years ago there was a huge motorcycle gang shootout at a place called Twin Peaks in Texas. A lot of people died, and there was some undercover agents that were involved in that." The actor goes on to claim Reid noted that Arlen's partner was one of those undercover agents, and an egregious error in judgment on Arlen's part led to the operation going tragically sideways.
It remains to be seen if those events will be depicted on "Big Sky." But as Ackles told EW, "Beau blamed himself, so to speak, for allowing that to happen and never really got over letting his partner down in that instance." That tempered edge of darkness has helped make Beau one of the more intriguing characters in the "Big Sky" landscape. And series creatives would be wise to explore it further, should he return for Season 4.