Reddit Has Thoughts On The Best Teacher At Abbott Elementary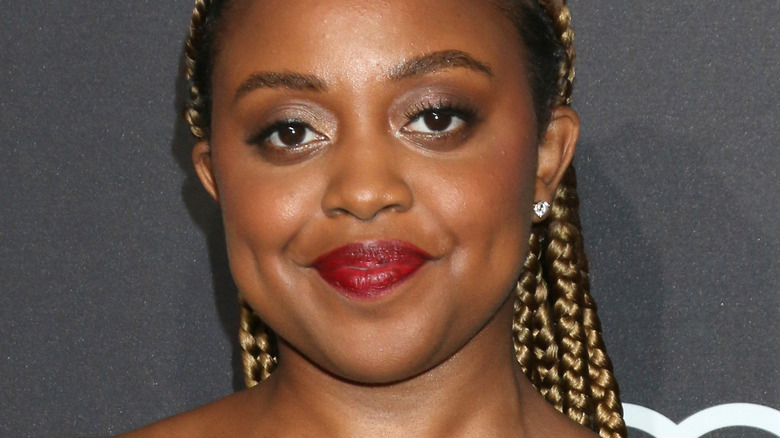 Kathy Hutchins/Shutterstock
The year-end award season has been once again reminding TV fans of the zeitgeist-capturing power of the one little sitcom that could. The sitcom in question is, of course, ABC's "Abbott Elementary" which, after a highly successful freshman run at the 2022 Primetime Emmys that included a nomination for Outstanding Comedy Series and wins for casting, writing, and Sheryl Lee Ralph's acting, has continued to net big wins at other functions going into 2023. The show is fresh out of a Critics' Choice Award win for Best Comedy Series and a Golden Globe win for Best Television Series — Musical or Comedy, and could also win big at the upcoming Producers and Screen Actors Guild Awards, both of which have the show in the running for major categories (via IMDb).
Talk about a victory lap. But, given how responsible "Abbott" was for breathing new life into the network sitcom and the mockumentary genre in 2022, it only makes sense. This sprightly, smart, endlessly delightful workplace comedy from Quinta Brunson has proven that the alchemy of a strong cast and a winning setting can still work miracles — especially when the setting is as rife with comedic and narrative possibility as an underfunded Philadelphia elementary school. 
The show has developed a strong, devoted fanbase since debuting in late 2021, and inspired all sorts of debates among viewers — such as the one about which of Abbott's quirky figures would actually make the best teachers in real life. And, as ever, Reddit users have strong opinions about that.
Barbara and Melissa are the two best teachers at Abbott according to Reddit
On January 16, 2023, Reddit user u/Secure-Belt6595 started a thread on r/AbbottElementary that drew significant attention from fans. The original post asked, "Rank the teachers at abbott elementary from best [to] worst teacher and how happy you would be to have them."
In response, fans of the show each submitted their own personal rankings of the five teachers in its primary ensemble cast — namely, Janine Teagues (Quinta Brunson), Gregory Eddie (Tyler James Williams), Ava Coleman (Janelle James), Melissa Schemmenti (Lisa Ann Walter), and Jacob Hill (Chris Perfetti). And, although rankings varied wildly, two women frequently remained at or near the top.
One of them, to no one's surprise, was Barbara Howard (Sheryl Lee Ralph), the loving, deeply religious veteran who manages her kindergarten classroom in a more old-school manner. Barbara is in many ways the soul of "Abbott" — a seasoned, jaded pro who does her best to create a sturdy and nurturing learning environment for her students amidst a highly dysfunctional system. Although her tendency to bring religion into the classroom gave some Redditors pause, the majority of commenters cited her as one of the best teachers at Abbot, with u/-love-valentine noting, "She's the kinda teacher I would love to have."
Barbara's fellow old-timer at Abbott, second-grade teacher Melissa, also received many #1 placements from Redditors, who commended her strict yet warm, encouraging, and highly resourceful teaching style. As u/whatsayyouinyourdefe put it, she "has her head on straight and is great with the kids."
Janine, Gregory, and Jacob all proved more controversial
The supremacy of Barbara and Melissa came through clearly in Reddit users' teacher preferences, but other than that, answers to the discussion prompt were a decidedly mixed bag. No one among the remaining three of Janine, Gregory, and Jacob really stood out from the pack either positively or negatively; "Abbot Elementary" fans on the subreddit found all three to have their strengths and weaknesses.
When it came to second-grade teacher Janine, some users appreciated her go-getter attitude and tireless dedication to revitalizing the school — such as u/confrater, who wrote, "Janine is new but she's passionate and caring" — while others found that her style would be a bit overwhelming and wearisome to endure on a full-time basis. U/whatsayyouinyourdefe, for instance, wrote that Janine's "incessant need to change things up is making her classroom fall behind."
First-grade teacher Gregory, meanwhile, was also controversial due to his very strict and stern demeanor, which some Reddit users found effective for the purposes of imparting knowledge and maintaining discipline, while others deemed it too uptight and potentially alienating to young kids; u/JavierGr2087 summed it up with "Yes I would learn a lot from him, but I would tell him to loosen up."
Jacob, who teaches sixth-grade History, also sparked debate about whether his awkward attitude would scan as loving and engaging or annoying and corny. As u/BroadBaker5101 wrote, "He has love for his students and his passion shines through the loudest but he's very naive."