Big Bang Theory Fans Are Having A Hard Time Adjusting To Melissa Rauch's Normal Voice In Night Court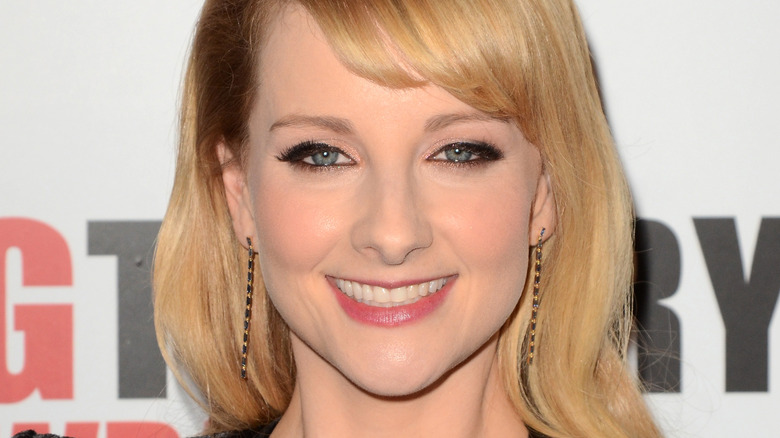 Kathy Hutchins/Shutterstock
"The Big Bang Theory" didn't come out with a bang. While the Chuck Lorre sitcom eventually became a linchpin of CBS' lineup and a reliable rerun, it initially received mixed reviews. "The Big Bang Theory" came into its own around Season 3, when the series introduced two new characters: neurobiologist Amy Farrah Fowler (Mayim Bialik) and budding microbiologist Bernadette Rostenkowski, played by Melissa Rauch. The two were later promoted to lead status starting with Season 4.
Bernadette joined the series as Penny's co-worker at The Cheesecake Factory, but she soon became a full-fledged member of the group and a love interest to Howard (Simon Helberg). Rauch brought a pint-sized punch to the role and quickly emerged as a fan-favorite amongst viewers. Rauch's Bernadette immediately stood out because of her voice, which shouldn't be surprising considering she's quite a talented voice actor. Indeed, Bernadette is known for her high-pitched voice, and Rauch has also contributed her voice-acting abilities to a number of animated projects, including "Batman and Harley Quinn" and "Ice Age: Collision Course" (via IMDb).
Since "The Big Bang Theory" wrapped up in 2019, Rauch has been keeping busy. Her biggest post-"Big Bang Theory" project is spearheading the brand-new "Night Court" reboot, which she produces alongside her husband, Winston Rauch. In addition to producing the series, Rauch also stars in the "Night Court" legacy sequel. While fans are excited to see the Bernadette actress back on the small screen, some "Big Bang Theory" fans are having trouble getting used to Rauch's normal speaking voice.
Some fans are used to Bernadette's squeaky delivery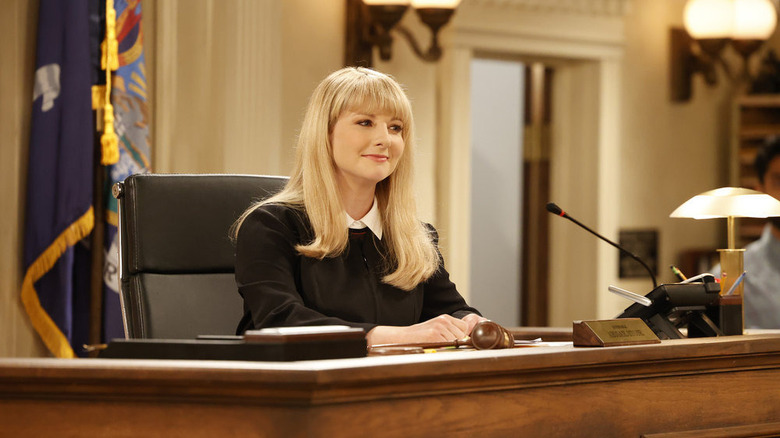 Jordin Althaus/NBC/Warner Bros. Television
The "Night Court" reboot, based on the comedy that ran for nine seasons in the 1980s, marks Melissa Rauch's first major project since "The Big Bang Theory." Rauch plays Judge Abby Stone, the daughter of Harry Stone (Harry Anderson), and presides over the Manhattan Criminal Court's night shift. She stars alongside original series star John Larroquette.
"Night Court" nostalgists and Rauch fans alike fueled the reboot's January 17 premiere to impressive heights, and the sitcom racked up the highest total viewers for a comedy premiere since "The Connors" in 2018 (via Yahoo). For some fans, however, Rauch's performance was a little distracting. "Enjoyed the new Night Court last night, just adjusting to Melissa Ranch's non-Bernadette voice," tweeted @jennakayreads alongside a laughing emoji. Some users, like @GabeReal909, voiced a similar sentiment. Others still were shocked to discover that Rauch's Bernadette voice was part of her performance. "Omg I really thought Melissa Rauch talked just like Bernadette from [Big Bang Theory] lol," wrote @TommieGirlsWurl.
Others are still rooting for Rauch, despite the use of her not-so-high-pitched that "The Big Bang Theory" fans are used to. "Bernadette does a good job as Harry's daughter," wrote user @Chale333. It's clear that it's difficult for audiences to separate Bernadette from Abby but fans are already in love with the direction "Night Court" is going in. One fan tweeted at Rauch, saying, "@MelissaRauch such a great start to #NightCourt and a great tribute to the late great Harry Anderson." Other fans, like @MattPeak1 agree, saying the reboot is "so good." 
Night Court is a passion project for Melissa Rauch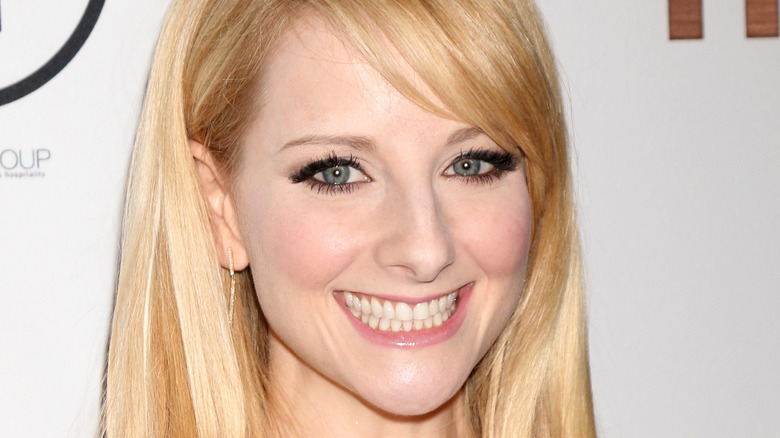 Kathy Hutchins/Shutterstock
SWith "Night Court" set to air weekly on NBC, fans will get plenty of opportunities to adjust to Rauch's lower pitch. What's surprising is that Rauch wasn't expected to star in the reboot at first. Deadline says that Rauch, who grew up watching the original sitcom, approached Warner Bros. Television with the idea for the legacy sequel series herself. Along the way, Rauch ended up starring in the series and by the looks of the positive fan reception, it seems like she's off to a great start as Judge Abby.
Seeing as these are still early days, the actress only hopes that the new series will appeal to old and new "Night Court" fans. "For people who love the original, there's so much there for them," she told Looper in an exclusive interview. "But then people who've never seen the show before could come in without any prior knowledge and enjoy it without having to know anything about what once was."