The Big Bang Theory's Melissa Rauch Reveals The Driving Inspiration Behind Bernadette's Voice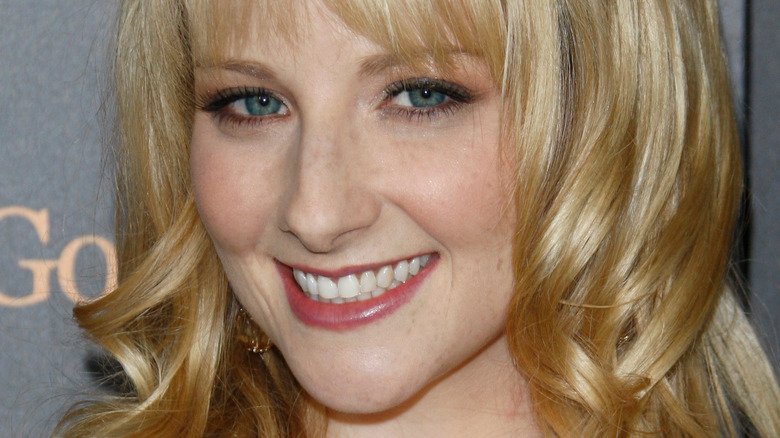 Kathy Hutchins/Shutterstock
Melissa Rauch will always be known as Bernadette Rostenkowski, the pint-sized, energetic, high-pitched-speaking love interest of aerospace engineer Howard Wolowitz (Simon Helberg) on CBS' "The Big Bang Theory." However, what some fans might not realize is that, in real life, Rauch doesn't have such a squeaky voice.
Listening to Rauch in an interview or on another project, such as the forthcoming NBC reboot of "Night Court," she sounds like a completely different woman. This is a testament to her talents as not only an on-screen star but as a voice actress.
Over the years, Rauch has switched up her pitch, tone, and accent to bring a slew of animated characters to life (via IMDb). From the New Jersey-sounding Francine in 2016's "Ice Age: Collision Course" to the gruff Harley Quinn in 2017's "Batman and Harley Quinn," plus singing as fairy godmother Tizzy in "Sofia the First," Rauch's vocal abilities indeed run the gamut.
Regarding Bernadette, Rauch put much thought into how the microbiologist would speak. The final result wasn't just something she pulled out of nowhere. Instead, Bernadette's signature squeak was inspired by somebody special.
Melissa Rauch drew inspiration from her mom to create Bernadette's voice
In an interview with "The Rubin Report," Melissa Rauch revealed that Bernadette's voice was inspired by one she heard while growing up. "Bernadette's voice is very similar to my mother's except without the Jersey accent," she told the host. "My mother, it's not quite that high, but it's in that tone and that range."
Audiences of "The Big Bang Theory" have become so accustomed to hearing Rauch speak as Bernadette that they're surprised when they meet her in person. Some fans even dismiss Rauch as not being the sitcom star because her real voice sounds so different. "Sometimes I'll get recognized, and then they'll hear my voice, and they'll be like, 'Oh, that's not you,'" she explained on "The Rubin Report."
Rauch has a knack for not only imitating her own mother's voice but also the brash, Brooklyn-sounding tone of Debbie Wolowitz (Carol Ann Susi). At the 2012 San Diego Comic-Con, Rauch gave a spot-on impression of what Debbie's advice to Howard would be if he attended the event: "Howard, make sure you stay away from those people in the Sailor Moon costume."