Quinta Brunson Got Tyler James Williams To Join Abbott Elementary By Sliding Into His DMs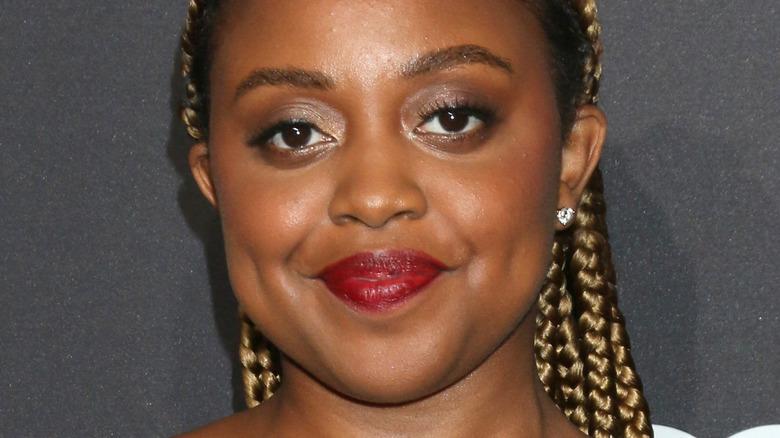 Kathy Hutchins/Shutterstock
Like every great sitcom, "Abbott Elementary" has an ongoing will-they-won't-they plot in addition to its regular shenanigans. In between all of Ava Coleman's (Janelle James) mental lapses and Janine Teagues' (Quinta Brunson) well-meaning screw-ups, there's the constant promise that Janine and her Abbott Elementary co-worker Gregory Eddie (Tyler James Williams) will share a flirty glance or titillating piece of dialogue. Their chemistry sometimes even acts as the hook for an entire episode.
Even in Season 2, as Abbot Elementary enters a new stage of its growth, Janine and Gregory seem to have big things on the horizon. At the end of Season 1, of course, Janine broke up with her freeloader boyfriend Tariq (Zack Fox). And at the beginning of Season 2, Gregory sees his own dating calendar open up. And considering the pair's on-screen chemistry this season, it's a lovely coincidence that Quinta Brunson and Tyler James Williams' real-world working relationship began when Brunson slid into Williams' DMs.
Brunson and Williams worked together before Abbott
Though Brunson and Williams worked together on "A Black Lady Sketch Show" before reuniting on "Abbott", Brunson only lured him onto the "Abbott" set after DMing him on Twitter. In an interview on "Jimmy Kimmel Live" last year, Williams revealed that his entire "Abbott" deal took place on the social media platform.
"The deal went down in the DMs, like the entire thing," he said. "She was like, 'Hey I've got this pilot, I threw your name in the pitch package. I hope you don't mind.' I'm like, 'Yeah, why not? I'm not doing anything.' And here we are."
Hopefully shippers can separate the actors from their characters, as Brunson is happily married to Kevin Jay Anik (via Us Magazine). Williams, on the other hand, is currently single. In his interview with Jimmy Kimmel, he said that his dating life is complicated by the fact that his entire adolescence has been captured on television. Kimmel helpfully suggested that he date an Amish girl. Fans can only wait and see what happens between Janine and Gregory as "Abbott Elementary" Season 2 continues to unfold.