Brendan Fraser Details Why He Took A Break From Acting Before The Whale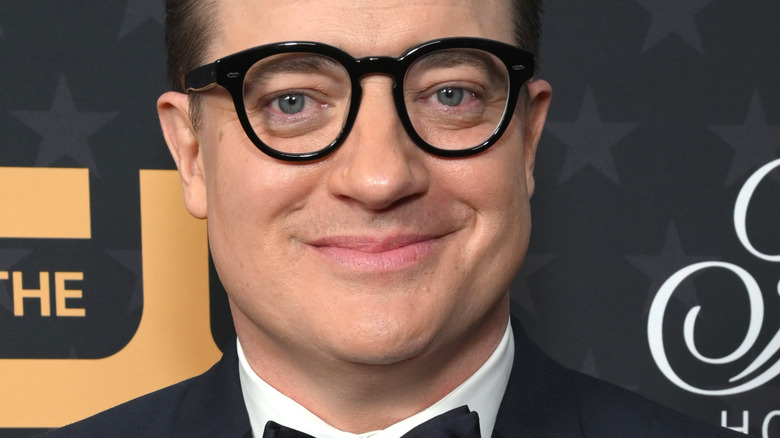 Michael Kovac/Getty Images
As Hollywood career trajectories go, Brendan Fraser's up, down, then up-again chart plotting the number of characters played wasn't all that unique. After major big-screen success in high-profile films like "The Mummy" franchise and "George of the Jungle," Fraser's activity dialed down in later years, with only periodic film appearances leading up to TV series' roles in 2018 that saw him taking on parts such as Nathan Fowler in the "Condor" and Fletcher Chace in "Trust."
The truth is, with the scarcity of major motion picture credits listed under his name during the past decade or so, some fans may have begun to wonder if Fraser was dropping off the cinematic radar screen altogether. But any doubts about the quality or scope of Fraser's presence in Hollywood were blown out of the water, so to speak, when "The Whale" hit theaters. Hailed as a major comeback for Fraser, director Darren Aronofsky's profoundly moving exploration of human regret and redemption was a solid critical triumph, with the Chicago Sun-Times' Richard Roeper calling the actor's heart-breaking performance "the best work of his career."
Brendan Fraser's new role as a parent, among other things, influenced his film and TV schedule
As revealed during an interview on Dana Carvey and David Spade's "Fly on the Wall" podcast (via Spotify), Fraser noted several reasons for his reduced visibility on TV and in films. "I did take a step back. My life had taken a different path at that point too," Fraser said. "I had kids, I moved across the country."
Going on to explain that he'd have problems without some sort of job to keep busy, Fraser said he always managed to find work in productions like Showtime's' "The Affair" or other, smaller-scale projects. He added that his initial blockbuster success actually constituted a downside for him career-wise vis a vis the industry expectations game. "I don't know if I could've maintained the level of expected success that I had up until that point," he admitted. "Because you fall out of favor if your film doesn't reach, I don't know, a magical number or something like that."
When queried by Variety about what it took to finally return to the big screen after his acting break, Fraser didn't hold back about the challenge "The Whale" posed for him, saying, "If I'm not approaching each day's work as if it's the first and last time I ever act, then I'm not the man for the job. With this movie, everything I had to offer is everything that you see on the screen."