New Amsterdam Fans Are Outraged With The Writers Over The Direction Of Helen's Character In Season 5
Freema Agyeman debuted as Dr. Helen Sharpe in the pilot of NBC's medical drama "New Amsterdam" upon its premiere in September of 2018. Agyeman's career prior to "New Amsterdam" consisted of roles in shows like "Doctor Who" and "Law & Order: UK," so by the time her casting as Dr. Sharpe came around, Agyeman was plenty experienced as a TV actor.
Given her filmography that only grew upon her addition to "New Amsterdam," it was perhaps unsurprising that Agyeman left "New Amsterdam" ahead of its fifth and final season, presumably for new career opportunities. Despite Agyeman's decision to leave, a "New Amsterdam" executive producer discussed Sharpe's return around the time that Season 5 kicked off, suggesting that she might factor into the lead-up to the series finale in some manner.
"New Amsterdam" then ended on January 17, 2023, and Agyeman's absence persisted. That said, the series finale significantly complicates Sharpe's character through a development in a clinical trial that implies she acted unethically during her time at New Amsterdam Hospital. Plenty of fans of Sharpe's character didn't take kindly to this direction for her character, sharing their displeasure with this aspect of the series finale online in its wake.
Fans of Dr. Helen Sharpe think her character was wronged by Season 5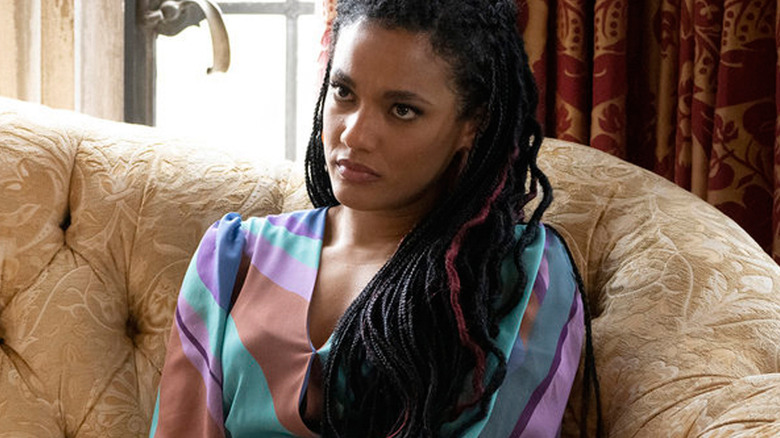 Virginia Sherwood/NBC
After the final episode of "New Amsterdam" first aired on January 17, many fans online were vocal about their disappointment with the finale and its build-up implying that Dr. Helen Sharpe behaved unethically in the series' past. Twitter user @theboredfox, for example, negatively juxtaposed Freema Agyeman's personal connection to Helen's character with the ways the show's writers presented her in Season 5. User @olicitybuddie similarly wrote, "Helen Sharpe and Leyla Shinwari you deserved so much better, this show never respected you."
Another user, @cet2810, even argued that Agyeman should cease contact with anyone involved in "New Amsterdam," given what they perceived to be an outright disdain for Shape's character.
A number of Reddit users likewise shared this sentiment in a thread about the "New Amsterdam" season finale, largely in the replies to a comment by user teh_maxh implying that the series' writers intended to make Sharpe come off as a bad person. For what it's worth, on the subject of Helen, executive producer David Schulner told TVLine, "we're not here to be delicate. We're here to make strong, bold choices that stir up crazy emotions in our fans." For better or for worse, it seems that the "New Amsterdam" team did just that.