New Amsterdam Producer David Schulner Considered Ending The Series With A $5 Million Laser Beam Surgery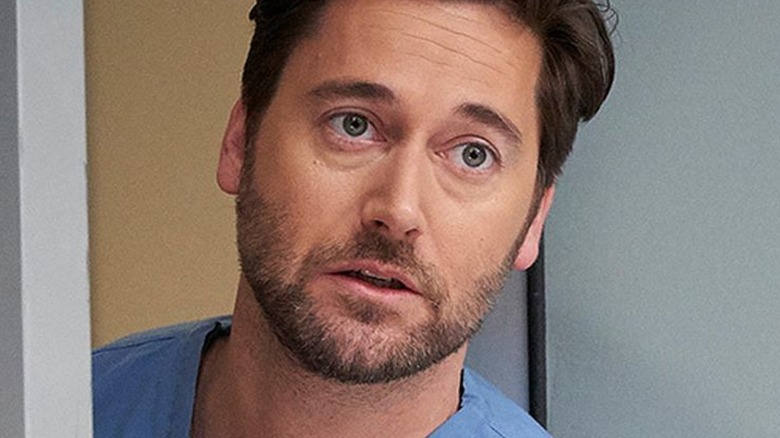 NBC
NBC's popular medical drama "New Amsterdam" has come to an end after five seasons on the air, with the most recent season running just 13 episodes. Although the heartbreaking cancellation of "New Amsterdam" must certainly have left plenty of fans reeling, the recent series finale is still a worthy goodbye to Max Goodwin (Ryan Eggold) and the rest of the staff of New Amsterdam Medical Center.
Indeed, the episode itself sees Goodwin performing the surgery of his life -– a massive undertaking that requires 52 doctors to accomplish -– before ultimately departing the hospital to work for the World Health Organization in Geneva, Switzerland. This monstrous surgery is his last great act as a member of the New Amsterdam Medical Center, and one which puts a fitting cap on his impressive career to usher in the next chapter of his life — despite the controversial changes his character has seen in recent episodes.
Although this impressive feat is certainly a great way to say goodbye to a character as talented as Max Goodwin, producer David Schulner originally had a very different vision for Goodwin's last surgery — one which would have involved a $5 million laser.
The laser beam was meant to be something big for the finale
While speaking to Deadline about the baffling cancellation of "New Amsterdam," producer David Schulner gave some insight into the grueling writing process for the series' final episode, and the original idea he pitched for Max Goodwin's final surgery.
"We butted our heads for an entire day, and finally I sent everyone away. I said, 'We're leaving Zoom, take an hour, take two hours, and then everyone come back to the room and pitch something,'" said Schulner. "'Just have one thing that you think would make a great final surgery.' I came back with some bizarre, $5 million computer-generated like laser beam surgery." Schulner went on to say that the entire team was shooting for "something big and crazy," until they heard the pitch for the 50-person surgery and realized that this scene should be focused on the characters — not on the extravagance of the surgery itself.
Schulner did not clue fans in as to what this laser surgery might have looked like, but it's clear that he was looking for the flashiest possible surgery to close out the series. Although it certainly would've been interesting to see this revolutionary kind of laser surgery make its way onto television, Schulner's comments make it clear that, in the end, the best idea was the one that allowed all the characters to come together as a team.