The Resident's Season 6 Finale Almost Had A Very Different Ending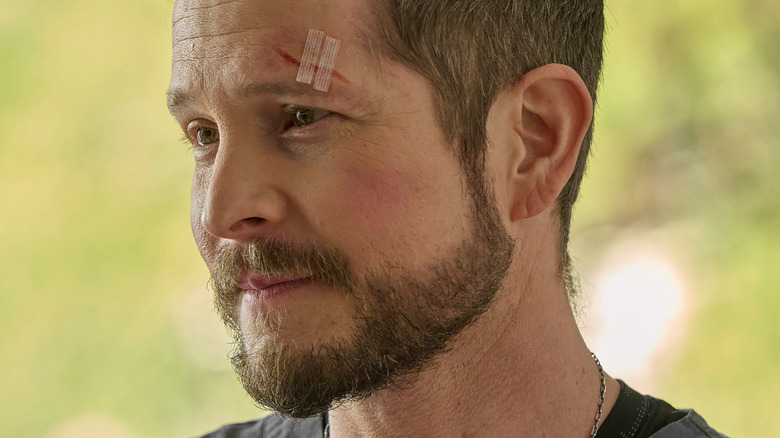 Tom Griscom/FOX
Warning: This article contains spoilers for "The Resident" Season 6, Episode 13.
Since its premiere in 2018, Fox's "The Resident" has remained an intriguing medical drama. Based on the book "Unaccountable" by Marty Makary, "The Resident" often focuses on the professional and personal lives of the staff at Chastain Park Memorial Hospital. But past that, "The Resident" has also had storylines dealing with the bureaucratic and often unfair healthcare system that can plague the medical industry. Despite losing stars like Miles Fowler and Emily VanCamp during its run, "The Resident" has marched on to produce six stellar seasons, with fans probably hoping for a seventh. Yet Fox hasn't officially announced if the series will continue yet.
But while fans are waiting to hear if we can expect future returns to Chastain, we at least know for the moment the series has left off on a positive note regarding its story. In the Season 6 finale, romances that had been brewing reached their satisfying conclusion, warm and fuzzy reunions took place, and of course, some essential lives were saved. In a surprise finale ending, it feels like every character got what they wanted. But according to "The Resident" co-creator Amy Holden Jones, one major character in the Season 6 finale episode almost had an ending different from what viewers got to see.
Governor Betz almost didn't survive his heart transplant
Despite some possible second thoughts from the staff of Chastain Park Memorial Hospital and a scary scene that alluded to his demise, Governor Mark Betz (Steven Culp) actually winds up surviving the finale episode. And as a result, this also means that Chastain will live to see another day. Ever since becoming governor, Betz has served as a primary adversary to the hospital by threatening to slash its funding. But for the finale, titled "All Hands On Deck," he finds himself at the mercy of the hospital he seemed bent on closing. Betz made a deal in the previous episode that he'd save Chastain following his heart transplant. And keeping in the finale's feel-good ending, Betz gets his heart transplant, survives, and upholds his deal to save Chastain.
However, "The Resident" co-creator Amy Holden Jones revealed to TV Line that Betz could have suffered a horrible fate instead. While talking about the decisions behind the finale's upbeat ending, Jones said in the interview that Betz almost didn't survive his heart transplant. "... We strongly considered letting Betz die," Jones told the outlet. "It would have been fictional revenge. But our team usually wins." 
Considering the grief Betz put the staff of Chastain through, a potentially appropriate move would have been to kill him off. However, doing so would have left the fate of Chastain in question. With that in mind, we have to wonder if Jones and the writing team would have decided on Betz's death if Season 7 had already been greenlit by Fox. After all, his demise and Chastain's unfunded fate would have made for quite the cliffhanger heading into the next season.