What Is The Song In The Acura Electric: New World, Same Energy, Commercial?
When it comes to selling products or advertising an industry's new line of merchandise, music plays an important part in maintaining consumer interest (via The Association for Consumer Research). Songs from the pop and rock genres, both contemporary and classic, are frequently featured in numerous commercials to connect viewers on an emotional level. Whether it is "All In" by Li' Baby in the Axe's Fresh As Fr*sh commercial or the usage of tunes to pique audience interest in numerous movie trailers across different genres, music that fits the mood perfectly is crucial to driving sales and establishing brand identity.
Vehicle commercials face a particular challenge in finding just the right tracks, with new models of cars and trucks needing to capture fresh attention each year. Who can forget the use of Fleetwood Mac's "Everywhere" in Chevrolet's EVs For Everyone promo? When placed just right with the optimal graphics and display of amenities, popular melodies and lyrics can add an extra dimension of interest to a car brand. So what's the song that plays in the Acura Electric: New World, Same Energy commercial?
The song in the Acura commercial is a Jimi Hendrix classic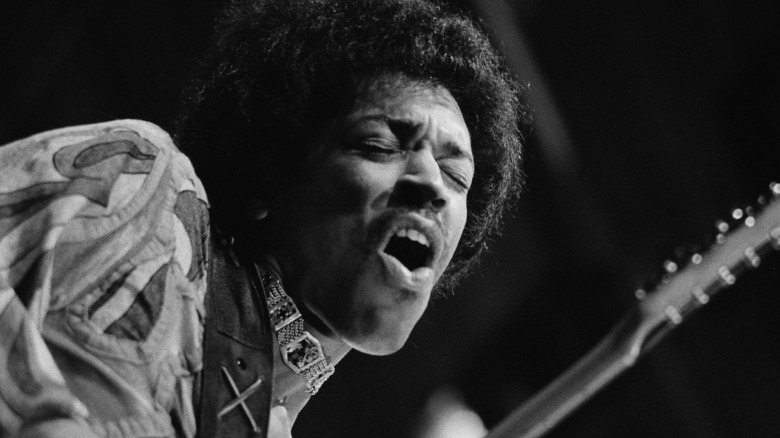 Evening Standard/Getty Images
The song in Acura's new commercial for its Acura Electric model is "Voodoo Child (Slight Return)" by the late American rock and roll performer Jimi Hendrix. The track was written by the artist and first appeared on The Jimi Hendrix Experience's final album, "Electric Ladyland," in 1968. The tune can currently be found on YouTube, Spotify, Apple Music, and Pandora. The song went on to become a number one hit in the United Kingdom in 1970, and was the last track that Hendrix ever played live shortly before his death on September 18, 1970 (per Songfacts).
The instantly recognizable sounds of guitars and Hendrix's signature use of the wah-wah pedal in his mastery of electric guitar melodies are played to great effect in Acura's commercial. The lyrics are not featured in the promo but contain metaphorical themes centered around the title of the song. In 2020, Jack Whatley of Far Out Magazine said of the song, "While the track may not be classed as the pinnacle of Hendrix's iconographic legend, it sure is a perfect distillation of what made him great."