The One Impractical Jokers Punishment That truTV Has Yet To Approve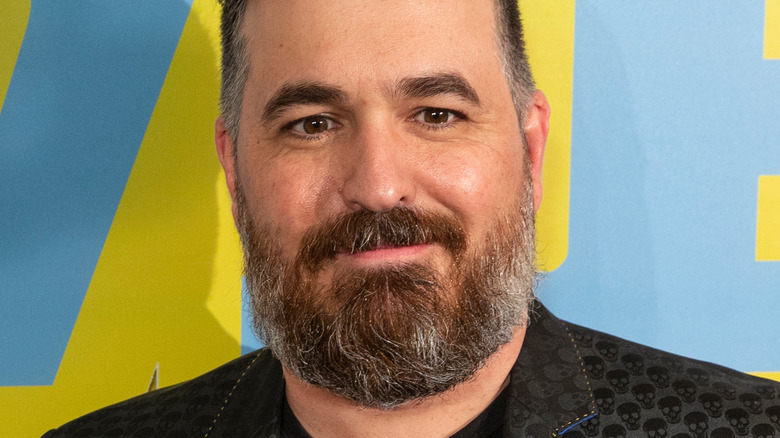 lev radin/Shutterstock
When "Impractical Jokers" premiered in 2011, creators and childhood friends Brian "Q" Quinn, Sal Vulcano, James "Murr" Murray, and erstwhile Joker Joe Gatto had a single mission in mind: make each other crack up. In that respect, the pranksters have been highly successful. In addition to the ongoing series, the Jokers have also developed the spinoffs "Jokers Wild," "Impractical Jokers: After Party," and "Impractical Jokers: Dinner Party," and in 2020, they released the first "Impractical Jokers" movie.
An average episode of "Impractical Jokers" is a two-pronged affair. First, the hosts compete in a series of challenges that involve pranking members of the unsuspecting public, whether it's covertly clipping balloons to passing strangers or stealing food off the plates of buffet patrons. Then, at the end of the episode, the losing Joker must endure a punishment cooked up by his buddies.
Although "Impractical Jokers" has become the linchpin of the truTV lineup, it doesn't mean the network lets the guys act with impunity. Indeed, there's one big punishment that truTV has yet to okay.
The jokers have been pushing Bus to Tampa for ten years
For "Impractical Jokers" cast member Brian Quinn, there are a few unicorns that remain on the guy's wishlist. One, he told Celebrity GamerZ, is to have Patrick Stewart on the show to provide disdainful narration. Another is something he cryptically referred to as "Bus to Tampa."
"We have a punishment called 'Bus to Tampa' that we've been trying to do since the beginning of the show," Quinn said. "The second you know you've lost the episode, you're taken to a bus station, handcuffed to a seat on the back of a Greyhound bus, and a 24-hour livestream [films you] as you go to Tampa." In true "Impractical Jokers" fashion, the punishment is more sadistic than a simple bus ride to Florida. "You can't go to the bathroom the whole time, [and] whoever sits next to you sits next to you. If it's a fan of the TV show, then you've gotta talk to [them] for 24 hours.
Half of the punishment, Quinn explains, is finding your way home after the bus trip. "You're just in Tampa without your wallet, no money," he continued. Historically, truTV has been amenable to many "Impractical Jokers" hijinks, whether it's skydiving or enduring a series of Jaden Smith tattoos. But "Bus to Tampa," apparently, is where they draw the line. "That's the punishment we've been trying to do for 10 years," Quinn continued. "The network will not let us do it. They think it will be boring. I'm like, 'You guys are crazy.'"