Will Joe Gatto Be Replaced On Impractical Jokers With A New Permanent Member?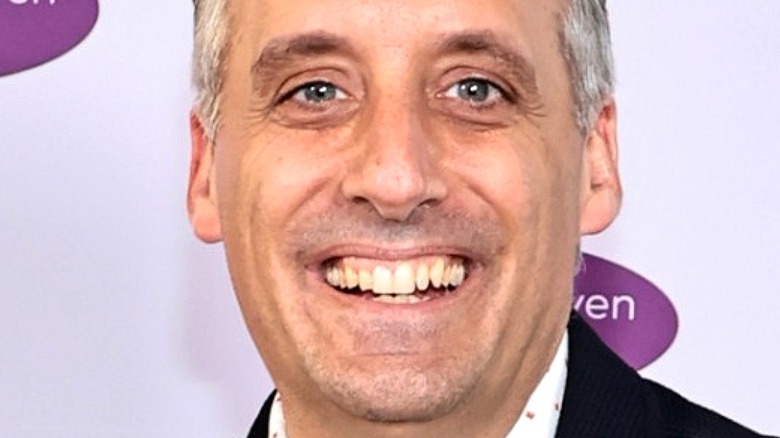 Jamie Mccarthy/Getty
In December 2021, Joe Gatto of "Impractical Jokers," itself consisting of the Tenderloins comedy troupe, announced he would depart the long-running TruTV series. Unfortunately, this was no practical joke, and the remaining cast members have pushed forward without their long-time friend by their side, pranking unsuspecting victims.
Gatto had been on the show since its founding in 2011. Along with his pals Brian "Q" Quinn, James "Murr" Murray, and Sal Vulcano, the four would venture forth, usually in New York City, where they would make fools of themselves in public, making people uncomfortable in the process. It was all in the name of good fun, and the gang certainly produced numerous laughs over the years, both for themselves and the millions of viewers watching at home. 
Starting partway through Season 9, Joe Gatto left, but the remaining cast members have ventured forth without their friend. In his place, they've brought on various guest stars throughout 2022 so far, including Eric André, Jillian Bell, and Colin Jost, but it begs the question of whether someone will enter the fold to replace Gatto for good. Here's everything we know so far about a prospective Gatto replacement.
Joey Fatone was long rumored to join the Impractical Jokers cast
Finding a new joker to join the ranks of the show would be no easy task. They would have to find someone who vibes well with the current cast members and has no problem making a fool of himself in public. As it turns out, the guys already had someone in that wheelhouse in the form of former *NSYNC singer Joey Fatone.
He's appeared on numerous episodes and specials over the years, having no problem getting in on the action himself. Fatone even hosts the aftershow "Impractical Jokers: After Party," which sees the guys break down their favorite moments from episodes as well as offering bonus content to viewers. It's obvious he has a lot of fun on the show, but would he make a good permanent co-host to take Joe Gatto's spot?
Fatone was actually asked about such a development at the Fandemic Dead 2022 panel in Atlanta (via Cinema Blend). He was questioned as to whether he would consider replacing Joe Gatto permanently on the show, and he responded coyly but honestly, "Heck, yeah! ... No, no, no, I have no idea. I'd love to, but it's Joe. Joe is the man on that one; let's be real. All of them are, but he had no fear whatsoever. That dude did not care, and he's good at it. He's really good at it. So yeah, I'll probably come out and do stuff."
Fatone continues, saying how he'll likely be a part of the show in some capacity but didn't know if he'd be a permanent co-host: "We're actually gonna be shooting some more Afterparty stuff, the show that I host. I think we're shooting in April at some point. They've already shot episodes as well, and they're bringing some celebrities in to fill in those gaps." If Fatone wouldn't do the show full-time, who would be next in line?
Don't expect anyone to fill Joe Gatto's shoes
There are a ton of noteworthy comedians out there who would likely love the opportunity to pal around with the Jokers. However, Gatto brought something special to the proceedings. For starters, the four of them had been friends for years prior to getting a show, and you can't fake that kind of chemistry. Gatto also became well-loved throughout his time on the prank show for his boldness and willingness to do everything and anything for a laugh. That's why it may not come as much of a surprise to hear there are no plans to include a permanent fourth host on the show any time soon. 
James Murray did an interview with Staten Island Advance where he was asked about Gatto and the prospect of replacing him. While Murray explained how the show was definitely different, he elaborated, "He's irreplaceable, so we didn't even try to replace him. That's the idea; since he's such an integral part of the heart of the show, he can't be replaced; he won't ever be replaced. There will never be a fourth member like that."
Since his departure, the show has instead opted for one-off celebrity co-hosts, but it sounds like that'll be the system they implement for the foreseeable future. Murray went on to say, "The show is still hysterical. It's different, it'll always be different, but it's still hysterical, and I'm just glad to still be doing it with my best friends." Anyone who's watched the most recent episodes knows all too well how funny the series has remained, so while viewers hold out hope for Gatto's return, at least they have hilarious television to tide them over.