Garrett Hedlund Explains The Breakneck Process That Led To Taylor Sheridan's Tusla King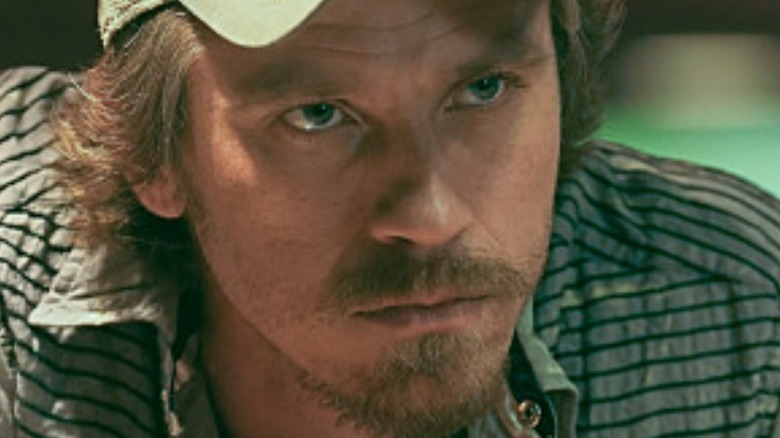 Brian Douglas/Paramount+
The hits just keep on coming for Taylor Sheridan. As a showrunner, Sheridan first rose to prominence with the absurdly popular contemporary neo-western series "Yellowstone" – which catapulted the actor and filmmaker into superstardom. Sheridan has since transformed that success into a veritable empire of television drama, creating shows like "Mayor of Kingstown," "1883," and "1923," each of which achieved an unprecedented level of viewership the moment they were released.
Sheridan's hot streak hit a new milestone with the release of the Sylvester Stallone-led "Tulsa King," which quickly became the highest single-day premiere in the history of Paramount+ and also earned incredible ratings victories over heavy contenders like "House of the Dragon" (per Hollywood Reporter).
The series itself focuses on a Mafia capo named Dwight "The General" Manfredi — who is released from prison after 25 years and is immediately tasked with building a criminal empire in Tulsa, Oklahoma. The immediate success of the series was so powerful that Paramount is already considering creating spinoffs and a "Tulsa King" universe just two months after its release, further reinforcing the network's commitment to Sheridan's work.
Considering the ludicrous success that "Tulsa King" has earned in this short time frame, it might surprise some fans to learn that the series itself was developed over an incredibly short window — less than a week, to be specific, according to actor Garrett Hedlund.
Sheridan created and pitched the show in less than a week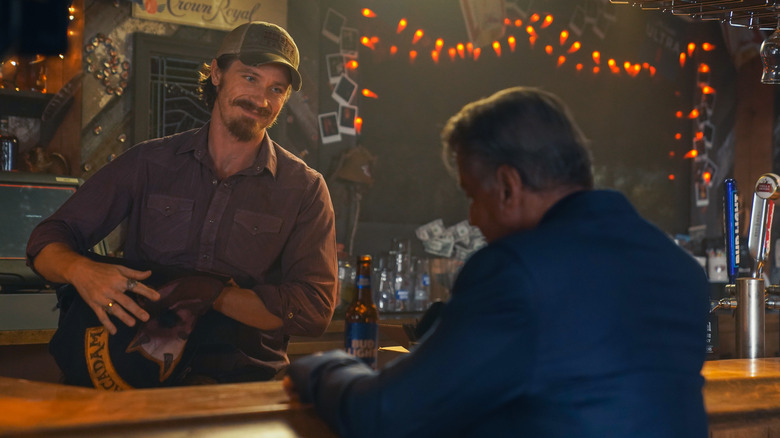 Brian Douglas/Paramount+
During a recent interview with Collider, Garrett Hedlund (who plays an addiction-rattled bull rider named Mitch Keller) described the unbelievable pace at which "Tulsa King" was created, from Taylor Sheridan's preliminary meeting with Sylvester Stallone all the way to the studio pitch.
"It was him and Sly sitting down [and] talking about doing something like this. Two days, 40 minutes later, Taylor pitched David Glasser the story," Hedlund explained. "Next morning, he pitched how the story ends. Two days later, he had the script. The next day they took it to the studio, sold the idea. That's just who Taylor is. That's how he works, that's how he operates." Hedlund described how this incredibly fast schedule is a great indication of why Sheridan's work is so popular –- because it embodies the same gritty determination that he brings to every aspect of his own life.
Whatever the true reason for "Tulsa King's" appeal, it's undeniably impressive that Taylor Sheridan was apparently able to create this entire show in around six days — which makes the incredible success of "Tulsa King" all the more admirable.