Steven Spielberg Says John Williams Is The Greatest Collaborator Of His Career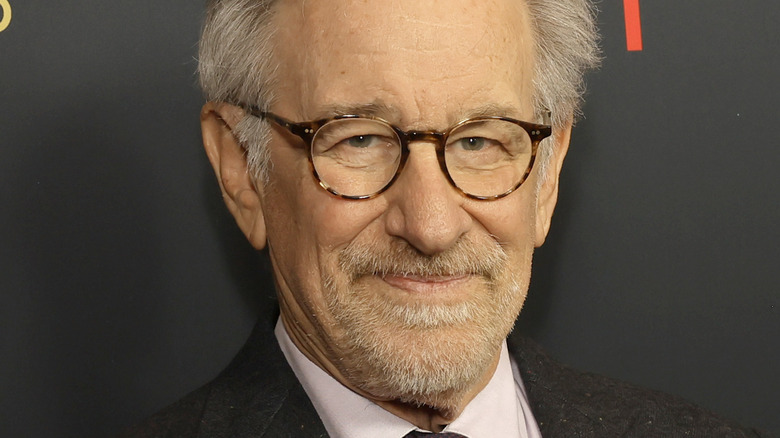 Kevin Winter/Getty Images
Steven Spielberg is one of the most well-known and beloved directors to ever sit behind a camera, and it's not hard to figure out why. For decades upon decades, he's produced some of the greatest features ever to grace the silver screen, from "E.T. the Extra-Terrestrial" to "Saving Private Ryan," entertaining audiences the world over. Not to mention, he's done it all with a genuine love for cinema and storytelling that permeates throughout his filmography. To put it simply, he's a master of his craft, but he's far from a one-man show.
To bring Spielberg's cinematic classics to life, it has taken a laundry list of talented folks who all specialize in different areas of the filmmaking process. Among the most prominent and prolific is composer John Williams: the man behind the scores for such Spielberg favorites as "Jaws," "Raiders of the Lost Ark," "Jurassic Park," and more. His musical compositions have only served to improve Spielberg's works, enhancing the desired tone and pace of a given scene. To call him important to these big-screen productions would be an understatement, and Spielberg knows that.
According to Steven Spielberg himself, he considers John Williams to be the single greatest collaborator of his entire career.
Williams is a cut above the rest in Spielberg's eyes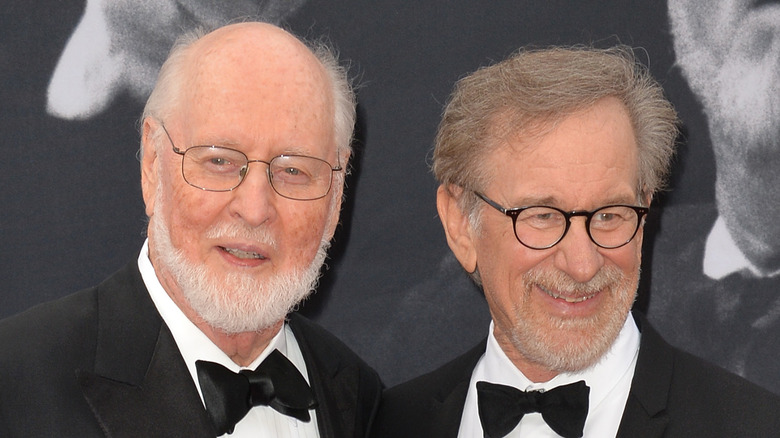 Featureflash Photo Agency/Shutterstock
Following the release of his latest feature, "The Fabelmans," Steven Spielberg appeared on the "Smartless" podcast to discuss it. In doing so, he touched on John Williams' score and told a brief story about a song he created for the film that he dedicated to Spielberg and his late parents. "I'll never forget it, and I'll never forget my reaction to it," the tenured director said, likening his emotional response to hearing the "Schindler's List" theme for the first time. It can be heard during the last scene between Mitzi Schildkraut-Fabelman (Michelle Williams) and her son Sammy (Gabriel LaBelle) and for a second time during the credits.
After sharing that anecdote, Spielberg offered up some kind words to Williams pertaining to their working relationship over the past 50 years. "It's the greatest collaboration I've ever had in my career. Ever. I've had a lot of great collaborations, but that one takes the cake," he said. For a spell, it appeared that Williams' time working on film scores was coming to an end, with him sharing that the upcoming "Indiana Jones and the Dial of Destiny" would be his last effort. However, he recently cast doubt on that claim when he revealed that he has no plans to retire so long as Spielberg continues to direct. 
The contributions Steven Spielberg and John Williams have made to popular culture on their own cannot be overstated. Although, when they've teamed up and brought out the best in each other, they've created movie magic time and time again. It's hard to argue that their collaborations haven't been some of the best of their respective careers.