Matt LeBlanc's 1998 Sci-Fi Flop Lost In Space Is Still Worth Checking Out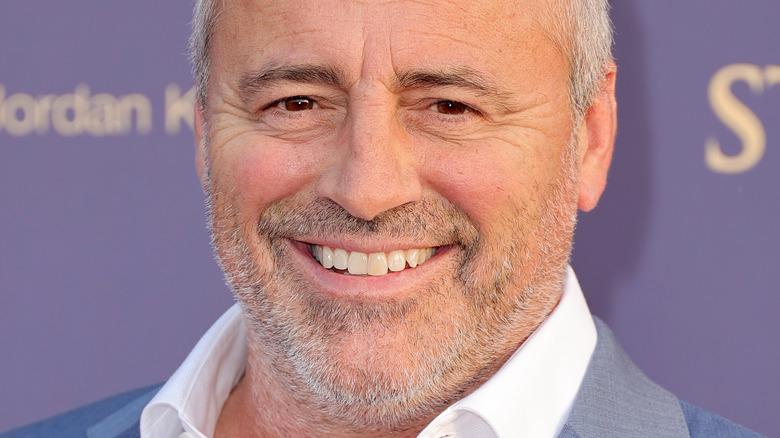 Momodu Mansaray/Getty Images
In 1998, actor Matt LeBlanc was reaching new heights in his career. "Friends" was the most-watched sitcom on TV, and his iconic role as Joey Tribbiani led him to some significant roles in films. In 1996, he toplined a baseball comedy, "Ed," in which he starred alongside an adorable monkey. While that film wasn't a rousing success, LeBlanc was still an in-demand actor, as was his "Friends" co-star Matthew Perry. When Perry turned down a role in a mega-budget remake of an old TV show, LeBlanc happily stepped in.
"Lost in Space" was "Predator 2" director Stephen Hopkins' attempt to start a new sci-fi film franchise. Based on the 1960s show of the same name, "Lost in Space" featured an all-star cast of LeBlanc, William Hurt, Mimi Rogers, Heather Graham, Gary Oldman, and Lacey Chabert. With all that talent and "Batman and Robin" screenwriter Akiva Goldsman on board, Hopkins' film seemed destined for success.
Success, however, didn't come for the 1998 blockbuster. Released in the spring of that year, the movie made only $69 million in North America on a budget of $80 million. The film wasn't a total bomb, grossing $136 million worldwide, but it shot down any hopes of a sequel or a franchise to follow. Interestingly, "Lost in Space" was the first film to reach No. 1 at the box office after "Titanic" held that position for nearly four months, dubbing the sci-fi film "the iceberg" among film fans. 
Reddit users have love for Lost in Space, and many don't see it as a bad movie
Critics and audiences were pretty lukewarm to "Lost in Space." Typically, movies that aren't complete bombs but aren't particularly beloved disappear from the moviegoing public's consciousness, but some users on social media don't think this reboot should be forgotten.
In a Reddit thread defending movies often considered "bad," the 1998 sci-fi special effects spectacular "Lost in Space" came up in the conversation with many defenders. "Lost in Space" is centered around the Robinson family – and their trusty Robot that famously alerts, "Danger, Will Robinson!" to the family's youngest – as they voyage to explore inhabitable planets for humans to move to. When their journey is sabotaged by one of their crew members, they must traverse space and try to find a way back home.
Redditor u/lakerssuperman summed their love of the movie pretty concisely with, "[The 'Lost in Space'] movie is awesome. Big-name actors. B movie sci-fi plot and '90s CGI. What's not to love?!?!" The film featured a stacked cast, and many Redditors have singled out a performance from the movie they love.
Fans love both Gary Oldman and Matt LeBlanc in the film
Echoing the sentiments of many commenters on the Reddit thread, u/lurvig said, "Gary Oldman as a classic villain is very enjoyable." Likewise, Redditor u/BatmanMK1989 said, "Unabashedly love it [the movie]. Oldman is fantastic." Oldman in the film played the dastardly Dr. Smith, who tried to sabotage the Robinson family's expedition but then worked with the young Will Robinson exploring a future planet, who ultimately turns into a giant spider monster for the film's showdown. U/GrandAdmiralDoosh said, "Gary Oldman's final spider form CREEPED me out back in the day. Great flick."
One user, u/PixelMagic, positively compared the film to another sci-fi franchise with a die-hard fandom and said, "I love this movie too. I had been a Trekkie for years before I saw it, and the plot feels very Star Trek[-]y." A YouTube commenter, Mary Early, also gave some love to Matt LeBlanc's performance and said, "This is an awesome film! How come it doesn't have more likes ... Joey is great in this film." The film has found its deserving audience, even though it took nearly 25 years. The "Lost in Space" property received a reboot as a Netflix series in 2018. The show lasted three seasons but was not renewed for a fourth. While it has nothing to do with the 1998 film adaptation, fans looking to get their campy sci-fi fix at least can turn to the show.