Jake Sully Will Not Be The Narrator In Avatar 3 (& Why That's The Right Call)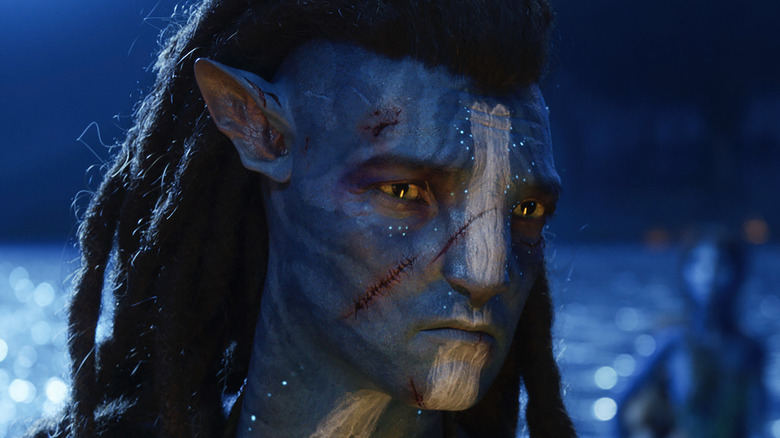 Disney
The upcoming "Avatar 3" is going to feature a major narrative change.
After 13 years of anticipation, "Avatar: The Way of Water" has finally washed its way into cinemas. As it stands, the sequel doesn't show any signs of stopping its dominance at the global box office. With a total gross that should exceed $2 billion worldwide, James Cameron's second outing to Pandora is proving to be a financial beast. "The Way of Water's" success has let to Cameron confirming that future sequels beyond "Avatar 3" will see the light of day. "It looks like just with the momentum that the film has now that will easily pass our break even in the next few days, so it looks like I can't wiggle out of this, I'm gonna have to do these other sequels," the director told Chris Wallace in early 2023 (via Digital Spy).
While details are slim on what the maverick director has in store for audiences, Cameron has confirmed that the upcoming "Avatar 3," which is slated to release in December 2024, will feature a different, more darker look at the Na'vi, the residents of Pandora. With all eyes on the future, Cameron has let it slip that the upcoming threequel will feature a major narrative and stylistic change, and it all has to do with the franchise's lead: Jake Sully (Sam Worthington).
The Avatar sequels will have different narrators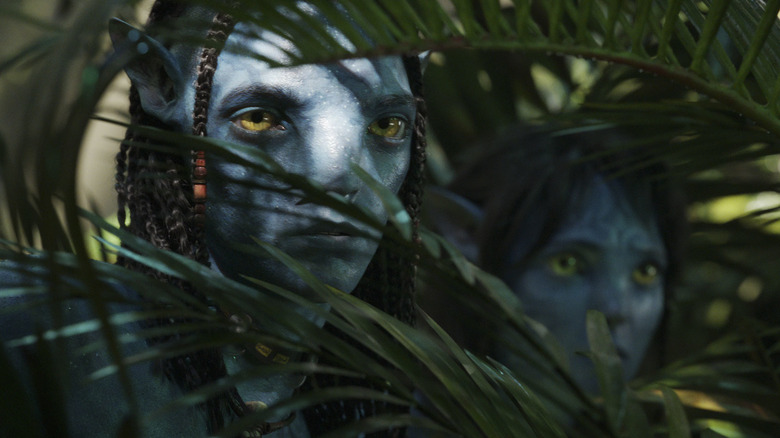 Disney
While speaking with Edith Bowman for the soundtracking podcast (via Instagram), James Cameron revealed that the upcoming "Avatar" threequel, which currently hasn't been publicly titled, will feature Lo'ak (Britain Dalton) as the narrator. This is a considerable switch up seeing as "The Way of Water" and the original "Avatar" both featured Jake Sully (Worthington) as the narrator. Cameron also revealed that, going forward, each future "Avatar" film will feature a new narrator. "Jake was our voiceover narrator for movie one and for movie two, and we have a different narrator for each of the subsequent films," Cameron said. "We see it through the eyes of a different character and movie three is through Lo'Ak's eyes."
While this change is surprising, it's certainly a welcome one. "The Way of Water" served as a reintroduction to the world of Pandora, with the first act of the film largely focused on filling in the fourteen year gap between the original and sequel. Having Jake narrate "The Way of Water" was an excellent way to bring audiences back on board, making the experience feel familiar. Now that audiences are invested in Cameron's upcoming sequels (as evidenced by the "Way of Water's" box office receipts and its highly-positive CinemaScore), having different narrators will allow the director to largely expand the world of Pandora. And by the sounds of it, Cameron's upcoming choice for narrator is perfect.
Why Lo'ak is the perfect narrator for Avatar 3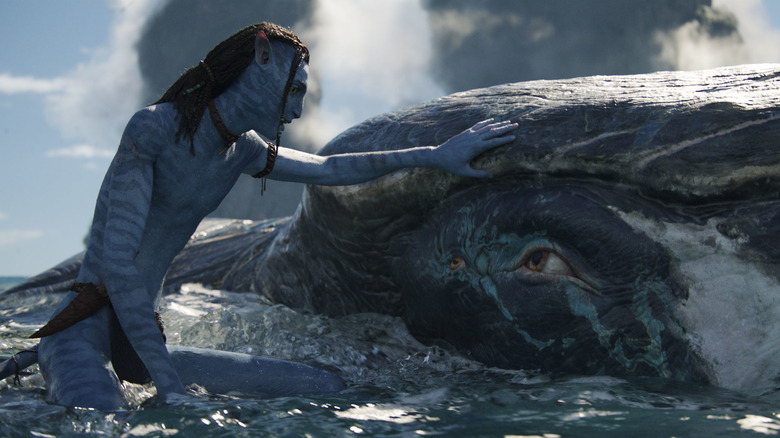 Disney
Having Lo'Ak (Britain Dalton) serve as the narrator for "Avatar 3" is a great way to make Pandora feel larger, as audiences have only experienced the alien world through Jake's (Worthington) eyes. James Cameron has previously spoken about how the "Avatar" franchise is about the larger Sully family, not just Jake (via EW). Now that audiences are already on board for what's next, Cameron let someone else take the reins when it comes to seeing the world of Pandora from their perspective.
While speaking with Edith Bowman, Cameron acknowledged that Lo'ak is a fan favorite character, making the choice to have him as the narrator all the more compelling. After the events of "The Way of Water," it makes all the more sense to see the Sully family from his POV. With Neteyam (Jamie Flatters) now dead (in part due to Lo'ak's actions), Dalton's character is by default the oldest Sully child, giving him an immense responsibility. Plot details are slim on "Avatar 3" but it will be interesting to see how Lo'Ak deals with the fallout of Neteyam's death and the upcoming conflict with Colonel Quaritch (Stephen Lang). Will Lo'ak openly discuss his guilt? Or his anger? How will he address audiences? Will the film solely take place from his POV? Only time will tell.
With future "Avatar" films confirmed and Cameron saying that future projects will have different narrators, it's possible that the fourth and fifth entries could be narrated by Jake and Neytiri's (Zoe Saldaña) other two children: Kiri (Sigourney Weaver) and Tuk (Trinity Bliss).