Avatar: The Way Of Water Fans Suspect That Lo'ak And Tsireya Will Be The Next Jake And Neytiri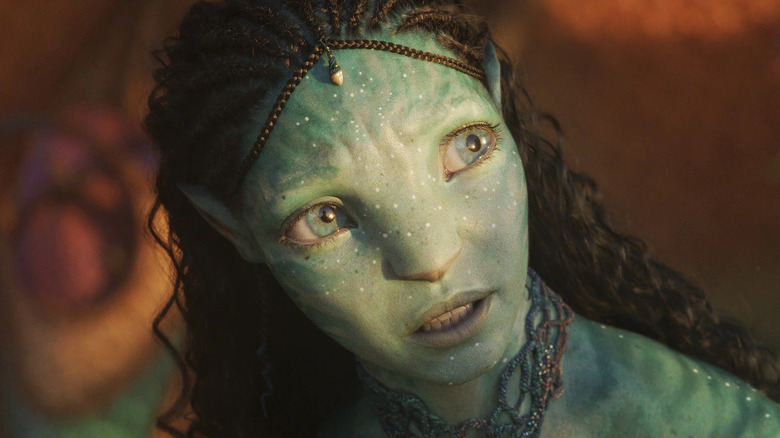 20th Century Studios/Disney
James Cameron's "Avatar: The Way of Water" is currently taking viewers on a journey back to Pandora (albeit with ticket sales much lower than expected in China). With the return to Pandora, fans are eagerly anticipating what the future might hold for Jake Sully (Sam Worthington) and the rest of the Na'vi insurgency against insidious corporate/human invaders. The film introduces us to the children of Jake and Neytiri (Zoe Saldaña), including their second child, Lo'ak (Britain Dalton), who struggles to live up to the example of their oldest son, Neteyam (Jamie Flatters).
No one but James Cameron really knows what's going to happen in the future of the "Avatar" saga, but fans of the film series have certainly caught on to certain parallels between the romance between Jake and Neytiri, as depicted in the first "Avatar" film, and the relationship between Lo'ak and Tsireya (Bailey Bass). Tsireya is the daughter of Tonowari (Cliff Curtis) and Ronal (Kate Winslet), leaders of the aquatic Metkayina clan.
As a multigenerational saga, it makes sense that "The Way of Water" would set up some plot strands that would echo those established in the first film. So it's very likely that the hardcore Pandoriacs who have spotted some parallels between the relationships of Lo'ak and Tsireya and Jake and Neytiri are on to something.
Fans are enthusiastic about the budding romance between Lo'ak and Tsireya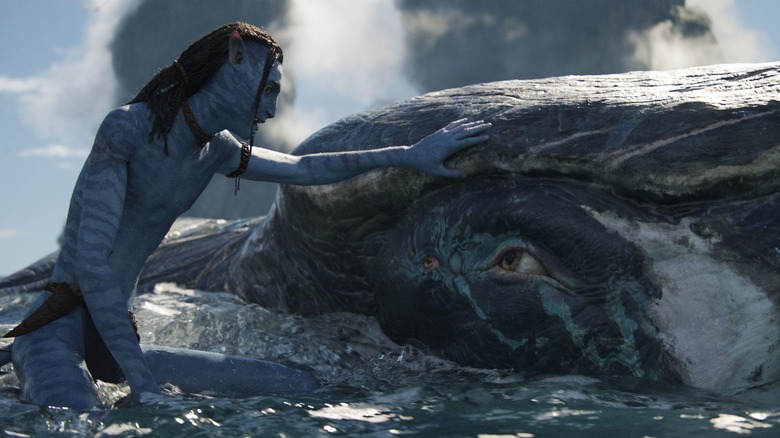 20th Century Studios/Disney
"Avatar: The Way of Water" shows how Tsireya (Bailey Bass) accepts Lo'ak (Britain Dalton), despite the differences between himself and the Metkayina clan that harbors the Sully family from the villains seeking to eliminate Jake (Sam Worthington) for their own interests. The Avatar Sequels fan account on Twitter summed up their dynamic nicely: "There's nothing better than being understood and seen by someone when everyone around you makes you feel invisible and wrong. I'm glad that Lo'ak has found support in Tsireya." Another fan, @ttiaye, singled out that same moment between the two characters, writing, "Tsireya holding Lo'ak's fifth finger was peak romance."
A Lo'ak and Tsireya romance seems obvious to fans like @chipsepcot, who amusingly used an image of Jamie Lee Curtis in "Everything Everywhere All at Once" to register their prediction: "Lo'ak and Tsireya gonna be a couple in the [third] movie." If that turns out to be the case, the parallels between their romance and that of Jake and Neytiri (Zoe Saldaña) should be obvious — both romances are classic star-crossed pairings between two rival clans.
Fans will have to wait for future "Avatar" installments to see just how the relationship between Lo'ak and Tsireya develops. But if they don't end up being the next-generation equivalent of Jake and Neytiri, there are a lot of fans who are going to be disappointed.