What 'Terrifies' Kingkiller Chronicle Author Patrick Rothfuss About A Possible Adaptation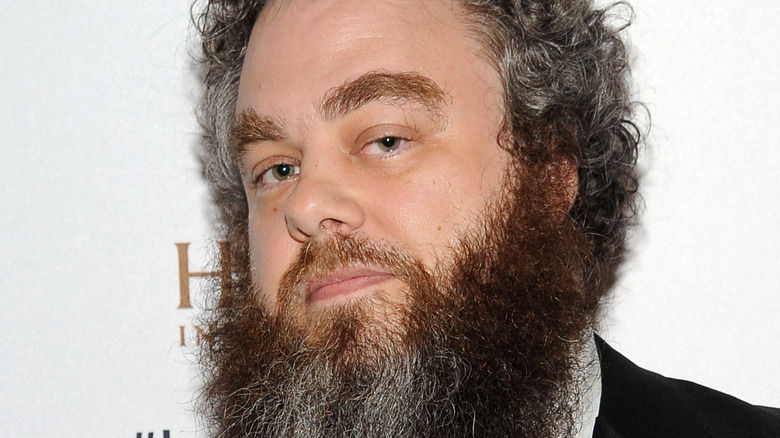 Angela Weiss/Getty Images
In recent years, more fan-favorite fantasy novels and book series have made the move to TV and movies, thanks to the success of IPs like "Harry Potter," "The Lord of the Rings," and "Game of Thrones." TimeOut called 2022 "The biggest year ever for fantasy on screen," saying that this once-geeky genre has become part of the mainstream — and shows like "The Witcher," "Wheel of Time," and "The Lord of the Rings: Rings of Power" are reaching more audiences as a result.
There's plenty of rich material left in the fantasy genre to mine, from Brandon Sanderson's "Mistborn" series (which is rumored to be coming) to R.F. Kuang's "The Poppy War" trilogy. And then, of course, there's the unfinished "Kingkiller Chronicle" by author Patrick Rothfuss. The series features a rich world full of magic and music that is still awaiting a conclusion following the publication of 2007's "The Name of the Wind" and its sequel, 2011's "The Wise Man's Fear" (along with an offshoot focusing on a supporting character, "The Slow Regard of Silent Things").
Fans of the series have been following the adaptation for years as it lingered in development hell. It was optioned as far back as 2013 by New Regency and 20th Century TV (via Deadline) but, following a few hiccups, by 2017, was being produced by Showtime as a project spearheaded by Lin-Manuel Miranda (per Entertainment Weekly) and then was dropped, moving to Lionsgate. As of early 2022, however, Miranda was off the project, saying he wished he could have brought what he called the "insane Russian nesting doll structure of a book" closer to fruition (via FanSided).
Author Rothfuss believes that visual shortcuts may require simplifying the story
The future of the "Kingkiller Chronicle" remains in limbo. This isn't necessarily a bad thing, at least to some fans. They believe that a successful TV or movie adaptation would not work because so much of the action and characterization takes place in the main character's head. As YouTuber Jay Kennedy points out, a screen-based version would not be able to translate the clues and wordplay that Rothfuss has woven into his language to something that's intelligible on screen.
Producers and writers, when adapting books, often use visual shortcuts to convey messages to viewers. And the complexity of the world Rothfuss calls The Four Corners of Civilization, or Temerant, would require many of these. The story of young Kvothe spans years and includes many characters and complications; as a child, he travels with an acting troupe, then is forced to live as a young orphan alone in the city of Tarbean. Later, he becomes a student at the University with all its students and Masters and the residents of the city of Imre nearby. There's an overarching narrative featuring the shadowy evil beings called the Chandrian, plus enemies and allies at school and beyond.
The idea of having to take many shortcuts makes Rothfuss skeptical about an adaptation. He told the "Feminist Frequency Radio" podcast in 2018, "This is something that I'm currently in the midst of terror about. Any significant book is more than a two-hour movie in terms of the story it's conveying. And my books are much bigger than that. But always what happens during these conversion processes ... is there's this fear that people are dumb. And it's like: maybe make the story simpler ... remove something that might be outside their experience" (per Newsweek).
Such shortcuts might also give the female characters short shrift
And it isn't just the story that might get lost if an adaptation were to simplify the story, Rothfuss says. He's very cognizant of the current cinematic climate, in which inclusivity and representation are so important. The author acknowledges that the first part of his series doesn't have very many women in it and says that one of the visual shortcuts that often takes place combines characters. "If the only female in your book — which is to say, in the world of your story there is only one female — and then they get together and love each other, it implies so many dark things," Rothfuss said. "You combine all these characters into one, this woman is psychologically a mess, like a nightmare psychotic, because she cannot fill all these roles in any meaningful way."
Rothfuss believes that combining these women flattens characters and impoverishes the medium. "Having one female character does not provide true variety and true experience and true representation," Rothfuss said. In his world, some of the interesting female characters include Denna, a romantic interest for Kvothe who is also a talented and complex young woman (her characterization has spawned plenty of theories as to her true identity); Aura, an emotionally fragile former University student who now lives in a system of ruins that lies underneath the school; Devi, a moneylender; and Fela, a fellow student Kvothe saves from an accident.
Rothfuss said he wanted to write into the contract that the female characters could not be combined, although he apparently did not experience that particular problem on the Showtime project. However, with the future of the screen adaptation in doubt, perhaps the author will have to restart, dictating a new set of rules for a new production.