The Kingkiller Chronicle Author Patrick Rothfuss Tries To Focus On The 99
Michael Tullberg/Getty Images
As a genre, fantasy is in a bit of a resurgence at the moment in film and television. The world of "Game of Thrones" came back to people's screens with "House of the Dragon" in 2022. That same year also saw the release of Amazon Prime's "The Lord of the Rings: The Rings of Power," and Disney+ even got on the bandwagon by coming out with its own spinoff of a well-worn fantasy property — "Willow."
But there are plenty of fantasy books out there just waiting for the adaptation treatment, and one that has gotten close over the years is "The Kingkiller Chronicle" by Patrick Rothfuss. There are two books in the series so far — 2007's "The Name of the Wind" and 2011's "The Wise Man's Fear." The plan was always for the series to turn into a trilogy, but a third book has never materialized. 
That hasn't stopped Hollywood from toying with the idea of adapting the work. At various points in development, Sam Raimi and Lin-Manuel Miranda were attached, but that fell apart. It's undoubtedly hard to adapt something that isn't finished, and Rothfuss is aware of that. He's spoken out about the unfinished trilogy and how much he appreciates fans' understanding. 
It can be hard to ignore a vocal minority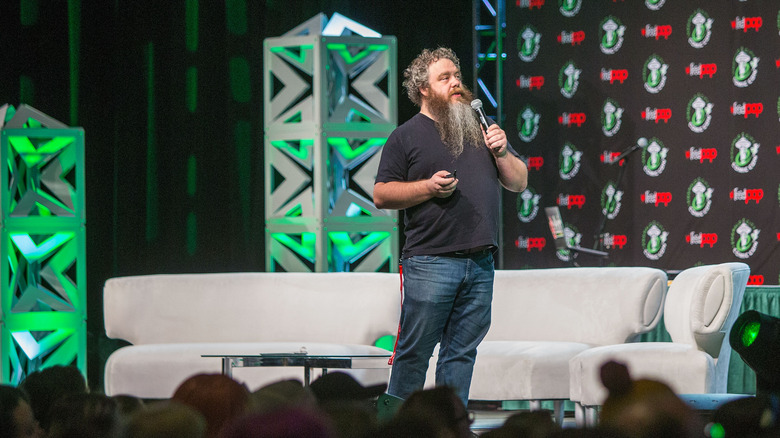 Suzi Pratt/Getty Images
Book 3, tentatively titled "The Doors of Stone," has been on many people's most anticipated list for years now. And no one wants to see the book materialize more than Patrick Rothfuss. He's been candid about how he wants the book to happen, and he has a YouTube channel where he frequently updates fans about his life. He's cited issues in his personal life as well as mental health for preventing the book from happening, and fortunately, many readers appear to be understanding. 
However, some people can naturally be mean when it comes to the artists who create what they enjoy, and Rothfuss has stated how it can be difficult to ignore those voices. In June 2022, he uploaded a video to YouTube where he spoke about the 99 phenomenon, which basically goes if you meet 99 nice people in a day and one mean person, you're only going to focus on the one mean person. For the most part, it sounds like a majority of Rothfuss' fans are okay waiting, but every so often, you get someone who's nasty because they expected this book to come out years ago. 
Being part of that 99 has become somewhat of a mantra to Rothfuss' fans, and as he said in the stream, "It's a real sweet thing. And I should get it f***ing embroidered on a pillow or f***ing put a poster over there or something because the vast majority of you are great, but man, things on the internet do not scale." With the kind of following Rothfuss has on social media, he said he consistently hears negative things, and it can add up quickly. A person's mental health is far more important than getting a book done, and hopefully, Rothfuss remains all right going forward.