Snowpiercer's Final Season Won't Air On TNT
Robert Falconer/WarnerMedia
Fans already got the heartbreaking news that the fourth season of the TNT original series "Snowpiercer" will be its last. However, according to new reports, that is not the only change coming fans' way. Season 4 of "Snowpiercer" will not air on TNT as planned, despite having been effectively completed (via Deadline). According to Deadline, the movie is believed to be part of the current trend of TV tax write-offs for content at Warner Bros. Discovery that has already led to the cancelation of several other original scripted shows at TNT.
"Snowpiercer" is based on the 2013 action-thriller directed by Bong Joon-ho and starring Chris Evans — itself based on the graphic novel Jacques Lob and Jean-Marc Rochette. The story centers around a giant train running constantly through a post-apocalyptic winter wasteland divided by car into an orderly, but cruel, social hierarchy. It stars Jennifer Connelly and Daveed Diggs, as well as Iddo Goldberg, Katie McGuinness, Rowan Blanchard, and Roberto Urbina. In addition, Season 4 was able to add Clark Gregg and Michael Aronov to the main cast. Now, Tomorrow Studios, the production house behind the TNT drama series, is reportedly seeking a new home for its final season.
But hopefully it will find a new home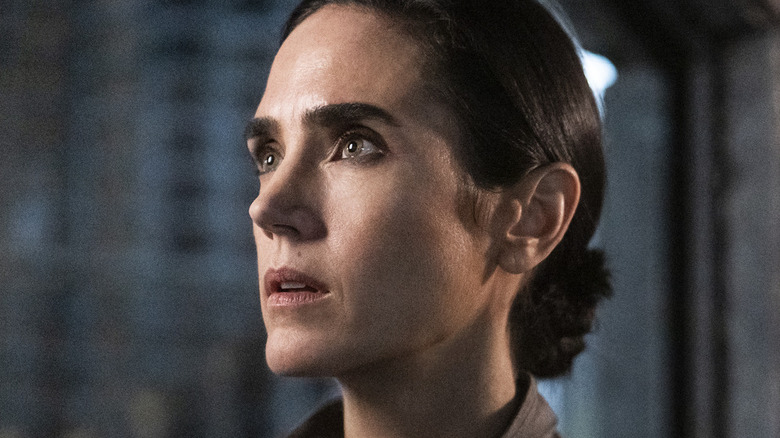 David Bukach/WarnerMedia
"Snowpiercer" was the last of the scripted series on TNT, which is moving in a different direction going forward. The series has become yet another victim of an entire wave of cancellations and shelvings under the auspices of Warner Bros. Discovery. But unlike, say, "Batgirl," there's a chance that fans might get to see "Snowpiercer" Season 4 at some point after all. 
In a press statement co-signed by Marty Adelstein and Becky Clements of Tomorrow Studios, the door has been left open to "Snowpiercer" not being dead in the snow just yet. "We love 'Snowpiercer' and believe Season 4 completes a story with incredible talent that will entertain viewers while exploring issues of climate change and class warfare," says the press release. "We are so passionate about this series that we have acquired the rights to control the franchise. We hope to find the perfect partner shortly and finish a great ride with the final season."
Not only that, but the Deadline article states that Tomorrow Studios hopes to build out more of a "Snowpiercer" franchise, with a possible prequel and sequel to the series. Time will tell whether such a franchise will come to fruition, and on what network fans could catch the next entries into the "Snowpiercer" saga.